Introduction:
Customers across the globe are keen to harness AI to extract purposeful and relevant information from various types of documents. Based on our experience of interacting and working with multiple customers, we have seen that the end goal is not just to extract the data from different documents (structured, unstructured/semi-structured). The success lies in digitizing and extracting the content that can convey functional and business meaning to day-day operations. The blog below will focus on the key expectations from the customer and their perspective of Document AI – the ability to digitize and automate their processes.
What does Document AI mean to customers?
When Document AI is demonstrated to a customer, their initial thoughts range from business process fitment to technical fitment in their enterprise landscape. While business sponsors are more focused on the business benefits, automation accuracy and, seamless fit into their existing processes, the enterprise architecture team looks at the Document AI from its ability to solve business problems technically, aligning it with the organization standards and policies.
Customer Objectives
When we look around and try to understand the vision of business sponsors/stakeholders, we realize that the analysis of any Document AI solution would be around:
Based on our experience in large-scale product implementations in the Document AI space, we have seen a business solution internally translating to the below needs from a product perspective. The figure below visualizes how customers expect the Document AI product to handle their business needs across the industry domain, including insurance, pharma, financial, or utilities.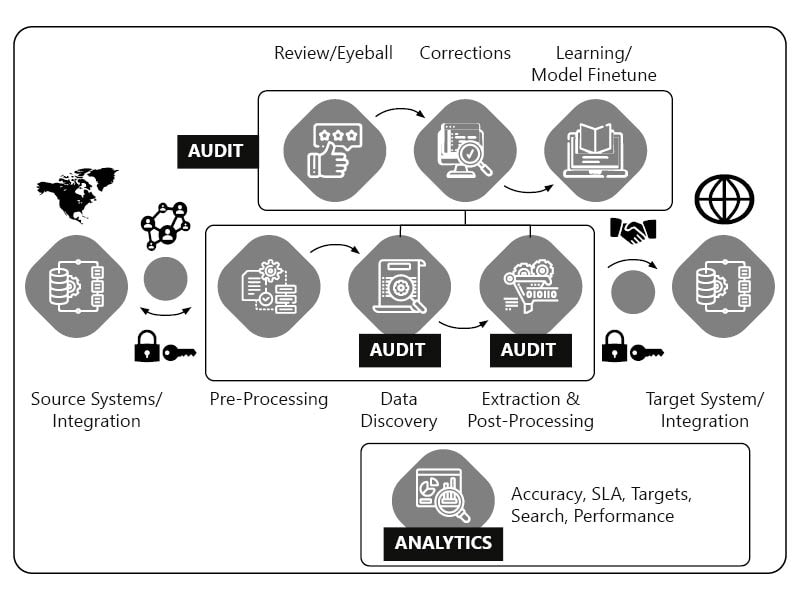 Figure : End-to-End Flow of Document Digitization
Conclusion:
With more and more organizations embarking on their journey to digitize the documents, the key success is to walk the journey with the customer. Frequent demonstrations and feedback will aid the solution to bring diverse business perspectives and become mindful of the customer's end objective. The agility shown to marry the functional business process to the Document AI Solution increases the success rate of digitization adoption by organizations.
For more details, download the complete PoV.
XtractEdge is a comprehensive suite of Document AI platform & products that enables enterprises to extract actionable insights from a wide variety of enterprise documents, contracts, and legal agreements. XtractEdge is recognized as one of the top Document AI platforms for large enterprises delivering on the promise of quicker time to market, superior customer experience, faster claims processing and underwriting, efficient contracts management for smarter business decision making.