RPA, with its advanced capabilities, is indisputably transforming the face of the financial industry forever. With digital technologies gaining traction, organizations today are automating processes in ways we've never imagined before.
A strategic advantage to businesses, leveraging automation and analytics to streamline end-to-end financial processes is essential in today's digital era. Moreover, with the COVID-19 pandemic wreaking havoc on the economy, banks and financial institutions are no more on the fence about adopting RPA.
That being said, according to Gartner, "Around 80% of finance leaders have implemented or are planning to implement RPA."1
Let's delve deeper into why your finance processes require intelligent automation technologies.
What is RPA?
RPA bots mimic user interactions to automate repetitive, rule-based processes, freeing up human workers to focus on value-added tasks. RPA bots help automate entire workflows across functions and applications, accelerating an enterprise's digital transformation journey.
The role of RPA in Finance & Accounting
The banking industry is touted to be the biggest consumer of RPA. According to McKinsey and Company, "About a third of the opportunity in finance can be captured using basic task-automation technologies such as robotic process automation (RPA)."2
Finance & Accounting processes in organizations are critical and often overwhelmed with mundane, repetitive tasks that can have affect workforce efficiency. Whether you're looking to lighten your staff's workload so that they can focus on strategic value-added tasks, or you're aiming to reduce processing time, Robotic Process Automation makes it possible!
In today's ever-evolving industry landscape, RPA helps transform F&A operations, providing your organization an edge over the competition.
RPA bots take over highly manual work, eliminating paper-based processes, thus ensuring efficiency and effectiveness in the long run. You can rest assured that adopting RPA in F&A will help you explore unrealized opportunities across Procure to Pay, Order to Cash, and Record to Report cycle processes.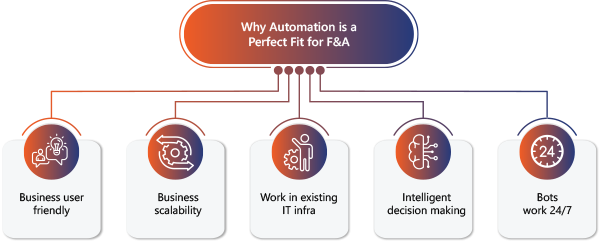 Some use cases:
Accounts Receivable: Using deep learning technology, organizations can automate the order-to-cash process — generating invoices, creating reports, etc. — improving cash flows and reducing Days Sales Outstanding (DSO).
Account Reconciliation: Automation helps account reconciliation, from automating general ledger banking & month-end reconciliation to extracting relevant information from ERP systems, thus eliminating errors and risk of fraud.
Accounts Payable: Bid goodbye to manually collecting, processing, and paying invoices. With automation, finance teams can ensure timely payments, avoid penalties, and reduce the total cost of payment processing.
Financial Planning and Forecasting: RPA bots can provide your enterprise with accurate financial performance insights, creating financial statements and reports easily.
Step up your game with Intelligent Automation in your F&A operations.
With Intelligent Automation, organizations can automate manual processes involving extracting and analyzing data captured in digital documents. Automation can leverage this data to take last mile actions such as updation of records in SAP, invoice processing, etc.
Automation can open up new opportunities, making the finance function more efficient and productive down the road. To unlock the transformative benefits of automation, CFOs need to rethink processes — automate mundane processes & complement human capabilities — reshaping the finance function in a not-too-distant future.
Read more on why RPA is a perfect fit for Finance & Accounting here.