Measuring RPA implementation performance - RPA Balanced Scorecard
Different enterprises seek different things from RPA. Their expectations from RPA depends on their business goals and objectives. For instance, an enterprise implementing RPA to improve efficiency will have a very different perspective from an enterprise that is leveraging RPA to improve compliance with regulations.
To be able to reap the right benefits of RPA, one needs to be able to measure the performance of the RPA tool they have implemented in their organization.
Here's where you need the RPA Balanced Scorecard Framework. Balanced Score Card (BSC) helps organizations address the above-mentioned challenges using a comprehensive set of measures. It is a powerful and strategic tool that enables enterprises to track, plan, and execute RPA programs. With a focus on people and change management, BSC helps bring a 360-degree view of the cost and service enhancements. It tracks and evaluates the long-term benefits of the said RPA program. If leveraged to its optimum, RPA BSC can help enterprises plan for cost-effective, scalable implementation.
For a successful Automation (RPA) journey, an Enterprise should focus on Financial Impact, Customer Impact, Enterprise Program Management, and People and Change. The AssistEdge RPA balance scorecard™ is devised to track these aspects for a holistic view.
Financial impact considers the enterprise's financial performance and the use of financial resources such as the cost-benefit or return on investment of a particular RPA program
Customer impact considers the customer or other key stakeholders that the organization is designed to serve through optimal customer service quality response time
Enterprise program management considers the performance of RPA programs by measuring quality, efficiency, governance, and ease of adoption.
People & change management considers the performance of RPA programs by measuring learnability, adoption, technology, culture, and other capacities.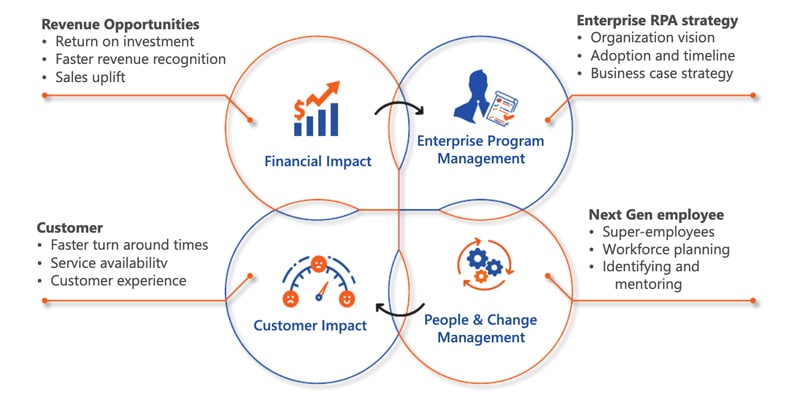 Thus, the RPA BSC covers all the strategic aspects required by an enterprise to succeed in its enterprise automation journey. It also provides measurable metrics and reports across various roles to track the progress of automation.