FMCG companies would be the first to admit that there is no one-size-fits-all solution for success across global markets. Just as the opportunities presented by mature markets differ from that of emerging markets, so do the challenges they throw up.
Emerging markets are typically dominated by traditional trade, where the key players are wholesalers or large distributors and channel intermediaries. Therefore, it's imperative for brands to establish a symbiotic and collaborative relationship with their channel partners — one in which communication is seamless, and data flows easily both upstream and down. This is not only beneficial for the brands, but for every player in the ecosystem.
A collaborative distributor relationship helps all parties involved.
Local channel partners know their markets and customers intimately. Yet, most often, they are unable to adapt to their customer's needs because the FMCG companies aren't listening. A collaborative relationship helps the local channel partners serve their customer better.
Distributors, who have so far been working on 'instinct' will have access to data — and even predictive analytics — through a mutually beneficial distributor relationship. They can improve processes, manage stock better and run an overall more efficient system.
You, the brand, of course have the most to gain. You'll hear more often and more clearly from channel partners, who will help you tackle the growing and heterogeneous set of demands that emerging markets pose. POS data from distributors and retailers will help you glean actionable business intelligence that will, in turn, help improve efficiencies and develop stocking and promotional strategies.
All of this can't be achieved through ad hoc initiatives. Brands need proactive distributor collaboration programs. You need to groom distributor networks where individual distributors, whether large or small, work closely to implement corporate strategies on the ground and provide data on customer tastes and preferences.
One of our clients, a global CPG leader, rolled out a distributor collaboration solution across various markets they cater to, and benefited immensely from it. They gained:
Preparing for a successful distributor collaboration plan
The first and possibly the most important step is to assess the particular market's collaborative needs. What do you (the brand) want to achieve through this? Establish clear goals for yourself and for your distributors. Plan for the coming 1-3 years.
Next, create the right team to drive the project. You will also need to help your key participating distributors do the same at their end.
Be prepared for resistance from your distributors. How well you communicate their benefits from the program will determine how soon you get their buy-in.
Remember, even the most enthused of your distributors might need handholding through the assessment and implementation process. Create training and enablement programs to make the transition smoother.
Building a good distributor collaboration plan
When you are charting out a plan for the distributor collaboration program, follow the time-tested Build-Test-Scale approach. In the following table, we have outlined the three key phases you should plan for.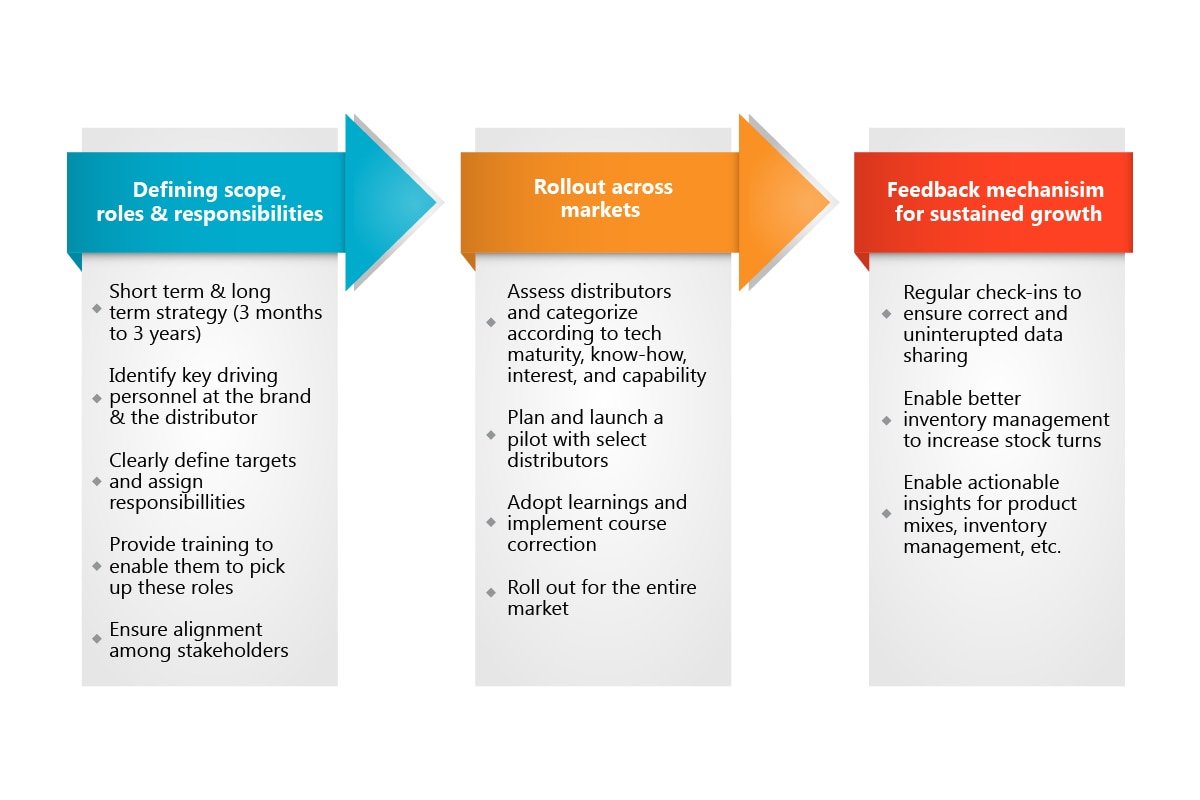 Often, a deal breaker here tends to be the training and education your distributors need. In our experience with clients, the simplest of steps have helped: simple workbook templates for inventory management, hands-on training on changed processes or the use of software tools, etc.
Second, we cannot stress enough the advantages of running a pilot. Trying out the collaboration program with a smaller, select set of distributors will not only be easier but will also provide visible results that can be used to onboard other distributors who might be resisting. Obviously, not all of your distributors will be in the same place in terms of (a) interest and conviction in the benefits of the program and (b) their technology and resource readiness to utilize it. Assessing them in terms of their readiness and maturity and identifying the first set of distributors with whom to run the pilot is very important.
Lastly, create a continuous feedback loop and establish checks and balances at regular intervals to ensure that the program is working as expected and continuing to benefit all parties. Another good initiative is an annual review to see how the program can be further improved/scaled; distributor participation here is a must.
If you are keen to explore how you can use technology to facilitate distributor collaboration, do get in touch.