Not long back, Robotic Process Automation (RPA) was still being considered a standalone automation tool. Eventually RPA matured from handling simple deterministic use cases to solving complex use cases with 'intelligent automation' and 'human-empowered' automation. This advancement opened RPA to a host of new business tasks and processes. As is always the case — necessity demanded new inventions. Enterprises realized the need for a Cohesive RPA Platform, which, in addition to simplifying process automation, also helped them in:
Although various products provide these capabilities in bits & pieces, the actual value is realized when all these components are cohesively knit together. AssistEdge provides a holistic suite which enables enterprises in their end-to-end automation journey.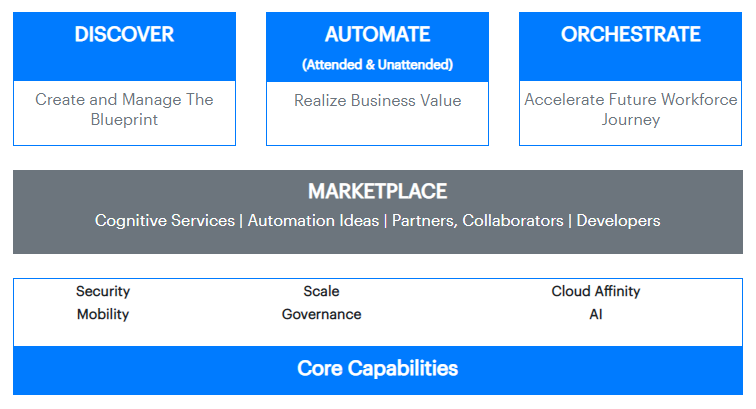 Fig: AssistEdge RPA Platform
The foremost advantage of such a cohesive RPA platform is intelligence sharing across the platform with information generated from one component being fed into the other components. In this article, we will look at the insights that can be garnered through intelligence sharing across these tools in a cohesive automation platform.
Intelligence from Process Discovery
The two major aspects of a process discovery tool are:
This information allows you to easily chalk out the automation roadmap at department and organization levels. Process discovery also gives a complete landscape of the business applications being used within the organization and across different departments. This information is useful to determine which applications need to be configured for automating each process. Additionally, with the enterprise-wide view, it is easy to identify similar tasks/processes within different departments and reuse the automation processes configured through RPA.
With the same platform discovering the automation candidates and automating these processes, auto-automation comes into the picture. The same underlying technology being used for identifying controls and for automating them helps to achieve this. The task map generated through process discovery can be transformed into an automation workflow in the RPA design environment with a few clicks that can help save a large amount of manual effort required to design and configure the automation processes.
Intelligence from Core RPA
Intelligence from Orchestrator
In the case of an enterprise opting for different tools for discovery, automation and orchestration, integrating each of these components becomes a full-fledged IT project in itself and entails overhead costs for development, management and support. Whereas, information dissemination becomes seamless in a cohesive RPA platform. The individual components have been developed and already tested to work impeccably. This makes a knowledge-driven, cohesive RPA platform the ideal choice for an enterprise which is focused towards automation maturity.
References:
Automation Singularity https://youtu.be/y-iCdqe8iDc