There are mainly two factors driving the success of contact centers, namely, an efficient agent and a happy customer. However, scaling up operations becomes problematic in the absence of an agile and flexible operational structure as the business progresses. In order to meet the constantly rising demands and changing requirements of customers and increasing products and promotions, contact centers hire additional staff and train and prepare them for new products, promotions, and processes. This adds to operational costs and is highly time-intensive.
Courtesy of new-age technologies, the legacy approaches are fast receding into the past. Technologies like speech and sentiment analysis, conversational AI interfaces powered with NLP, intent identification, and RPA help scale customer support and enhance operational efficiency.
Role of technology in scaling contact center efficiency
New technologies are helping businesses deliver quick, predictive, and customized solutions to end-users.
Here are the different ways in which NLP, RPA, and other advanced technologies are amplifying contact center efficiency.
Accessibility of customer information: Consolidation of customer information based on historical interactions, past transactions, call logs, and behavioral patterns help agents to understand customer problems faster and resolve issues better and in no time. IVR (Interactive Voice Response), routing, and integration with NLP for sentiment analysis and incident automation through RPA support the agent in the business area.
Predictive and customized solutions: Contact centers use advanced capabilities to analyze customer requirements and sentiments aptly. With the help of past data, the automated system aptly predicts what customers want and provide customized solutions based on their needs.
Mitigating customer problems: Contact centers utilize the latest tech-based capabilities to better mitigate customer problems in less time. This translates into better operational efficiency, a motivated agent, and a delighted customer.
Analyze the overall performance of operations: With the operations being managed on different systems, multiple reports are generated, making it difficult for the contact center head to consolidate all reports and have a single view. AI and analytics help leaders consolidate the overall performance of the contact center operations, enabling quicker decision-making.
Reimagining customer experience with AssistEdge Engage
Businesses look for tech-enabled solutions only when they face a heavy influx of new customers, a new set of service requests or an increasing customer churn rate due to inefficient operations. AssistEdge Engage is a game-changing solution for agents. With the help of an Intelligent Automation platform like AssistEdge Engage, agents can easily double up customer experiences with actionable insights and customized solutions. They can handle more customer requests than earlier, resulting in better efficiency and productivity of contact centers and more business.
AssistEdge Engage offers the following benefits: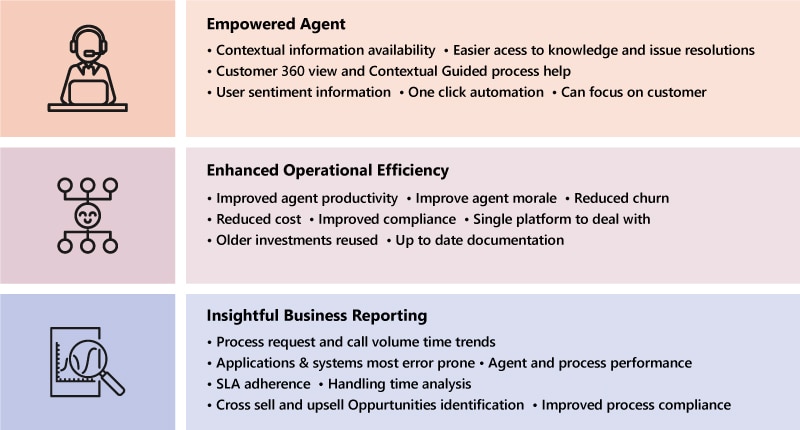 Conclusion
Scaling up contact center efficiency is a challenge with the existing disparate systems and the ever-growing systems as technology advances. AssistEdge Engage can help contact centers reimagine customer experience by leveraging the power of AI & Automation, thus improving contact center efficiency and productivity.