According to a recent report by IDC, worldwide spending on cognitive automation and Artificial Intelligence (AI) systems are forecasted to reach $77.6 Billion in 2022. With new technologies mushrooming across a plethora of industries, enterprises are gung-ho about creating a brave new digital world, where enterprises traverse from a pure deterministic phase to intelligent automation and finally to human-empowered automation.
How can intelligence help accomplish complex enterprise goals? How can enterprises create Intelligent Agents? How can enterprises create the future workforce — a human-digital twin?
What is Intelligent Automation?
Intelligent Automation, an advanced form of Robotic Process Automation or RPA, has evolved from a mere screen-emulation tool to a one that enables software bots to make intelligent decisions across business processes and functions.
The origin of RPA dates back to the early 2000s when screen emulation, workflow automation and Artificial Intelligence were disrupting the manufacturing industry. Repetitive and deterministic processes were automated, enabling employees to focus on more strategic and higher-value tasks. RPA brought about a massive transformation across back-office functions, relieving the employee off clerical tasks. With the advancements in breakthrough technologies such as Big Data, Machine Learning and Artificial Intelligence (AI), Intelligent Automation is revolutionizing the way businesses think and operate. Ideal for finance, HR, procurement, insurance and accounting activities, it does not replace humans but seeks to usher in a new era of automation, where innovation and productivity are no longer seen as pie-in-the-sky goals.
Preparing enterprises and leaders to embrace the future of Automation
Remember Good Ol' Fashioned AI (GOFAI) or Symbolic AI that aimed to focus on symbolic reasoning and logic? It failed to live up to its promise since it was challenging to set up, patterns were spoon-fed into the system, and it focused on creating software that was as intelligent as a human. That's when game-changing technologies or non-symbolic AI such as Deep Learning powered applications came in, bringing in a sweeping transformation and enabling organizations to unlock potential opportunities for achieving an intelligent system that can make better-informed decisions.
Hence, enterprises must redefine their Intelligent Automation goals and create a new standard — Automation Singularity that is poised to challenge enterprise-wide digital transformation. 'Singularity' as such is predicted to create quite a stir where adoption of AI and automation will transform the existing workforce, leading to a fear of job loss.
At EdgeVerve, we believe a seamless collaboration between the human workforce and the digital workforce will help co-create the future worker, bringing about 'Human-empowered Automation'.
What is Automation Singularity?
Automation Singularity refers to a highly customer-centric and agile oriented state of constant improvement and optimization through the future workforce, opening up an expanded horizon of possibilities. Human specialists drive customer orientation using their creativity and empathy and are complemented by digital workers with extreme productivity and consistency.
It has the potential to bring humans and the evolved digital workers closer than ever. This unified human-digital workforce will represent a powerful blend of advanced capabilities that will drive the enterprise of the future.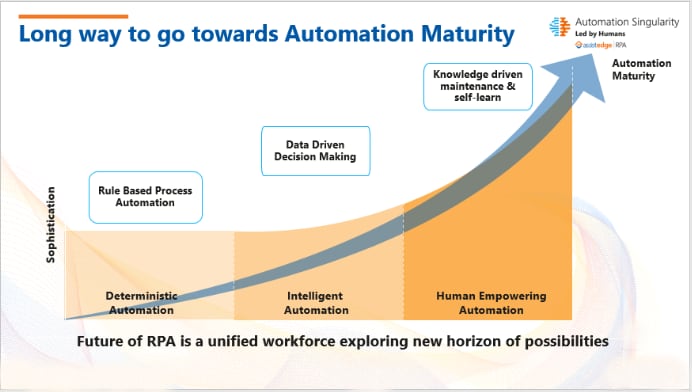 Enterprises will have to transcend from 'Deterministic Automation' to 'Intelligent Automation' and to ultimately 'Human-empowered Automation'. Traversing the journey from rule-based automation to a state of human-empowered automation requires a synergy of people, process, and technology.
Creating a new human-empowered workforce
Training your existing workforce and educating your employees on how RPA and other technologies can simplify customer interaction, analyze Big Data, provide insights that help improve business processes, enabling enterprises to ride the Automation wave. With a seamless collaboration between the human-digital twin, there is a considerable improvement in business agility — where enterprises can transform and adapt to rapidly evolving market needs, respond instantly to emerging threats, and seize new market opportunities.
The road ahead for enterprises
Are you prepared to embark on a journey towards Automation Singularity?
RPA is seen as one of the key pillars of Intelligent/Cognitive Automation. By leveraging Intelligent Automation, enterprises can move from RPA to machine-based learning to cognitive capabilities such as AI. RPA has come a long way from being just a piecemeal approach to an enterprise-wide strategy, transforming the way organizations work.
We believe Automation Singularity is a journey wherein enterprises traverse from attended and unattended automation to Intelligent Automation and ultimately to human-empowered automation that touches every process, employee, and system in the enterprise. With our key disciplines — Discover, Automate and Orchestrate, we provide enterprises with the right platform to traverse the journey towards Automation Singularity.
Redefining intelligent automation goals with Automation Singularity requires enterprises to establish a Center of Excellence. This CoE should be a combination of business and IT leaders who will spearhead automation capabilities in the right direction. Automation Singularity should not be regarded as just an end state or from a technology perspective. It also represents business views as business teams have an equally vested interest in making Automation projects successful. At EdgeVerve, we envision an organic change and a unified platform where Automation, AI and ML capabilities all work in sync with each other and that it is not deemed or construed as just an incremental change. Hence, enterprises should draw out a clear automation roadmap or blueprint, which focuses on having a unified view of how they are going to evolve over a period of time in the journey towards Automation Singularity.
Change management is another aspect that enterprises cannot afford to overlook. Enterprises need to prepare their existing workforce and leaders to get better acquainted with new, futuristic technologies that will change the way organizations think and operate. Establishing a hub or a center which has a profound understanding of Automation and AI technologies and how they can be adapted to overcome challenges in the journey towards Automation Singularity is the way forward.
In the whitepaper, 'Powering a new horizon of possibilities with Automation Singularity', we have tried to articulate what Automation Singularity means for enterprises, and the changes enterprises need to implement to achieve this end state. Download the whitepaper.