Robotics Process Automation has traditionally been targeted at processes that run on legacy applications and is often looked as tactical solution to address short-term business requirement. Front office application UI automation follows pre-defined rules, limiting the capabilities of Digital Workers. The predominant use cases RPA industry been automating does not demand intelligence; however, the question been always lingering:
Can these digital workers extend the scope of automation by acquiring intelligence capabilities such as seeing, learning and communicating? Can the digital workers apply intelligence to add value to e-commerce or to the labor-intensive and yet to computerized farm industry?
AssistEdge, EdgeVerve's automation solution, recently launched its most intelligent offering – AssistEdge RPA 18.0. The product offers holistic automation suite by empowering digital workers with the intelligence of vision, analytics, and self-learning capabilities.
So how can Intelligent Automation be applied to e-commerce and farm industry?
OnlineMeds, an online commerce portal for medicines, offers both prescription and OTC medicines. One can purchase medicines online at discounted rate and get them delivered at home for free. For prescription medicines – one can either submit prescription online or request for a call back from a doctor to issue a prescription. The below workflow captures the typical stakeholders involved in the transaction and purchase experience.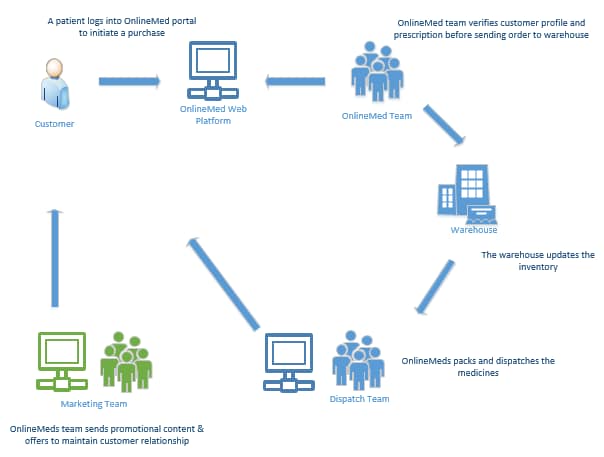 The tasks involved at OnlineMeds in the whole purchase experience:
The ease of purchase is driving the change in consumer behavior and increasing the transaction volume for such online portals; however, the execution model has predominantly been supported by manual tasks:
With intelligence capability now embedded in Digital workers, they are empowered to add more value to business. Below is possible implementation of automation, with intelligent capability such as Vision and OCR, in the online medicine purchase use case. Vision will mark relevant information on handwritten or digital prescription, while OCR will convert the data to structured format for DWs to execute a purchase order.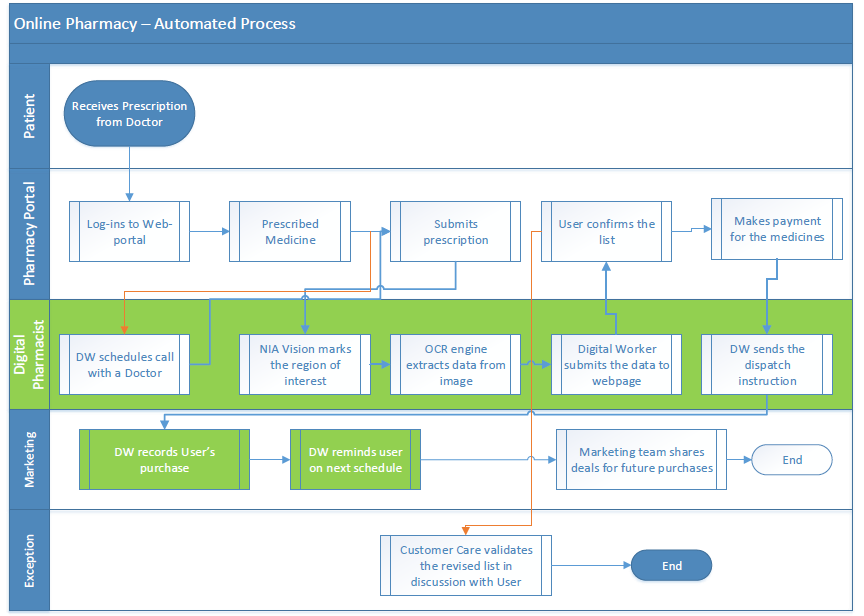 OnlineMeds significantly invests manual efforts to review the prescription, dispatch medicines and manage huge contact center base to address customer queries. A digital worker can mimic user action right from backend operations of analyzing a prescription to confirming the patient on the purchase.
At the outset, a digital worker will be able to cut-down the whole process execution time by half, improving customer experience and saving cost for OnlineMeds.
Robotics has been associated with machineries that follow human command or to RPA that mimics human behavior as per pre-defined business rules. Software as a service on cloud has extended the scope to fields where one may not even establish any hardware at premises.
Taking farming for instance. Can digital workers offer any automation and reduce the manual efforts involved in farming? Can digital workers apply intelligence to offer seamless monitoring and maintenance asks at a farm?
Automation solution – AssistEdge RPA is capable to run entirely on cloud, access intelligence and take business decisions.
Below is a representation of how intelligent digital workers with assistance from monitoring products such as drones can help deliver value to farming at lower costs.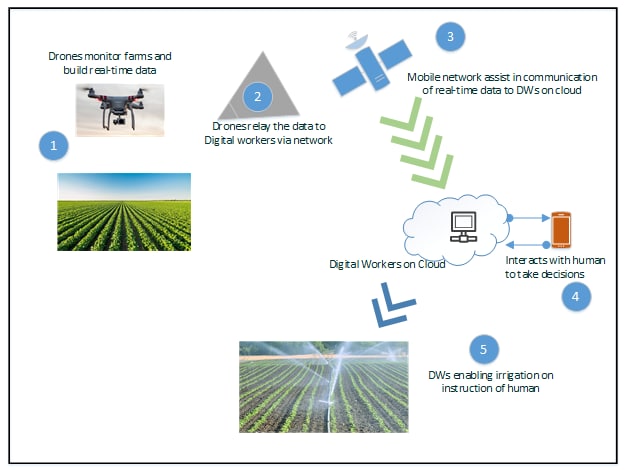 A farmer largely spends time in monitoring the field, irrigation and evaluation of crops for harvesting.
Digital workers can be trained using machine learning models to take decision and perform the above tasks. The ML model will instruct digital workers to initiate irrigation, analyze whether pest control is needed or the crop is ready for harvesting. A digital worker lets all these operations be managed remotely, saving manual efforts and leading to more efficient farm production.
The acquired intelligence has exponentially increased the possibilities of automation. Digital workers can now do more than just follow pre-defined business rules – they can analyze data run-time, communicate with stakeholders and take decisions. They have the capability to continuously learn and build history to take best possible decisions.
Businesses must now explore all possibilities to increase efficiency and grab new growth opportunities by hiring intelligent digital workers.