AI and automation are set to disrupt the way contact center industry operates through a human-led digital workforce that can transform customer service delivery. Advanced capabilities, powered by AI and automation, will make contact centers agile and intelligent, opening a window of opportunity for them to directly influence the top-line. New-age customers, who love personalized, omni-channel and self-service experiences, expect their interactions with agents to be simple, insightful and contextual.
Research shows customers who have got satisfactory and delightful resolution to their problems are likely to spend more on the brand as compared to customers who never had any problems or customers who did not get a satisfactory response1. A Mckinsey study shows that companies focused on providing a superior experience across customer journeys realized an increase of 10-15% in revenue and 20% in customer satisfaction2. Meanwhile, a Forrester study shows that increasing customer retention by 5 percent can increase profits by up to 95 percent3. Hence, enterprises have the opportunity to relook at contact center investments using new-age technologies that can drive additional revenue and profit.
Challenges Facing Contact Centers
While there are opportunities waiting in customer delight, today's contact centers are facing challenges in achieving basic customer satisfaction. Customer engagements with modern contact centers are expected to offer an omni-channel experience, an antithesis of traditional single-channel contact centers. To enhance customer experience, reduce operational costs and be at the forefront of change, contact centers need to engineer efforts to increase their effectiveness. In a stark contrast, contact centers using legacy systems face major operational inefficiencies, such as endless waiting time, multiple transfers, and lack of real-time reporting. These factors leave little leeway for customer experience enhancement, and lead to customer churn instead.
Contact center agents using legacy systems face myriad challenges in the form of managing disparate systems for information, incomplete customer information, compliance and SLA adherence issues and lack of knowledge on promotions and offers. Impediments, such as these, create high learning needs and pressurize agents to improve productivity. The ripple effect of these factors manifests in the form of high employee attrition.
These inefficiencies can only be addressed by contact center automation, making it critical for industry leaders to capitalize on this change and create their niche in the market.
Reimagining Contact Centers with Intelligent Automation
Intelligent Automation (IA) augments contact center efficiency, delivering solutions across all customer touchpoints. IA offers an intuitive approach to data integration and system workflow that enriches and automates contact center effectiveness in the following ways:
Predictive Intelligence – The pre-emptive feature of predictive analysis anticipates call reason based on transaction and call logs history and behavioural patterns, making identifying customer easy.
Conversational Virtual Assistants – Virtual assistants use Voice Recognition Engine and NLP engine to analyze customer sentiment, thereby helping agents to empathise with upset and angry customers. They also effectively answer all FAQs, which otherwise become tedious for agents.
Unified Agent Desktop – A consolidated view of disparate systems offers agents access to service and call handling metrics, making customer engagement more efficient.
Actionable Business Insights – Collating customer information from disparate sources helps businesses generate actionable insights that streamline performance management.
The efficiency of automation and AI solutions, thus, is not limited to solving problems. Their focus is wider, covering the pervasive need of enhancing the quality of service by touching every pain point that contact centers face.
Why AssistEdge Engage
AssistEdge Engage brings the power of AI and automation to reimagine customer experience in contact centers. Customer satisfaction can be significantly enhanced by understanding and optimizing agent journeys and engagement. AssistEdge Engage empowers the agent with digital assistants that perform repetitive and mundane tasks and lets the agent focus on customer-centric actions. This future-ready IA system helps deliver personalized experiences, which in turn, helps businesses maintain customer centricity throughout the journey.
This intelligent solution also fortifies data, reduces IT complexities, creates a 360° customer view, lowers operational costs and helps in realizing ROI faster. These factors work in favour of increasing the brand value by raising customer stickiness and net prompter scores.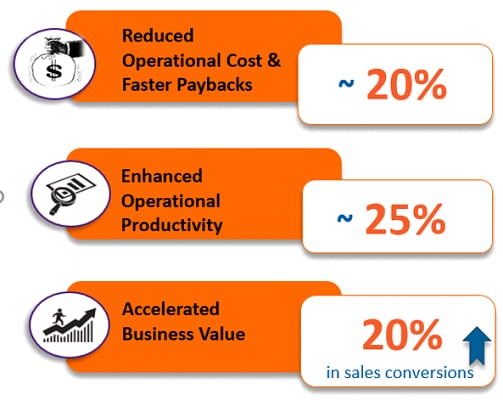 Caption: With AssistEdge Engage, operational productivity follows a rising trajectory
Focusing on customers, the sentiment analysis feature of AssistEdge Engage deciphers customer sentiment based on recent customer interactions and displays its analysis on the agent's dashboard. Integrated with cognitive services, this amplifies customer engagement, empowering agents with the awareness of customer emotion.
The agile, out-of-the-box dashboard templates build rich and professional-looking dashboards using the comprehensive list of component repository to suit process needs. While improving turnaround time, this makes on-boarding new implementers easier. The Citrix hybrid support allows seamless operations in Citrix or VDI environment, including hybrid scenarios.
AssistEdge Engage is an over-the-top application that integrates seamlessly with existing legacy systems. Investments thus are not directed towards a complete system overhaul, which transpires into shorter break even time for companies.
A Brighter Future, An Efficient Ecosystem
To stay relevant in the future, contact centers have to think beyond the elemental routing and scheduling software. They have to reimagine their journeys with a holistic strategic vision, with complete understanding of the various elements and components that become part of this system.
AssistEdge is engineering world-class automation solutions that will empower enterprises to experience gratifying customer interactions. The strong IT architecture of AssistEdge Engage harnesses the power of AI and automation, to empower its digital workforce with capabilities that help them solve all operational challenges with unmatched efficiency.
Source links:
https://www.mckinsey.com/business-functions/marketing-and-sales/our-insights/best-of-both-worlds-customer-experience-for-more-revenues-and-lower-costs