In this second article in the personal bots series, we will extend the concept of personal bots to the enterprise scenario. In the last article, we focused on how personal bots triggered on-demand can perform tasks on behalf of the employee, even in his/her absence.
While personal bots can automate any task (personal or official), in a corporate setup, controlled distribution of personal bots to automate repetitive official tasks can yield desired benefits. Organizations usually have set procedures for their employees to follow or to execute standard tasks for each role. The same set processes can be codified through the automations and distributed as personal bots, to be utilized by employees as and when they need. This version of personal bots, where the enterprise controls the definition, configuration, and distribution of bots and execution of bots, occurs on an individual employee's machine on-demand is called EPB or Enterprise Personal Bots.
How do Enterprise Personal Bots add value?
As organizations grow, their internal processes become complex, primarily because tasks get distributed across groups, and multiple hand-overs happen. Business complexities also add to these process complexities. To keep pace with market changes, often, the internal processes and applications are "patched up" on-the-go, resulting in inefficient and not-so-user-friendly enterprise applications. Pretty soon, employees across the organization are performing repetitive tasks, copying and pasting data from one application to another, exchanging data over excel even though apps exist, and extracting data from documents. This process takes up considerable time and effort of the employees and takes away their focus from creative value-added tasks. From a human resources point of view, it promotes a culture of mediocracy, where mastery in such repetitive tasks becomes critical.
Enterprise Personal Bots come handy in this situation. It can automate tasks that are now repetitive and don't add any significant value. It will free up employees from mundane tasks, allowing them to work on tasks that require creative decision making and improving customer experience. From an employee satisfaction perspective, it will be a huge boon as the frustrations of inefficient processes and enterprise apps are reduced.
How do Enterprise Personal Bots work?
Enterprise Personal Bots work with a centralized configuration and distributed execution model, which means that the bots are pre-configured centrally, by subject matter experts. Individuals in the organization playing various roles, including Project Manager, Accountant, or Recruiter, typically identify tasks for automation. Tasks executed by each role are analyzed in detail to identify repetitive activities that take considerable time but require little decision making. Such tasks are then standardized by creating templates for Inputs, Outputs, and any intermediate human intervention. The remaining part of the task is automated using RPA.
These pre-configured bots are then deployed (using the organization's existing SMS push or another mechanism) on an individual employee's machine of that specific role. Employees for each role then trigger these bots as and when needed, with their credentials and inputs. They can continue to do other work, while the bots perform the tasks and alert once done. Centrally, the bot execution and effort savings can be monitored on the dashboard.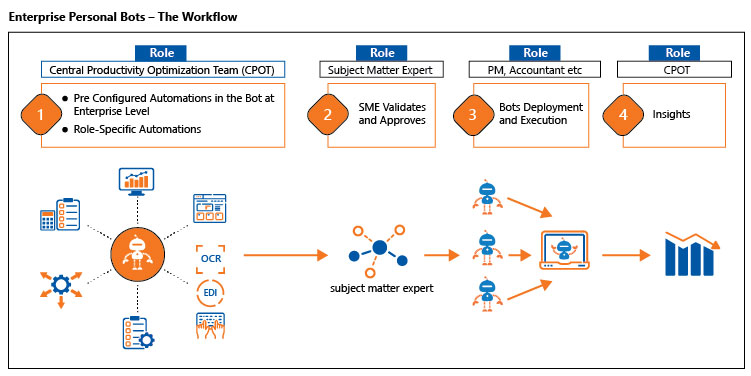 Thus, the Enterprise Personal Bots combine the power of attended automation and personalization of bots with the control and discipline of the organization. They have the potential to free up significant time and effort of the employees, unleashing the true human potential of the workforce.
As with any technology, EPB come with their nuances and challenges. In the next few posts, we will examine the Enterprise Personal Bots from different dimensions of Security, Governance, Monitoring, and Licensing.