Business Process Management or BPM, Service Oriented Architecture or SOA, Enterprise Service Bus or ESB, Enterprise Application Architecture or EAI, Straight Through Processing or STP, Long-Running Processes, Workflow, Business Activity Monitoring, Business Rules, Document & Content flow, Case Management, Automation, Process Automation, Robotic Process Automation, Dynamic Case Management or DCM, Business Process Automation or BPA, Digital Process Automation or DPA, DPA Deep, DPA Wide. This endless list of business process concepts either confuses or scares most of the business users.
In this article, you will see how BPM, DCM, DPA, DPA-Deep, DPA-Wide, and RPA capabilities complement each other empowering the digital transformation journey of large organizations with low code, low-cost process automation features and helping them move towards achieving business agility in real-time.
Enterprises are trying to automate their processes right from the birth of the IT industry. High-priced till the 90s, only a few sectors like the BFSI could afford IT. The real IT applications started when some banks in the USA got mainframes deployed from the IBM labs to automate their General Ledger.
The 90s belonged to the IBM Mainframes. AS/400, UNIX, and Windows also had their footprints. Many Programming languages like C, Delphi, and products like the ERPs, Enterprise Databases soon became popular. By this time other sectors also joined the IT bandwagon to automate some of their enterprise processes. As an industry, IT was still quite young as compared to other industries such as the Electrical industry, which has been there for centuries now. Both the industries therefore, differed in the way they developed products. For example, an Electric Plug manufactured by one vendor can provide its desired functionality by connecting it easily to an Electric Socket manufactured by another vendor. Whereas the IT industry developed a lot of code while building these disparate online transaction processing (OLTP) systems which could not talk to each other! That gave birth to the concept of SOA and interoperability.
The BPM/SOA/ESB/EAI wave ruled the first decade of the 21st century. The second decade saw the emergence of new concepts like BPA, RPA, Robots, and Chatbots. Oxford University conjectured in 2013 that up to 35% of all jobs would be automated by 20351. RPA alone is likely to reach $2.9 billion by 20212. This has caught the attention of all analysts. However, most organizations are still not able to automate all their enterprise processes using BPM/BPA capabilities. This is what gave birth to Digital Process Automation (DPA) as a concept.
What is DPA?
If you are wondering why are there so many concepts for process automation? Don't worry – nothing's changing – it's the same old wine in a new bottle. Mathematically DPA = BPM + RPA. DPA is a natural progression of the BPM concept, and in addition, it can discover and automate processes in scenarios where BPM typically fails. DPA is useful in cases when the process includes websites with no APIs, custom applications, or legacy applications.
RPA Tools like AssistEdge augment the BPM tools to automate these processes using a combination of web, windows, and image automation techniques. DPA is further divided into two categories – wide and deep. DPA Wide is suitable for automating processes of moderate complexity using low-code tools, while DPA Deep is suitable for automating highly complex processes.
Most large organizations have been following the trend and have already bought and successfully deployed multiple BPM/BAM/ESB/EAI tools/products available in the IT Product market. The BPM/BAM/ESB/EAI products typically use the "top-down" approach to automate enterprise processes. The RPA/DPA/DCM products typically use the "bottom-up" approach to automate enterprise processes. Combining the existing capabilities/expertise in the available BPM/BAM/ESB/EAI tools and these new complementary RPA/DPA/DCM Tools will help these large organizations achieve business agility in real-time, realizing the benefits of this process value chain. As the "top-down" and "bottom-up" merge, the RPA/DPA/DCM products look to strike the balance between robust process, rapid development, and low cost.
Importantly, post COVID-19 all these large organizations are re-inventing their business models resulting in the need for more innovative and agile business processes. This outcome-based digital transformation journey of large enterprises demands complex process automation capabilities with low-code tools to achieve business agility providing the business SMEs a bigger say in the development process.
The below logical architecture diagram captures some of the capabilities that these large organizations/enterprises already have. It also enlists the new set of complementary capabilities that the large enterprises need in different layers in their Enterprise Architecture to continue on this path of Enterprise Process Automation.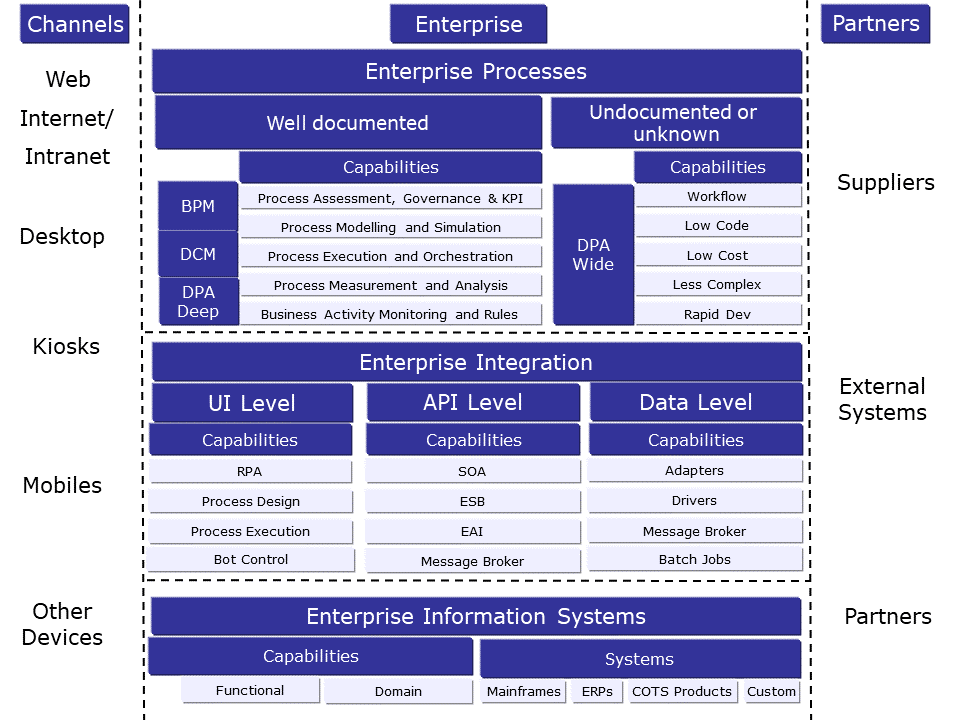 The ability to do UI level integration is critical for large enterprises as API and Data Level integration is too expensive and not possible in many cases. RPA Tools like AssistEdge complement the BPM/DCM/DPA tools to provide UI level integration capabilities to "automate" any application irrespective of the technology in which it is built. This is the reason why most large organizations today are looking to combine the capabilities of these BPM/DCM/DPA Tools with the capabilities of RPA tools like AssistEdge to automate Enterprise Processes as part of their digital transformation journey.
References