Why is it crucial for organizations to be data-driven in today's rapidly evolving digital landscape?
In today's era, where data is paramount for organizations, a "data-driven culture" has evolved from a mere buzzword to an indispensable requirement for businesses aiming to expand and stay ahead in the market. Over 70% of the world's most valuable companies have embraced data-driven strategies. However, what precisely does it entail to be data-driven, and how can organizations successfully embrace this transformative mindset? Let's investigate these inquiries and examine the importance of adopting a data-driven approach.
What does it truly mean for an organization to be Data-Driven?
Being data-driven is essentially a fundamental shift in decision-making processes, where businesses strongly emphasize the collection, evaluation, and utilization of data to leverage strategic initiatives. It comprises the orderly use of data to gain critical business insights and strategies and enhance operations and overall performance. In a nutshell, data-driven enterprises heavily rely on the valuable insights data provides to make well-informed decisions. An example of data-driven decision-making is using digital intelligence tools to understand an existing demand in a market for a specific product or service before deciding to enter it.
Why should Organizations Embrace a Data-Driven Approach?
Data-driven organizations have a significant advantage over their competitors. They can uncover hidden patterns, customer preferences, and emerging trends, enabling them to stay ahead of the curve and make proactive strategic moves. Coca-Cola is an excellent example of a data-driven organization, having built a strong strategy with its data inputs, which is the main factor for achieving strong customer retention. The following points summarize the benefits of being data-driven:
Business leaders in data-driven organizations understand the benefits of relying on data insights to make wise business moves.
Adopting a Data-Driven Mindset and Culture within Organizations
As organizations progress in their digital transformation journeys and look at how to implement technology to enhance service delivery, the focus is on how data can be used to resolve issues around digital services. Data is not an issue. However, how the data is influenced, collated, and managed must be analyzed. Only then can this data be used to develop and adopt new tools, particularly AI-powered technology.
Artificial Intelligence (AI) and Machine Learning (ML) are the best tools to improve a modern data system; however, these tools cannot be implemented immediately to yield positive results. These tools depend on the systems and culture of the organization – both of which have been designed to work together. I believe that addressing the workforce "platform" along with the digital "platform" can work wonders to accomplish a continuously improving, innovative culture based on learning.
Moreover, organizations must move to integrated solutions. It is a proven fact that data-driven enterprises grow faster than legacy systems.2
Data sharing between legacy systems is similar to attempting to communicate between isolated islands in a vast ocean. Legacy systems are often called information silos as they are isolated from other systems. To overcome this predicament, organizations must leverage data integration. Just as bridges connect islands and enable smooth communication, data integration bridges the gaps between disparate systems It also offers direct access to each data system, thus making data control possible (where it is seen and referenced). Data integration offers better scalability and flexibility with specific tasks since the data structure remains intact. I strongly recommend investing in a single cloud platform that integrates all business functions, brings business information into a single database, and makes it available in real-time.
A Harvard Business Review states, "The biggest obstacles to creating data-based businesses aren't technical; but cultural. It is simple enough to describe how to inject data into a decision-making process. It is far harder to make this normal, even automatic, for employees — a shift in mindset that presents a daunting challenge.3
Attaining Data-Driven Consistency
In a data-driven culture, leaders push to ensure that the needs are addressed across the board and utilize tools, processes along with technology to minimize the burden on employees. But where do you start?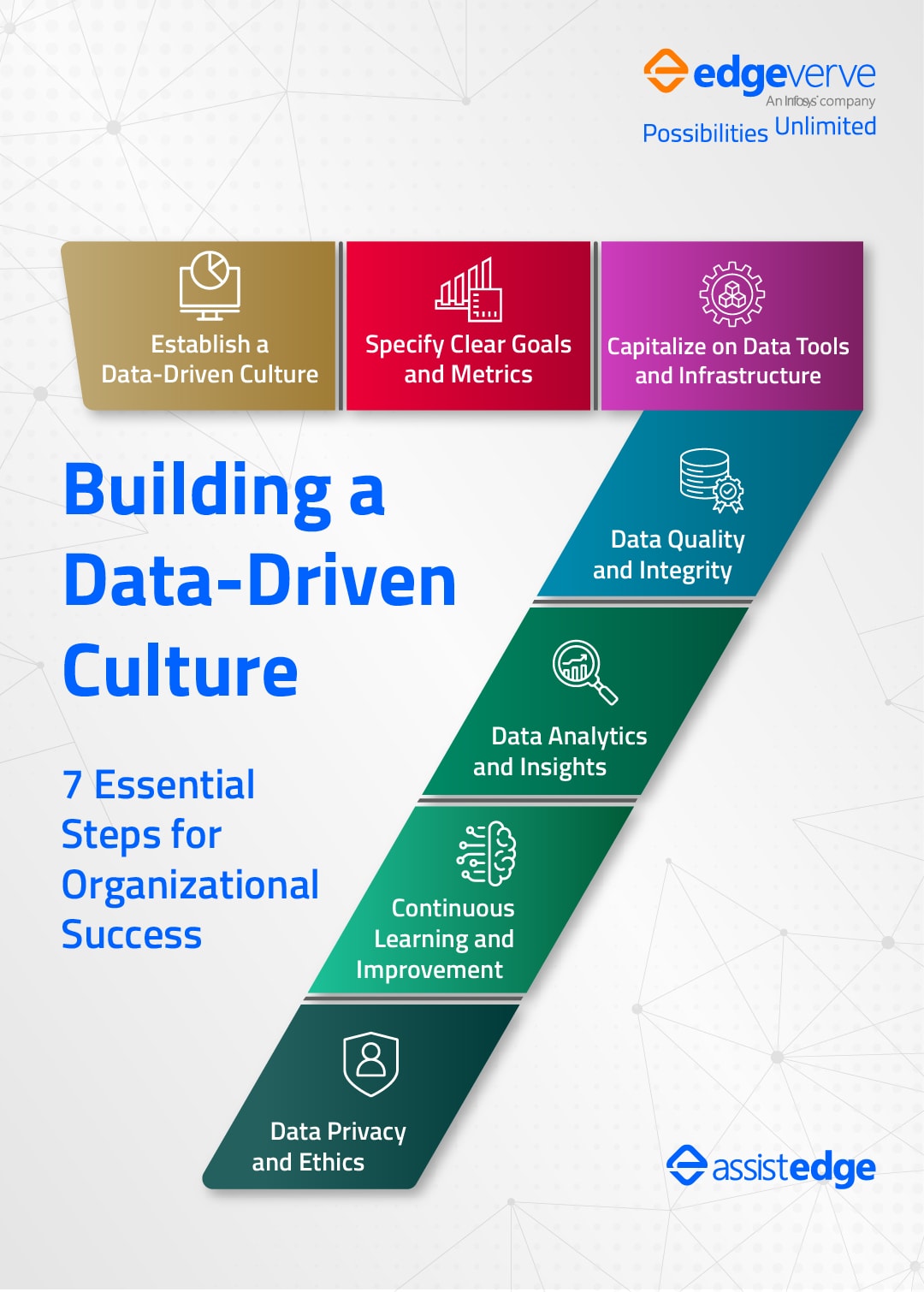 By embracing these principles, organizations can harness the power of data to make informed decisions, drive innovation, and achieve sustainable growth in today's dynamic business landscape. Additionally, organizations can build resilience and ensure quality decisions by leveraging data as a strategic asset.
Conclusion
In the current era governed by data, businesses must embrace the wealth of opportunities it presents to revolutionize their operations and outpace their competitors. Adopting a data-driven mindset is no longer a choice but a strategically essential move in the dynamic and digitized landscape.
At EdgeVerve, we deeply understand the transformative potential of data-driven decision-making. By partnering with us, you unlock unrivalled innovation for your business models, driving remarkable efficiency and resilience. Our cutting-edge digital platforms empower organizations to harness the immense potential of their data, fuelling sustainable growth.
We are committed to empowering you to utilize data as a strategic asset, uncover new avenues of opportunity, optimize your operations, and deliver exceptional value to your customers. Together, let us embrace the immense power of data and thrive in the digital age.
Reference Links