Building end-to-end journeys successfully can craft unique customer experiences. Unfortunately, contact centers struggle to meet consumer demands of getting round-the-clock assistance. Business leaders know that striving for a balance between faster problem resolutions and offering personalized services can help such contact centers survive the unprecedented challenges. And that is a one-way ticket to winning customers.
Considering the current scenario, contact center automation is the only bet to keep customers happy. With the help of Intelligent Automation, contact centers can improve the quality and efficiency of their services and deliver business benefits at various touchpoints.
How does Intelligent Automation handle the pressing problems of contact centers?
Statistics suggest that global business spending on contact centers will increase to $407 billion or more by 2022.
Customer relationships and loyalty have taken center stage forcing contact centers to abandon traditional methods and switch to an omnichannel model of connecting with end-users. This new approach is presenting a new set of challenges for the contact centers, such as: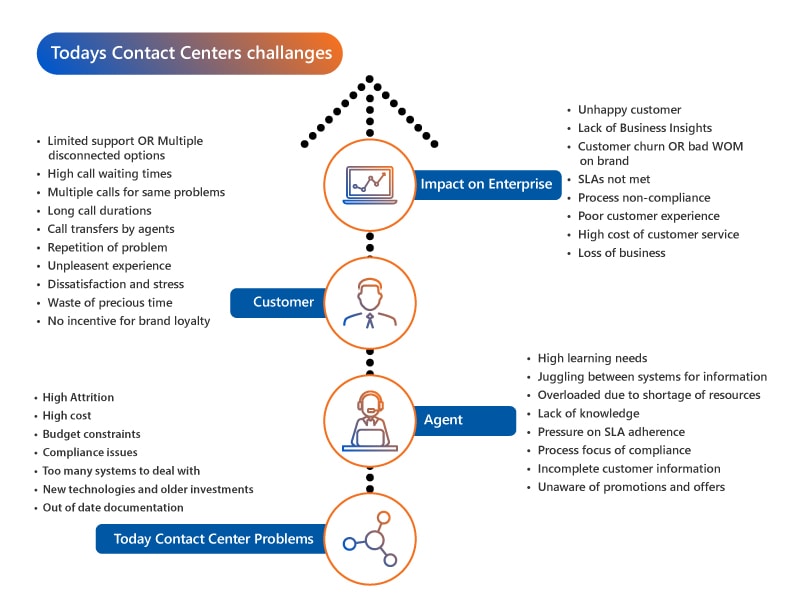 The challenges mentioned above beg for a contact center automation solution beyond call routing and scheduling. In order to keep pace with the evolving consumer demands, businesses and contact centers need to invest more in tech-enabled solutions like Intelligent Automation, other than increasing the manpower, adding to operational costs, and eventually suffering from loss of business.
Benefits of using Intelligent Automation in contact centers
Contact center automation embedded with Intelligent Automation capabilities garners better interactions between businesses and customers. IA provides contact centers with an intuitive and unified dashboard with a single sign-in to enter and update information on various systems simultaneously, without shifting between applications.
Moreover, call center automation uses interactive voice response, virtual assistants, and automatic call distributors to help agents access the required data in real-time for acting promptly on customer problems.
An automated system proactively identifies callers and creates a personalized experience based on customer needs as anticipated. The interface makes cross-sell recommendations too! Hence, AHT and call-abandonment rates are reduced, revenues are maximized, and executives are freed from mundane and tedious tasks.
The following are a few benefits of using IA in contact centers:

Predictive intelligence: Predictive intelligence helps contact center executives anticipate consumer intent by extracting information from past interactions, call logs, transaction history, and behavioral patterns. This improves first-call resolution.
Automated call triage and resolution: Automating the triage process eliminates the bias element from the customer support process. This evenly distributes the workloads to conserve manpower resources.
Unified agent desktop: The omnichannel system connecting disparate systems and applications makes service and call handling metrics easily accessible. This makes customer interactions more effective.
Actionable business insights: With the help of customer information aggregated from multiple sources, businesses generate actionable insights for process optimization and performance management.
Virtual assistants: Virtual assistants help with first-level support, guiding customers in self-service and addressing FAQs, freeing agents to address more complex issues.
Reimagining Contact Center Automation with AssistEdge Engage
Customer experience can make or break a business. Hence, contact center automation powered by Intelligent Automation capabilities can provide a competitive edge to businesses. However, the success of automated contact center solutions boils down to identifying and implementing the right solution.
AssistEdge Engage is a ready-to-deploy, configurable solution that adds automation capabilities to contact centers. Leam more about its features.
Intelligent Automation for contact centers – Use case
Prices in the telecom industry are homogenous; hence, companies have to rely heavily on quality service and customer experience. And contact centers are the medium to increase customer engagement. The companies are challenged to balance efficiency, quality, and satisfaction of both agents and customers.
There are other bottlenecks faced by telecom companies when it comes to:
A European multinational telecommunications company was faced with similar challenges. The company stresses continuous customer experience with its services but lacks the much-needed Intelligent Automation solution. With AssistEdge Engage, the fourth largest telecom operator globally could witness a 40% reduction in average AHT across operations.
Intelligent Automation is the future of contact centers
Contact centers depend on repetitive and time-intensive tasks, which are integral to their business models. But, such repetitive tasks weigh down their operational costs from hiring extra resources.
With Intelligent Automation, contact centers have the bandwidth to rethink their approach to operations and find new ways to automate customer experience. Contact center automation solutions like AssistEdge Engage will positively impact their functioning, enhance operational efficiencies and improve the overall experience for both agents and customers.