Automation and AI combined possess the transformative potential to build the next generation of organizations. They are the principal vehicles for effecting change, pushing enterprises in the quest towards automation singularity. Do you feel like you're perpetually away from your automation goal? No worries! Albie can make all this a breeze.
A couple of months back, we introduced 'Albie', the cognitive engine of AssistEdge, powered by Infosys Nia, that delivers pervasive intelligence across the enterprise, enabling you to traverse the intelligent automation journey.
Capabilities of Albie
Contextual Intelligence
Albie can unify the Human-Digital twin to push Automation frontier to 95%. It can empower human workers with contextual insights to identify process redesigning opportunities.
Albie Decision Workbench
Albie can observe, learn and help solve business problems, as a result resolving and reducing errors. It can seamlessly unify the Human-Digital worker.
Cognitive Services
If you wish to automate processes involving the extraction of information embedded in documents like images, handwritten notes, prints & scans using cognitive services on tap, Albie has got you covered.
Business Intelligent Dashboards
Albie can create process-specific KPI dashboards, providing you with the framework to capture business-relevant data for creating dashboards around historic information, forecasts & business impacts.
Smart Resource Management
Albie can enable intelligent management of bot workload and health, predict failures, SLA breach & dynamically scale bots.
Why Albie?
We have all experienced this in the past: You're handed documents, receipts, invoices wherein you're expected to extract the information manually. You wish if there's a better to do this!
In a typical scenario, documents like invoices, cheques that are scanned or handwritten are complex to interpret by standard OCR. Organizations are sitting on a goldmine of data – waiting to be tapped. That's where advanced OCR technologies come to the rescue.
By using Machine Learning & Computer Vision to mark specific parts, Albie hands over the task to Advanced OCR for data extraction from scanned images.
Here's how Albie works
Albie, the cognitive engine, enables enterprises to constantly learn from their current processes, and improve as they evolve. In the past, simple processes have been optimized up to 100%; but what about complex processes? The most important part of automation is to handle exceptions. Albie learns/solve exceptions (Albie Learning Model) based on how humans are solving it. When faced with such exceptions in the future, Albie already has a decision for the digital worker/bot to implement. Only those exceptions that have not happened in the past are routed to the human worker for decisions, thereby making the entire system smarter.
Due to self-learning and smart exception management, Albie can enable enterprises to push the automation frontier to 95%.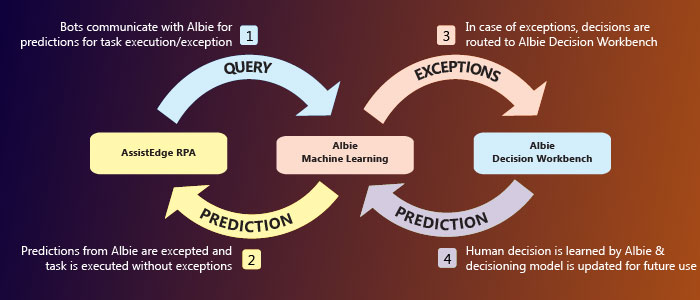 Let's dive into a case study to learn how we capitalized on the power of Albie to enable process automation for a retail giant.
The challenges
Our solution