Imagine a scenario where an enterprise decides to automate a core business process with RPA. They choose a vendor, select a process and after a successful POC, go live and derive expected results out of it. Now the business grows rapidly, and the automated process or the RPA technology they adopted doesn't scale as needed. What started as a boon, has now turned into a roadblock. Ever faced with such a scenario? This is what most enterprises face, when it comes to RPA.
While we have seen various enterprises adopt RPA to further streamline their operations and improve efficiency, they haven't been able to scale it up to realise its full potential. What starts with promising POCs have often failed to deliver. Why?
Well! Many enterprises don't foresee the need for scaling up and therefore, lack what it takes for a large-scale implementation. When the full-potential is not taken into consideration, it often leads to insufficient business cases being used to set-up the required architecture and infrastructure. As it is not planned for a larger good of the organization, all stakeholders aren't required, leading to significant resistance from various departments within the organization hindering the success of implementation.
So, what does it take for a successful automation scaling?
A successful RPA implementation is the first step towards enterprise-wide digital transformation. However, the scalability of RPA plays a huge role in achieving long-term success with automation. Below are a few best practices from organizations that were able to scale their RPA efforts to realise its full potential.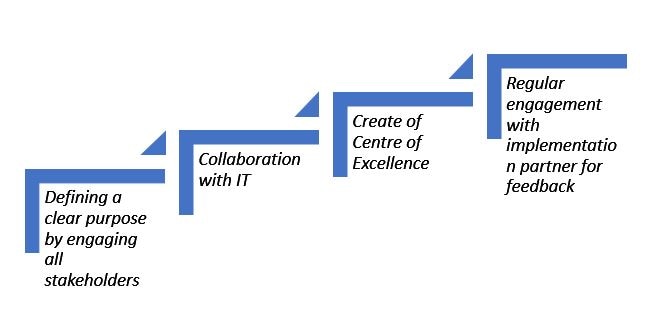 STEPS TO ASSURE AUTOMATION SCALABILITY
Conclusion:
Implementation of RPA at scale is a task achieved by few enterprises till now. However, it isn't unachievable. If enterprises define a clear purpose, involve key stakeholders, collaborate with IT, create a Centre of Excellence to adhere to best practices and engage with their implementation partner for a continuous feedback mechanism, they have a sure short at a successful and scalable RPA implementation. By aligning people with the processes and taking an inclusive approach towards digital transformation can set high standards and help businesses move faster towards their digital goal, resulting in scaling their growth and profitability. EdgeVerve's AssistEdge, with its robust capabilities, has the power to scale your enterprise automation program and meet the defined goals.