---
Artificial Intelligence, while far from mature, has finally come of age. In recent years, the confluence of a multitude of factors has accelerated the evolution of AI, which had seen alternating periods of advancement and inactivity in the six decades since it came into being. This appreciation and evolution of AI has had a tailwind in that the key building blocks of AI – machine learning, natural language processing, visual processing, and robotics – advanced rapidly at the same time. This combined with the data and computing power built over the years drove a spurt of innovation never seen before.
Today, AI is at a crucial juncture in banking. Although banks didn't take long to recognize this emerging trend, they have been relatively slow in adopting and applying the technology. This is largely due to a limited understanding of the technology building blocks, lack of expertise to implement and manage AI, and a fear of change among bank employees. However, with innovative companies and consumers being ahead in the curve, banks can hardly take the wait and watch approach.
In this edition of FinacleConnect, we go deeper in the AI landscape and look under the hood to present to you a direction towards 'AI Powered Banking'. The cover story by Sanat Rao, Chief Business Officer, Infosys Finacle, explores the role top management can play in driving the adoption of AI in their organizations for unprecedented gains.
AI has also emerged as an interest area where FinTechs, enterprise application providers and banks look to work together to build innovative solutions. Nitin Babel, Co-Founder, Niki.ai and Shankar Narayanan, Co-Founder and COO, Active.ai weigh in on the rise of AI in banking and how FinTechs are collaborating with banks in what we call "Inside Talk".
We have an interview with Siew Choo Soh, Managing Director, Head of Core Systems Technology, DBS Bank Singapore, talking about the journey of building the world's best digital bank. The edition also showcase the top ten strategic and technology trends that we believe will reshape banking in 2018.
With this edition of FinacleConnect, we endeavor to offer expert perspectives on AI technologies and use cases where they add value for significant differentiation. We hope you find it interesting and insightful. I look forward to your views.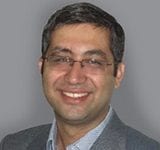 Puneet Chhahira
Head of Marketing & FinTech Engagements, Infosys Finacle, EdgeVerve