---
We are living and witnessing the most transformative times in the history of customer-centric banking. Buoyed by the proliferation of digital channels and copious connectivity, customers today expect ubiquitous banking experiences from their banks. How fast they can offer seamless banking on up and coming digital channels has become a competitive differentiator. It is becoming rather table stakes equally fast.
Banks are pulling out all stops to meet these expectations. But in providing these services and experiences, they contend with the much more agile digital native peers. Representative studies indicate that nearly thirty percent of customers today bank with at least one non-traditional provider. Combine this with the upcoming open banking wave and one reckons that, banking transactions are likely to move to third party channels even more rapidly, putting banks at a risk of losing the ownership of their relationship with customers. In response, banks are progressively innovating to play a larger role in the lives of their customers by becoming more than a provider of financial services. Progressive banks across the world are transitioning from the traditional model of vertical integration to the ecosystem-driven platform model, to be more to their customers. The platform business model, known to have blurred industry borders now seems set to help banks and financial institutions transcend borders.
In this edition of FinacleConnect, we present an array of perspectives from industry practitioners and thought leaders – all of them pointing in one direction – the platform business model in banking has arrived. The cover story by Sanat Rao, Chief Business Officer, Infosys Finacle, explores six business strategies for building a platform bank.
In our interview with bestselling author Sangeet Paul Choudary, we discuss how companies have embraced the platform model to expand the scope of the markets they serve. Interestingly, he debunks the myth that the platform model is about not owning any assets. He argues that it is about scaling the demand, and controlling profitable portions of supply, and substantiates it with examples from the very statement that allegedly propagated the observation – "The world's largest media company owns no content, and the world's largest taxi operator owns no cars."
Our interviews with Gabriel Di Lelle, Vice President, Innovation and Digital Transformation, Grupo Bancolombia, and Anuj Agrawal, Senior Research Manager, IDC Financial Insights, present how the model is shaping up in their respective regions, the key challenges that lie before banks, and the nuances of platform banking.
The edition also features points-of-view by Finacle thought leaders on industry developments in areas ranging from platforms, FinTech, blockchain, and more.
We hope you enjoy reading this edition of FinacleConnect and find it insightful. I look forward to your feedback and views.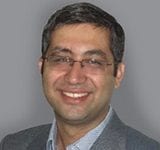 Puneet Chhahira
Head of Marketing & FinTech Engagements, Infosys Finacle, EdgeVerve