The New Normal in Financial Services
The New Normal in Financial Services Goes Beyond Financial Services
---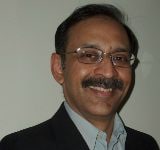 Arun Krishnan
Senior Vice President, Product Development, Infosys Finacle
In a conspicuous break with the past, winning customer trust is no longer only a function of ensuring that a customer's funds are secure. It is increasingly about knowing a customer well enough to be a partner at every step of her investment journey. To this end, progressive banks are turning to digital technologies to reimagine banking for their customers.
But as if in a balancing act, on one hand these digital enablers have increased the ability to understand and serve the customer better, and on the other they have amped up the customer's expectations. Customers' exposure to myriad digital services in their everyday life has reset their expectation from banking services. What's more, these expectations are not unrealistic. After reinventing hospitality, retail and transport industries, digital technologies and business models powered by these technologies are set to revolutionize other industries. Consider Philips Healthcare, the medical device maker, who is enhancing patient care using digital technologies with its Healthsuite platform that can scale up to millions of patients and help harness patient insights. The platform also augments revenue streams for the provider by offering solutions throughout the healthcare value-chain. Similarly, agile start-ups and FinTechs that have mushroomed across the banking valuechain are making unprecedented service levels possible. Mobile-only banks and several FinTechs such as CANDI by Canara Bank can open an account for a customer within minutes. MoneyTap, an Indian FinTech provides instant loan on-demand with zero collateral and incredibly low interest rates. Similarly, ICICI Bank has partnered with PayTM for instant short-term credit approval.
Clearly, banks are not the only providers of financial services any more. Digital upstarts have made a dent in the financial services space, and evidently in the books of the most trusted financial service providers, the banks. Studies suggest that about 73 percent of bank deposits, and about 7 to 9 percent of global banking profitability is projected to be at risk by 2020.
This along with regulatory challenges and environmental factors has put banks in a Darwinian race for survival. With their backs against the wall, banks are left with little choice but to innovate in order to offset the business lost to digital entrants. They are embracing a greatly expanded definition of banking, one that goes beyond providing financial services to integrating banking ever more closely with a customer's lifestyle and making it ever more contextual to their individual life stage.
Some of these new business models and initiatives include:
1. Partnerships beyond banking
In an attempt to win back lost customer ownership, banks are diversifying into adjacent markets to not just be a financial advisor to their customers but to also guide them throughout the purchase process of an asset. They are forming commercial partnerships with non-banking players. An example of this is the DBS car marketplace. The marketplace is a one-stop solution for car buyers and sellers that allows sellers to list their cars, creates the right buyer-seller matches, schedules test drives, and assists with all the paper work for ownership transfer, in addition to the vanilla banking service of providing loans. Buyers also benefit from attractive interest rate on their car loan.
2. Marketplace banking
Taking the concept of marketplace a step further, banks are setting up marketplaces for a host of non-banking products to integrate banking in the lifestyle of their customers. India's PayTM is a case in point. The leading payment service started with peer-to-peer payments and bill payments for a limited set of services such as utility payments. The e-commerce wallet now has more than 250 Mn registered users, and allows users to perform all kinds of payments – from fund transfers to flight tickets and hotel reservations to retail purchases. Revenue sources for the e-wallet include advertising, and commission or fee revenue from registered businesses. The e-commerce giant plans to expand its services by also offering loans by the year 2020.
3. Group synergies
Diversification is bringing about a convergence of industries at group companies or conglomerates that are capitalizing on synergies among all the businesses under their ambit. Emirates NBD provides its debit and credit card customers attractive offers on Emirates airlines and Emirates Holidays. Not just this, the bank has tied up with over 25 non-banking players to form an online marketplace called SkyShopper for its debit and credit card customers. Through the platform, the bank's customers can pay for items including flights, hotels, electronics, fashion items, entertainment, groceries, etc. in a single checkout.
4. Renewed focus on business customers to address their larger challenges
With the decline in income from lending, banks are looking to gain a competitive edge in corporate business by tapping into their network of customers. HSBC has launched a Connections Hub for its corporate and SME business customers. It connects suppliers and buyers in various markets. Corporate and SME customers save the cost of due-diligence of potential customers and suppliers since these are the bank's customers duly verified through KYC checks. The Hub is a social media platform where buyers and suppliers can connect with each other, make announcements, add opportunities, and more.
5. Investments in adjacent industries
Banks are investing in service providers in other industries to launch new innovative offerings and in some cases to increase the customer base and expand their reach. In markets such as Kenya with mobile penetration rates as high as 80%, and high uptake of mobile banking services, leading banks such as Equity Bank are investing in MVNOs to launch banking services and reach a greater population. Equity Bank is utilizing Airtel's excess capacity to deliver MVNO services for financial inclusion and affordable banking.
Here we have touched upon just a few alternative models. With open banking and the exposure of APIs to third parties and ecosystems, the simple lines of code that have powered communication between applications for years are now opening the floodgates of innovation in banking. Progressive banks are introducing innovative business models to monetize their APIs and fuel innovation within banking ecosystems.
These alternative models not only provide new sources of fee revenue to offset the shrinking core business of banks, but also help banks serve their customers more innovatively and efficiently. While digitization has endowed businesses with the tools for unprecedented personalization and contextualization, it is critical that banks design the right customer journeys to serve requirements of customers at different life stages and also individual requirements of customers at the same life stage. Furthermore, with the increase in the number of digital channels, banks must ensure that data across customer journeys is analyzed and harnessed for enhanced customer experiences.
New business models, new experiences and new channels of engagement – in these evolving times, the "new normal" in banking is also perennially evolving.