---
It is the age of the empowered customer. Evolving customer expectations and rapid technological change are continually resetting the rules of business. And while the customer's mind continues to be the battleground for business, little else is the same.
Banking customer journeys are advancing towards the point of primary intent. Banks are building powerful ecosystems to expand their remit from last-mile financing propositions such as home loans or car loans to the full breadth of services in the housing value-chain or the automobile purchase cycle. A successful customer strategy, however, is one where customer centricity of propositions matches the excellence in delivery of those propositions. Seamless, contextual, omnichannel banking experiences are integral, but true customer success is much more than that. True customer success is an outcome of accurate insight into not only the goals and needs of a customer but also the sentiments and concerns at each stage of a process or journey. Delivering these customer outcomes demands the right application of human-centered design principles using the right set of technology enablers optimally. For instance, real-time analytics about parameters such as time spent on each page during a digital account opening process can help banks design appropriate interventions and drive higher rate of completion. What's more, successful customer journeys take into account a customer's perceived value of a brand and service, which is the net-sum of the experience and feedback of a customer's influencers. The story gets even more nuanced in corporate banking where the set of users, stakeholders, and decision-makers is larger and more diverse.
With the theme of Reimagining Customer Journeys for the Digital World, this issue of FinacleConnect brings fresh thinking from banking and technology experts about what it takes to deliver experiences that delight. In his article "A Talent for Transformation", Sanat Rao, Chief Business Officer, Infosys Finacle, makes a compelling case for investing in talent to bring about sustainable change in the way customers consume value.
Read a practitioner's view of the shift from isolated touch-points to cohesive customer journeys in the section Inside Talk, as practitioners from leading banks such as Emirates NBD, Ratnakar Bank, and FMB Capital Group Holdings, weigh in on how their banks are reimagining customer journeys to create new value. The issue also brings together insights from FinTech experts about how the next leg of bank-FinTech collaboration is likely to unfold, and sets out the key essentials of a successful customer journey transformation program.
We hope this issue of FinacleConnect helps you unlock effective ways of harnessing technology for positive customer experience outcomes, and empowers you with fresh insights about running customer experience programs for sustainable change.
We look forward to your feedback and views.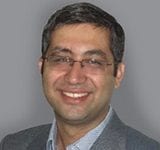 Puneet Chhahira
Head of Marketing & FinTech Engagements, Infosys Finacle, EdgeVerve