A Talent for transformation
Employees reimagine the customer journey
---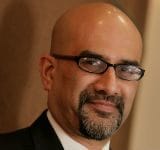 Sanat Rao
Chief Business Officer and Global Head, Infosys Finacle.
A journey of value
One interpretation of digital disruption is that it has changed the way businesses offer value to their customers. Organizations that are sticking to traditional methods of value creation are ceasing to be relevant. Just one look at the S&P 500, which has lost 52 percent of its ranks in 15 years, is proof enough. As a result, businesses are increasingly questioning their offered customer value and seeking ways to make it meaningful. Since the customer journey is the means by which consumers consume value, it is obviously a prime candidate for digital transformation.
Digital transformation strategy is nothing but the sum total of reimagined customer journeys.
A senior executive at a large bank from the United Kingdom neatly describes the relationship between the two by saying that a digital transformation strategy is nothing but the sum total of reimagined customer journeys. This is quite intuitive – when a bank changes its way of working, if that doesn't reflect in its customer journey(s) – how it on-boards, serves or even retires customers – the change means nothing. Strategic thinking about digital transformation becomes reality as a reimagined customer journey.
Multidisciplinary effort
Reimagining the customer journey is a multifaceted effort. Adding value by enhancing the experience of a customer who is trying to fulfill a primary need – for example, a need for housing, rather than a housing loan or a need for a vacation rather than a travel card – is arguably the most important aspect. The platform business-and-ecosystem model of banking is ideally suited to this as it enables banks to tap a vast network of providers of adjacent services to embed their presence into a broader journey. DBS Bank's marketplace for buying and selling pre-owned cars is a good example of this.
Using Augmented/Virtual/Mixed Reality technology to improve the customer journey is another option. For example, one of Australia's biggest banks has provided prospective home buyers with an AR-based app that they can use to scan properties of interest for further information.
Other elements of reimagining the customer journey include empowering users with key insights at moments of truth, and helping them to make better life-stage decisions.
On the face of it, this seems fairly straightforward. So why do so many banking institutions fall short of their goals?
Most banks blame a lack of talent. Customer journey reimagination requires a team with multidimensional qualifications and skills, including an appreciation of consumer lifestyles, customer empathy, experience design, and as we shall see a little later, digital proficiency. By definition, this kind of talent cannot be "readymade"; it has to be nurtured through a sustained process of transformation.
The best-laid strategies or expert advice come to naught if they do not receive the support of employees.
People = transformation
The Chief Innovation Officer at one of our client banks in Asia interprets digital transformation as a process of making every employee digitally proficient. The logic is simple – the best-laid strategies or expert advice come to naught if they do not receive the support of employees. Hence spreading digital proficiency among all employees is the first charter of innovation in this bank.
The central idea was to embed new ways of thinking, creating and working into the regular workday. A number of startups were invited to work with the bank's executives and hackathons were organized so that the staff could work with digitally proficient people outside the bank. Importantly, in a decision that reflected the bank's clarity of thinking, the innovation department was made responsible not for innovating, but for helping others innovate while on the job.
By making their people digitally proficient, the bank ensured they were also ready to play their role in reimagining the customer journey – not only design the journeys but also take care of delivery at key moments of truth when human intervention was required.
When banks invest in digitally skilling their employees like our client did, their staff will react positively to their new roles post digital transformation. They will be able to better appreciate the purpose of transformation (and the need for new customer journeys), its key tenets and their own role in this endeavor. While executing the vision, providing real-life examples that employees can identify with can help them visualize what needs to be done. Even better is a design thinking workshop for providing firsthand experience of how to reimagine a journey. The final step is to deploy experts to co-create experiences with bank staff to build confidence.
A transformed workplace
Clearly, the traditional hierarchical workplace that is a feature of most banks also needs to change. In our experience, open, collaborative, lab-like environments support the spread of digital proficiency. Banks should also leverage the latest solutions supporting modular learning to allow employees to learn at their own pace and time. At Infosys Finacle, for instance, employees have access to the Udemy.com learning platform as well as to a strong in-house Lex platform featuring thousands of business and technical courses. Leading banks are also adopting flexible learning solutions to train their employees on new banking application software and digital banking solutions.
Investing in talent may seem like the harder road to take compared to hiring a consultant when reimagining the banking customer journey. But it's the one that goes farther. Banks planning on transformation must decide when to move fast, and when to go far and choose their approach accordingly.