In our trends forecast over the years, we have consistently emphasized the importance of customer experience in differentiating the winners from the laggards. Clearly, most banks recognize this. And thus to deliver market-leading customer experiences, progressive banks are reimagining customer journeys holistically.
In a recent research about customer experience, Gartner discovered that customer journey analysis is the top priority for customer analytics teams and initiatives at enterprises. The findings confirm what we know intuitively and what progressive banks are putting their faith and investment in – that reimagining customer journeys is a huge step in building market-leading customer experiences.
What do we foresee in the coming year?
Banks will advance the start of their customer journeys to the point of primary intent, that is, when a customer recognizes a primary need not when she starts acting on the secondary financial need that follows it. This means that a mortgage journey will start not when a customer comes looking for a loan, but when she decides to buy a house. Customer experiences will become more intuitive and frictionless as banks embed primary need considerations and purchasecycle in customer journey design.
Likewise, business banking will also evolve for enhanced customer context. The trend is already visible in a move by several leading banks who have begun offering ERP solutions to small business clients so that banking services are embedded in business workflows. Some, like Deutsche Bank and HSBC, have set up portals where their small business customers can interact and trade. In the new year, more and more banks will participate in online marketplaces that serve a primary need.
In 2019, third-parties and new digital entrants will continue to dot the banking landscape, especially in the manufacturing, distribution and innovation areas of the value chain. And thanks to open banking the trend is likely to accelerate. Mapping and designing customer journeys will become a more comprehensive exercise as customer touch-points multiply. Transactions will not only originate on banks' own channels but also on third-party channels. Most banks are already ramping up their teams to prepare for these new and emerging scenarios. Teams in charge of designing customer journeys are moving towards a more multidisciplinary mix.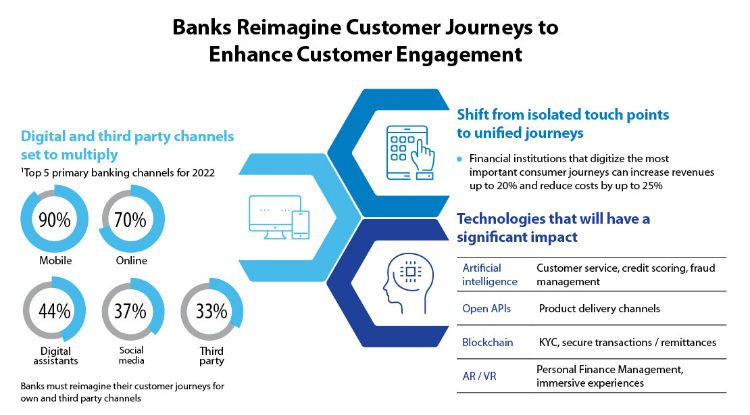 Typically a marketing-driven effort earlier, is now expanding to include experts and insights from customer service, IT, user experience, and product development units.
Technology will enrich customer journeys in new ways in 2019 and beyond. After transitioning from physical to digital, and subsequently, AI-enabled channels, interactions will now enter the realm of augmented, virtual and mixed reality.
An early example of AR comes from the mortgage business, where banks, having entered the primary property buying cycle, are overlaying banking information on the digital images of properties that interest their customers. VR will find application in more complex interactions. For instance, using rich visualization for explaining difficult concepts in wealth management. In the new year, expect progressive banks to make the most of new technologies to create rich experiences.
Further, AI and analytics will enable banks to be even more customer-specific than they already are. Banks will create highly personalized, dynamic customer experiences that adapt to the customers' context, including their emotional state, at all times. While customer journeys will still be designed for unique personas, rather than unique individuals, embedded insights from machine learning and analytics will further tailor them to the specific needs of each customer.
Banks will monitor their customer journeys closely and also align their metrics to measure new digital value and outcomes. In 2019, there will see perceptible progress in the shift from focus on disparate touchpoints to a keen focus on customer journeys for supreme customer experiences throughout. Devising mechanisms to act on customer feedback in real-time will be crucial. In 2019, we expect at least a few banks to see success with their total-quality customer experience management initiatives.
"There are many books you can read on how to drive a car, but I would recommend a wannabe driver get behind the wheel. The intent of customer journey mapping is to "get inside the customer's head" to "see," and therefore, understand the customer's experiences."
– Dr. Chip R. Bell, Bestselling Author and World-Renowned Authority on Customer Loyalty and Innovative Service.
Reference: