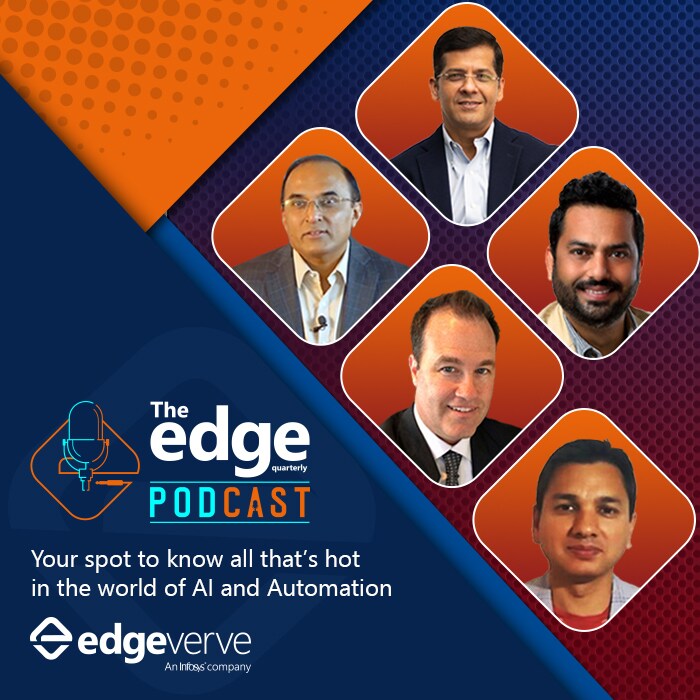 Being Resilient – Winning in the Next Normal
Atul Soneja
SVP & Global Head of Edge and Infosys Nia™
EdgeVerve Systems Ltd. (An Infosys Company)
Most organizations have gone through a real-time litmus test of their business resilience, and quite a few gaps have been exposed. While one plans for disruptions to the short-term continuity of a part of the operations, many business models are not built for such scenarios. To strengthen business resilience, enterprises will need to adopt a systematic approach to revisit the fundamentals and new ways of working.  The podcast covers strategies which organizations can follow to achieve resilience.
Process Discovery – Key to successful Digital Transformation
Sateesh Seetharamiah
VP – Global Product Head – AssistEdge,
EdgeVerve Systems Ltd. (An Infosys Company)
For successful Digital Transformation, enterprises need to be more agile in responding to the changing needs or demands of the market and its customers. Processes are the foundation on which enterprise capabilities are built. Process discovery powered by AI and Deep learning is the key. Enterprise should switch to a process discovery approach that combines the best of Business Process Management and Data Mining.
Impact of Automation on how we live, work and play
Glenn VanLandingham
VP, Head – Solution Consulting,
EdgeVerve Systems Ltd. (An Infosys Company)
For 1000s of years, humans have been spending majority of their day doing repetitive tasks. This takes a toll on our creativity. Today attended and unattended RPA can do these repetitive tasks and leave room for creativity. Besides, several functions in business require us to think out of the box. Now with RPA being used by businesses, humans can spend time on strategic thinking. This podcast covers applications of RPA in areas like contact centre, document analysis, procurement, insurance and so on.
Unlock Enterprise Document Intelligence with AI
Jasdeep Singh Kaler
AVP, Global Product Head – Infosys Nia™,
EdgeVerve Systems Ltd. (An Infosys Company)
On one hand, AI holds enormous promise – from transforming businesses to opening up new opportunities. On the other, we have evolved and heightened customer expectations. So, eventually it boils down to how fast and how accurate decisions can be taken in an enterprise. And when 90% of your data is stuck in unstructured documents across enterprise, how can you take informed business decisions? Organizations handling huge amount of physical data should invest in a document extraction, processing, and comprehension platform which helps unlock business value from enterprise data by extracting intelligence from  documents, regardless of complexity or domain specificity.
Ashish Khandelwal
Director – Product Management,
Business Applications,
EdgeVerve Systems Ltd. (An Infosys Company)
Over the last few years, we have seen the promise of ubiquitous AI. The technology, in its various forms, is starting to enter mainstream dialogue, no longer confined to enterprise boardrooms or sci-fi constructs. AI is supposed to make us more efficient, more intelligent, and more objective. If popular accounts are anything to go by, it could be what drives our species forward. What do you do, then, when AI is found to be biased? In this podcast, Ashish Khandelwal explains why how AI can become biased and why enterprises must not ignore this threat.