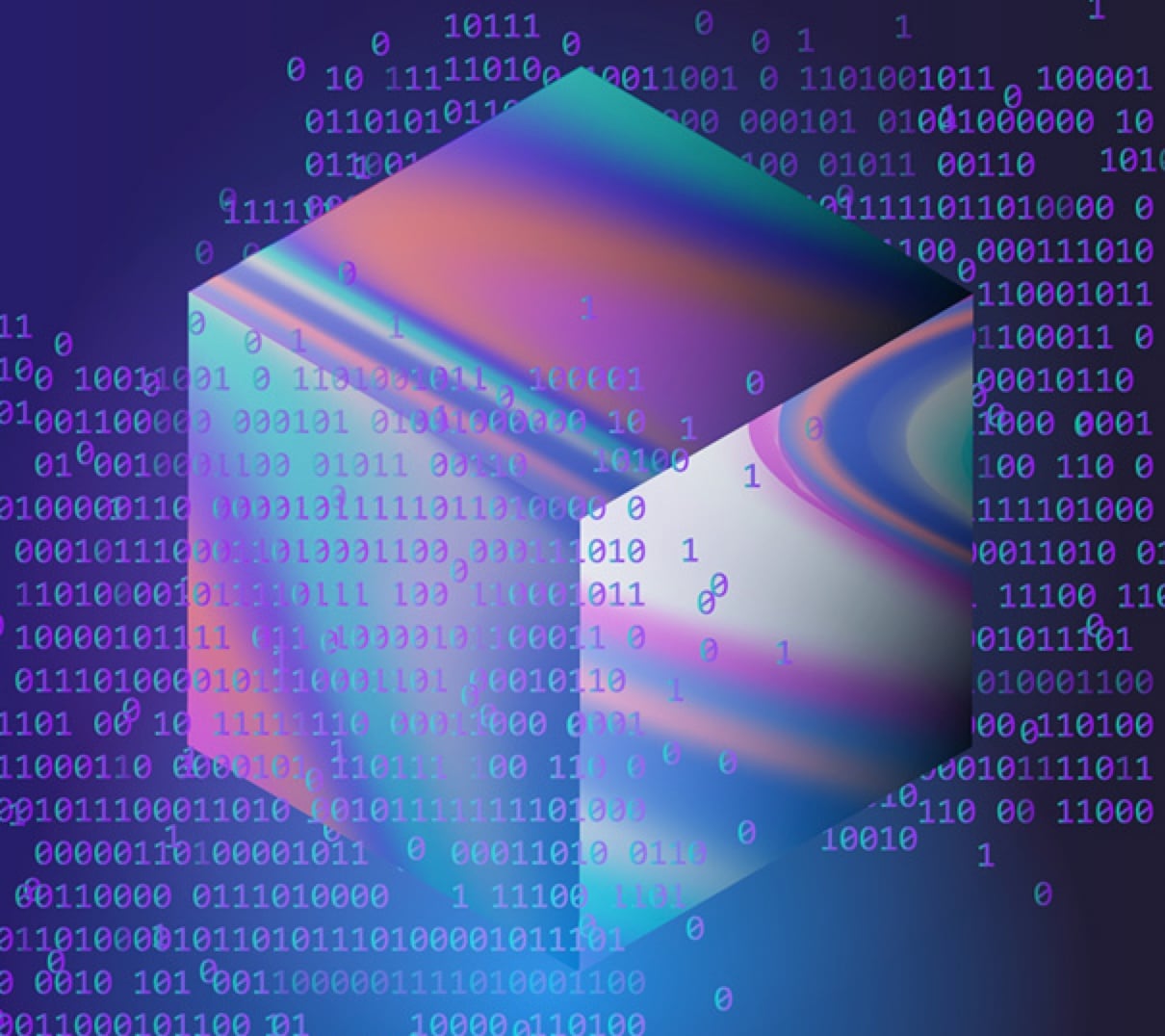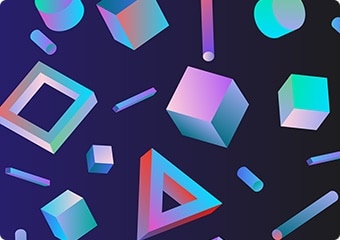 Summary
While procurement has been a focus for most large organizations, the recent pandemic showed otherwise. As pandemic brought the supply chain to a halt, even though varying amount of time depending on location, sector, time etc., it has taught us a valuable lesson – Visibility is everything. Complete supply chain visibility will not only allow enterprises to manage risk but lower cost, accelerate growth, ensure worker safety and continuously evolve operating models. The article takes you through some of the key reasons why an excel based or traditional approach to procurement is not enough to be resilient to what the future holds.
In an uncertain world, the allure of stability and control leads many of us to plan based on a predictable future. If this year has shown us anything, the best strategies are those that prepare for risk just as they understand opportunities. While COVID-19 is a crisis that has affected the entire world simultaneously, several other risk events are continually taking place globally, affecting suppliers in myriad ways. In the first few months of the pandemic, there were over 3,000 force majeure declarations by suppliers in China alone, pointing to substantial disruptions that would be a feature of the pandemici. It is now more apparent than ever before that enterprises need to harness technology's power to understand which of these disruptions merit evaluations and which they can ignore based on their unique context. In what is a new paradigm for business, intelligent technologies are crucial to enterprise evolution.
Risking ignorance
As the lifeblood of enterprise supply and demand, procurement teams are now front and center of risk management protocols, identifying key suppliers, creating data-backed risk projections for a leadership review, and developing alternative options in case of further disruptions. Relevant, current, and rich intelligence is essential to these teams' effectiveness, but existing systems fall short by some distance. On the one hand, enterprise risk assessment systems often account only for internal factors, making them unidimensional, while, on the other, their complexity can often impede user experience. Combine this with the notable absence of detail, such as the potential financial implications of disruptions, and it is easy to see why the status quo needs to change.
With no enterprise an island, as the connectedness-driven impact of COVID-19 has proven, it is no surprise that over 77% of senior procurement executives, respondents in a KPMG surveyii, believed that risk management is a strategic priority given the impact of third party performance, including supplier operations and business reputation. In a crisis, it is natural and imperative for organizations to address immediate and short-term concerns. It is equally important to adopt a view that addresses the medium-long term impact of risk. Ignoring long-term growth at the expense of short-term survival is a recipe for long-term disaster. Enterprises recognize this need for balance, placing CPOs under immense pressure to ensure continuity and growth while minimizing losses from supply chain disruptions. Mere recognition is not enough. Without an in-depth understanding of risk exposure, organizations risk operating in survival mode, limiting their growth and awareness of opportunities.
To create robust contingencies, an understanding of risk is not just essential to resilience but also to adaptability and innovation.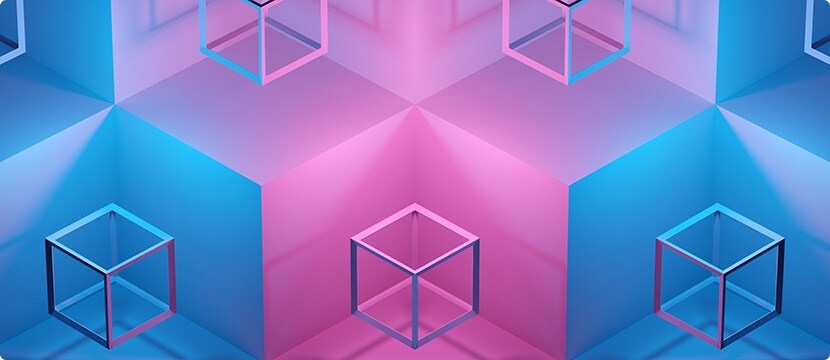 The challenges of developing an accurate risk profile
The key to any preparation lies in a comprehensive understanding of the challenge. Risk is a function of internal and external factors and, all too often, companies only consider the former until the latter creates a crisis. Similar to the auto industry example cited above, several factors can contribute to a seemingly unexpected outcome. In April 2020, Port of Virginiaiii closed a major cargo terminal because of a drop in shipper and ocean carrier demand volumes. Imagine the sudden repercussions, if you were procuring goods from this port.
At most levels of scale, any organization supplying physical products across countries manages thousands of suppliers across dynamic international markets, subject to both uniquely local and broadly global factors. If aggregating an intelligent view of these thousands of suppliers across dynamic international markets is a problem, attempting to create a unified view of each supplier relationship exacerbates the challenge. Even if companies generate a risk profile, they still need to track each instance's impact on their organization and critical suppliers. The understanding of an environment rarely offers the know-how to tackle the risk of every event within it. Although many organizations comprehend the importance of preparedness, risk mitigation strategies often use a template approach, rendering them unstructured and ineffective. It is here that risk intelligence can pave the way for smarter business decisions and greater resilience in the face of increasing uncertainty.
The need for intelligence
Despite the pandemic elevating the importance of supplier risk management, the results of an Infosys Surveyiv on the supply chain impact of COVID-19 revealed that less than half of the respondents identified had full visibility of their Tier-1 suppliers' emergency contacts, activities, and locations. Add to this, just about 31% of these respondents had risk mitigation plans in the event of disruptions to these suppliers.
Another recent surveyvi indicated that over 50% of organizations had negligible or non-existent track records of using enterprise digital tools to identify and delineate supply market risk. While enterprise leaders today are balancing – worker safety, stock inventories, and viable operating modelsv, they also are facing challenges in addressing dual goals of driving down costs and accelerating growth. Managing multiple goals efficiently requires a smarter approach, one that leverages intelligence. Cost reduction evidently is important but so is risk reduction led by better intelligence.
The reality, however, is that no single enterprise, enterprise function, or person can forecast, define, and mitigate risk exhaustively and efficiently. Even in mid-size organizations, thousands of events could influence each vendor relationship and affect procurement outcomes for an enterprise. Intelligent technologies are crucial to adapt as organizations operate in a new paradigm for business. From AI and automation to ML and powerful data analytics, a wide range of integrations are allowing for several new enterprise capabilities, those which companies looking to be leaders cannot afford to ignore. With technology, organizations can extract the most valuable insights from comprehensive internal and external data, separating signal from noise to understand the relevant risk, contextualize its impact, and suggest mitigation strategies. An intelligence engine can support continuity, customer experience, and creativity – all key to enterprise leadership.
Loved what you read?
Get 15 practical thought leadership articles on AI and Automation delivered to your inbox


Loved what you read?
Get 15 practical thought leadership articles on AI and Automation delivered to your inbox
How risk intelligence can offer transformative value
While managing multiple goals like cost, time, safety, stock updates can be an overwhelming task, managers should remember that all this ties to improving supply chain visibility and visualizing risks. Enterprises can often struggle to visualize risk, much less categorize by priority and criticality. Intelligent analytics can address this problem and help companies build robust interventions. In the short to medium term, intelligence can serve to reduce risk based on emerging threats while in the longer run, it can highlight trends & patterns, providing insights that can shape strategic decision making.
While every sector can benefit from risk intelligence, it can be beneficial to supply intensive areas such as manufacturing, CPG and retail. By driving an increase in risk visibility, risk avoidance and productivity, risk intelligence enables enterprises to transition from a reactive mindset to proactive risk assessment driven culture. In this new culture, resilience is not a capability developed in haste during a crisis, but an attribute consciously created with foresight. Enterprises cannot learn from experience in the absence of performance strategy insights, which risk intelligence systems address by utilizing technologies (like AI and ML) centered on continuous learning.
Critical elements of procurement risk intelligence
Risk intelligence systems must not just report the status quo but generate actionable insights that reveal opportunities and guide the ways to realize them. Given the importance of current and relevant insights, these systems must identify critical suppliers and monitor them regularly.
Additionally, enterprises should also look to implement a tool that offers flexibility and adaptability, as every organization is unique and so is its risk profile. Another factor to consider is the substantial revenue pressure caused by the pandemic or other disruptive events, meaning that organizations cannot afford a complete overhaul of their systems of record. To avoid the challenge of rip and replace without sacrificing the benefits of transformation, enterprises should turn to intelligent plug and play systems that sit on top of existing IT infrastructure.
A comprehensive risk intelligence framework that we recommend to procurement organizations: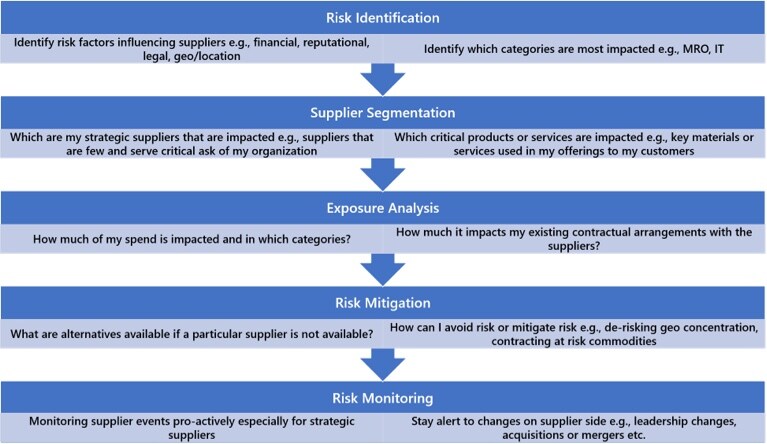 A view to the future
Enterprises will face disruptions, and they must establish robust risk management protocols to manage fallouts before any damage can occur. A complete risk management function scales to address organizational needs, whether it's one global phenomenon or a specific local event. Here, it is important to note that a focus on intelligent risk management and the move to being a proactive organization that stays ahead of the curve is not just a process and technological shift but also a cultural and behavior change. People need to be motivated to review risks regularly, perhaps through a weekly or fortnightly review process. If done right enterprise resilience to shocks driven by a culture of pro-active risk management can accrue benefits at all levels – enterprise's reduced costs, improved stakeholder management such as with employees, suppliers and of course better customer service to the end customers. Organizations need to build their philosophy on a foundation that manages risk ahead of time.

While chance and luck play a significant role, even at the individual level, in a worldwide supply chain affected by thousands of mitigating circumstances, their impact is exponential. By developing the ability to show agility and clarity in the face of adversity, enterprises can build a foundation to thrive in a future as uncertain as it is brimming with opportunity.