The Future Enterprise
Rewiring for Digital Transformation
Transformation
We've heard it said every single time there is a shift in technology or consumer behavior or market dynamics. And with those shifts taking place as frequently as today, it can be easy to believe in the need for constant metamorphosis. However, if consumers are changing at a fast pace, enterprises need to transform faster. Newer competitors that are digitally native are changing the rules of the game by leveraging technology to make business perform better than ever before from providing superior customer experience to significantly transforming the future of how people work.
How does an organization transform for the digital world?
In this new world of the Fourth Industrial Revolution, there have been massive shifts across industries on how business is done. It is both a boon and bane for companies to disrupt and be disrupted. An organization is like a complex wireframe built over time on a foundation of people, partners, workflows, complex processes, legacy systems, and new technology infrastructure to provide the customer what they want in the best possible way. How well an organization can do this, better than any competitor, and better than what the customer expects, will define their competitive advantage.
By challenging the status quo and serve the customers of the future, enterprises need to be able to pivot rapidly despite existing constraints. Spurred by rapid evolution, Information Technology has been one of the most significant enablers for organizational transformation over the last few decades. What was once a differentiator has become a hygiene need now. Also, technology was primarily looked upon as a lever to improve the functioning of processes for efficiency, productivity, and cost optimization. In today's world of digital transformation, IT is again expected to become the bedrock of innovation and impact business growth through new products and business models.
While the importance and understanding of digital transformation have been higher than ever, there is a flip side to the story. Many studies by leading analyst firms and consulting organizations have pegged the success rates of digital transformation initiatives at less than 20%.
The emergence of AI and Automation has made it possible to apply "digital" to any process, system, or underlying technology infrastructure and rewire the enterprise to become agile and sharpen focus in yielding tangible business results.
The transformation impact of AI and Automation is happening at various levels, right from wideranging efficiency improvements in an enterprise to the transformation of the way an industry sector operates and even impacting humanity positively.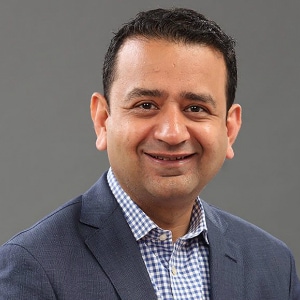 By Mohit Joshi
President, Financial Services, Healthcare,
Insurance and Life Sciences (FSHIL), Infosys
Chairman of the Board at EdgeVerve Systems Ltd. (An Infosys Company)
With 64 tournaments across 30 countries every year, the ATP Tour is a powerhouse of tennis content and experiences. As much an institution as an organization, it was now crucial for the ATP Tour to evolve in line with the tennis-crazy digital native. However, it had to do this without disrupting its systems while ensuring compelling viewer experiences. Infosys today, 5 years and 15 innovations of partnership later, has developed cutting edge digital solutions such as the new ATP Tour fan and player apps, live scoring and stats innovations that unravel the insights behind tennis matches and immersive virtual reality experiences that excite fans across the globe. The digital features are also available to consume for fans in real-time on ATPTour. com, NittoATPFinals.com and Android/iOS app stores as well as social media, transforming tennis in every way imaginable, from courtside to television and digital to social media.
Embracing the change
Embracing any change to harness the power of digital innovation requires teams across the business and functions to rethink the role and impact of technology. Enterprises across sectors, even fervent advocates of digital transformation, continue to run both newer and legacy systems that operate in silos. These processes and systems make them slow, inefficient, and unable to respond to change. The resulting rigidity makes it even tougher for enterprises to take on innovative, and rapidly emerging, competition without technology baggage.
The real win for any enterprise lies in providing an exceptional customer experience. Customers today want speed, personalization, coherence, and value from every single interaction, but enterprises aren't structured to deliver these benefits. AI and Automation have been widely deployed as a layer of intelligence that empowers enterprises to drive customer delight by with rich customer context and better productivity through intelligent automation.
With its ability to drive 8% spikes in NPS, a 20% increase in agent productivity and FCR, up to 50% savings in training and operations cost, and over a 70% improvement in query resolution time, AssistEdge has provided immense value for some of the leading enterprises across the planet. The impact on telecom companies, in particular, has been transformative. In the case of two world leaders in communication services, AssistEdge was able to drive a 40% reduction in AHT, generating substantial savings, and elevating the customer experience.
The need for action
Genuine progress needs a modification of core functioning. The evolution of technology has changed the relationship between intelligence and efficiency from a tradeoff to a mutually inclusive advantage. A singular focus on intelligence or productivity can yield immediate benefits in the short term, but this would only be a quick fix. It is here that a combination of AI and Intelligent Automation, when leveraged rightly, can play a crucial role. Organizations can collect and aggregate organizational data across people, processes, and legacy systems into a self-learning knowledge base to become a true cognitive enterprise. They can now generate deep insights while discovering opportunities to optimize, simplify, and automate complex business processes.
Enterprises understand that scalable and agile transformation is key to their success, but their initial attempts at technology adoption can frequently either stagnate or fail to meet expectations. In our experience, although every enterprise faces unique challenges with regards to digital transformation, we have found that these hurdles have a common theme:
The lack of a comprehensive AI and RPA strategy that moves beyond the pilot stages

Low availability of reliable datasets due to siloed operations coupled with security and compliance risks makes AI and RPA adoption a significant challenge

The absence of talent with relevant AI and RPA skills calling for a reskilling exercise supported by extensive change management efforts

Limited insights contextual to a particular enterprise leading to an over-reliance on industry reports and peer comparisons
While the first step to adoption should be the creation of a customized plan relevant to an individual organization's challenges and goals, there are many measures enterprises can take to increase their chances of success.
A Pragmatic Approach to Adoption
We believe that the following pragmatic actions are central to a successful digital and cognitive transformation.
Unleash Digital Darwinism across the enterprise: Organizations should set the stage for creating newer competitive edge and differentiation by making the enterprise more cognitive, digitally connected, and strategically agile through cocreation between various functions towards the larger goal.

Trust your data: Start with creating the right datasets, curating the quality of data from the right sources, and bringing in explainability through AI to build the trust in your data and insights to make crucial decisions for your organization.

Rewiring for agility and speed: Infuse AI into all customer-facing processes and automate comprehensively to make them intelligent and selfhealing to empower the enterprise with the ability to adapt and respond faster.

Rapid experimentation: AI and RPA should be seen as tools to solve business problems and must be deployed creatively, consistently, and comprehensively to gauge impact and modify approach

Scale your journey across the enterprise: Practically every organization is already on their journey of digital transformation. Yet, the hurdle of scaling is the biggest. It is imperative to have a clear enterprise-wide intelligent automation strategy. The success of this strategy will depend on identifying the right areas to rewire to scale and stimulate growth.

Identify the right technology building blocks: With a focus on solving specific business problems, the technology leveraged should be easy to deploy and use. Enterprises should look to adopt a potent combination of buy-and-build approach supported by a robust enterprisegrade AI platform, an integrated and cohesive RPA product suite, and AI-ready plug-and-play business applications.

Selecting the right solution partner: Every enterprise needs a specific solution and the right technology partner. Organizations should look to work with solution providers who have a demonstrable track record of addressing business problems, experience in their vertical, and solutions that are flexible enough to scale. This choice of partner is perhaps the most crucial element of transformation success.

The future of work is here: A world where the two forces, the human worker and an intelligent digital worker converge to co-create the future worker to enable synergy and enhanced output across people, process, and technology is already here. Enabled by AI & RPA, this customer-centric workforce of the future opens up a new horizon of endless possibilities.
Enterprises should look to adopt a potent combination of buy-and-build approach supported by a robust enterprise-grade AI platform, an integrated and cohesive RPA product suite, and AI-ready plug-and- play business applications.
I believe that the courage to innovate, backed by the tenacity to persist, will see enterprises harness the power of AI and automation. Through consistency and effort, enterprise leaders can build intelligent organizations capable of navigating the future with agility and adaptability, leading the evolution of business as we know it.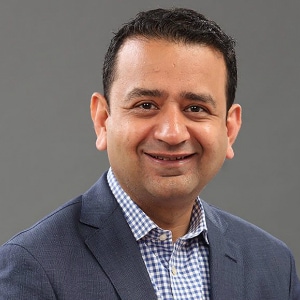 By Mohit Joshi
President, Financial Services, Healthcare,
Insurance and Life Sciences (FSHIL), Infosys
Chairman of the Board at EdgeVerve Systems Ltd. (An Infosys Company)