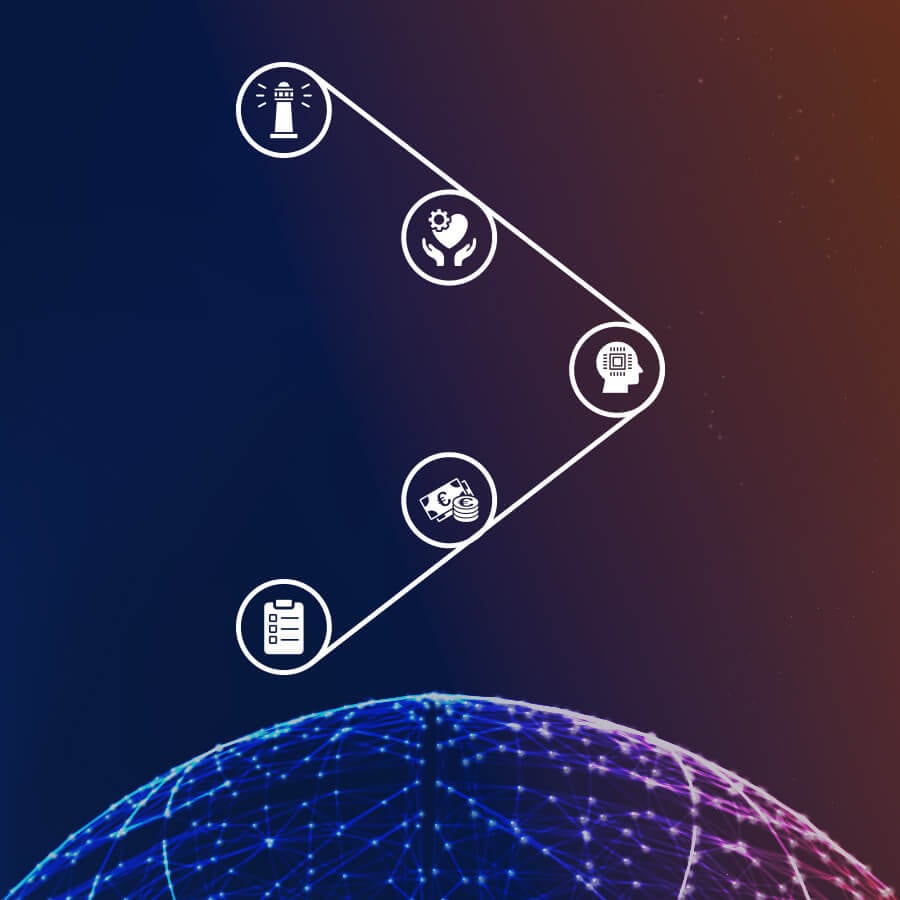 Last year was a time for Automation experimentation. Small PoCs and pilots formed the bulk of enterprise implementations, and although some outliers, several in our client portfolio, achieved significant scale, a majority of Automation initiatives were trials. That will change. As enterprises progress on their journey towards a transformation plan aligned with their goals, it will be imperative to establish, execute, and scale a comprehensive Automation strategy. Make no mistake. A mad scramble to jump on the Automation bandwagon is destined to fail even if initial results offer some promise. Due diligence, planning, and a shift in mindset are all equally crucial in ensuring the success of any Automation implementation, but success at scale needs more. It requires foresight, perspective, measurability, and longevity.
Our experience of delivering some of the largest-scale enterprise-grade Automation implementations on the planet, automating over 10,000 processes combined with domain-specific consulting expertise, leaves us well placed to identify and address the Automation needs of today's industry. Spearheading product strategy at the only company with the unique distinction of being a leader in both enterprise Automation products and Automation services offers me a unique vantage point, and I am excited to take a shot at predicting how 2020 will unfold. So, without any further ado, let's take a look at my five Automation predictions for 2020.
Process Discovery Will Become Central To Any Automation Implementation
As pioneers of process discovery in RPA, we have found that knowing what to automate is as important as to how you implement Automation. In a classic case of putting the cart before the horse, several enterprises dive headfirst into RPA, automating arbitrary processes and finding themselves bewildered at the disappointing results. In an environment that demands scale and effectiveness, process discovery is the force that drives Automation.
A set of machine learning-based tools that record possible process variations, making decisions based on empirical data, process discovery helps organizations identify the right actions for Automation. The resulting intelligence delineates the processes that can be automated and also influences the design of Automation workflows, allowing organizations to create process maps aligned with business objectives. Based on data gathered from actual process execution, the technique dramatically reduces the manual effort of mapping variations and exceptions, eliminates human bias, and lowers cost by harnessing the potential of AI in process design. Continuous improvement, essential to sustained Automation success, can only happen if enterprises have the mechanisms and tools to discover and rediscover processes.
Further, as the low conversion ratio of pilots to large-scale production demonstrates, showcasing ROI is critical to embed Automation into enterprise operations.
It is also vital to foster learnability in Automation platforms, one of my other predictions for 2020. If an enterprise does not understand and implement process discovery, it will miss the boat as the competition races ahead. It is that simple.
Reliability Is Set To Become A Key Differentiator
The success of a workforce-human, digital, or blended-depends on its ability to perform tasks to the required expectation reliably. Reliability is a function of performance and consistent outcome. This year, the enterprises that set themselves up to drive reliability through the support of platforms and partners capable of delivering large-scale Automation implementations will be in pole position to enjoy success.
Enterprises today are using Automation not just to lower costs and improve efficiency but also to transition the competencies of their human workforce, training, and allocating resources to areas of the highest value. Automation has matured to a point where the question is no longer 'does it work?'. That said, another pressing issue remains and could hamper adoption – 'can I trust it?'. For any chance of scale, Automation platforms need to be extremely reliable, i.e., the bots and Automation scripts that are written and implemented need to do what they're supposed to do.
While the primary benefits of Automation are undeniable, value is limited if there is no dependability. For enterprises to pursue the journey towards "Automation Singularity", Automation platforms must be reliable.
After all, until the Automation results are reliable, any value is purely notional, and no organization will stick its neck out to reroute employees, scale worldwide, or make a massive investment.
Solution partners will need to understand that reliability is hygiene, and clients need it to achieve their Automation objectives, taking on larger, mission-critical processes and scaling their platform worldwide. If the value is proving elusive, reliability has a lot to do with it.
Learnability Takes Center-stage As Continuous Improvement Becomes An Integral Part Of Automation Strategy
As expectations of Automation continue to rise, platforms must incorporate learnability into the architecture to ensure that the system evolves with the enterprise's journey. Delivering a return on this investment demands an Automation platform that can adapt and increase Automation coverage.
That's why we believe that Automation's most significant impact is closing the loop between human and digital, moving towards the confluence of the future workforce. Learnability has to become the core as enterprises embark on the journey towards 'Automation Singularity.'
Learnability also plays a substantial role in adoption and is vital to make Automation ubiquitous in the enterprise. The best platforms today offer natural language processing capabilities that, when combined with learnability, can adapt to working with the use of different words, structures, and styles, delivering a more nuanced service than rudimentary Automation tools focused on deterministic processes.
This ease of use should also make it easier for enterprise clients to introduce Automation-led workflows, enabling human users to discover the joy and flexibility of working in tandem with a digital worker.
Value Realization And Scale Will Become The Cornerstone Of Automation Implementation
Two things will happen in 2020 concerning scale and value. First, more clients will prepare themselves and their Automation initiatives for enterprise-wide scale. Second, it will become imperative for enterprises to strengthen the value proposition of their Automation projects. imperative for enterprises to strengthen the value proposition of their Automation projects.
Enterprises will soon move from just automating processes to designing programs with long-term value. To this end, they must establish dedicated Centers of Excellence (CoEs) with strike teams to lead and monitor their Automation progress. With intelligent Automation now at a stage of maturity where leadership will want tangible benefits moving away from experimentation, we don't expect to see any more piecemeal Automation consumption. Partners who offer enterprise- grade solutions that combine RPA, AI, and analytics while providing exceptional consulting services will be gold dust as companies look for strategic partners over mere vendors and maintenance contracts. Scale or fail-those are the two simple choices to make, and it's easy to see what the popular option will be.
Outcome-based Engagement
Amid all the talk of technology, innovation, and intelligence, business results remain paramount to the success of any enterprise transformation initiative. Enterprises now understand that RPA needs to be a part of the larger Automation story. It's not a function of just buying bots. RPA, is not a silver bullet for all Automation opportunities. It is most effective when leveraged in conjunction with AI and machine learning capabilities. At this stage of maturity, Automation technologies will be held accountable for their ability to influence enterprise growth, making it pertinent for delivery models to be reimagined. Solution providers confident of their offering must be able to offer enterprises a range of pricing and delivery models customized to suit their individual needs. Expect to see new frameworks that incorporate performance-based or milestone-based payments aligned with business KPIs.
There you have it-my five predictions for the developments that will set the tone for enterprise Automation in 2020. As organizations mature on their transformation journey, intelligent Automation will play an increasingly important role in their development, preparing them to take on the challenges of what is set to be an intensely competitive market. The clarity with which enterprises approach the idea and their choice of solution partners will be vital in their bid for growth and longevity