What is unfolding within the realm of supply chain dynamics?
As we delve deep into the intricate workings of global supply chains, it becomes evident that it is experiencing a profound transformation, propelled by fragmented demand and mounting complexities. Once mere subjects of boardroom and newsroom conversations, supply chains have taken centre stage and become the focal point of discussions in recent years. Attributed, in part, to the far-reaching impacts of the COVID-19 crisis, subsequent economic consequences, and ongoing geopolitical conflicts, this shift has exposed the inherent vulnerabilities within modern-day supply chains.
As a result, supply chain leaders now find themselves in uncharted territory, required to deliver tangible transformations while operating under the scrutiny of top management.
"The question remains: how can enterprises rise to this challenge and devise innovative strategies to adapt to the evolving landscape of global supply chains?"
Navigating the Transformative Landscape of the Global Supply Chain
According to Gartner, by 2026, more than 75% of commercial supply chain management application vendors will deliver embedded advanced analytics (AA), artificial intelligence (AI) and data science.1
Enhancing decision-making capabilities through implementing AA and AI is a top priority for supply chain users across diverse markets and industries. Application vendors have recognised this demand and are swiftly responding to the evolving requirements.
Large and smaller vendors are rapidly catching up in this race towards technological advancement and providing embedded AA and AI functionalities with their solutions.
Agility and Future-Proofing the Supply Chain in a Dynamic Landscape
The business and technological landscape's impact on the supply chain sector is immense. Surveys indicate a lasting preference for online shopping, resulting in fragmented demand and an expectation for instant gratification. This leaves manufacturers unprepared for real-time supply chain management to face frequent stock-outs, lost business, and inefficient inventory management.
To future-proof their supply chains, forward-thinking chief supply chain officers (CSCOs) prioritize demand planning, supply planning, and inventory optimization. Alongside cost, quality, and service objectives, agility plays a crucial role in a supply chain. However, supply chain leaders often face a perplexing dilemma when deciding whether to upgrade or implement new supply chain execution applications. They must carefully balance the risk of not upgrading with the associated costs, requiring thoughtful decision-making and skilful navigation.
To fully tap into supply chain potential, digital transformation is crucial. Embracing advanced technologies, integrated systems, and data harmonization can enhance efficiency, visibility, and decision-making capabilities. By leaving behind manual processes, organizations can optimize operations, reduce costs, and gain a competitive edge in today's business landscape.
Building Resilient Supply Chains – The Need for a Connected Supply Chain Approach
Adopting a connected approach that fosters collaboration, visibility, and integration across the partner network can help unlock the next stage of supply chain evolution. Digitalization alone is insufficient. Integrated solutions facilitating data exchange and information sharing are crucial for achieving operational excellence and building resilient supply chains.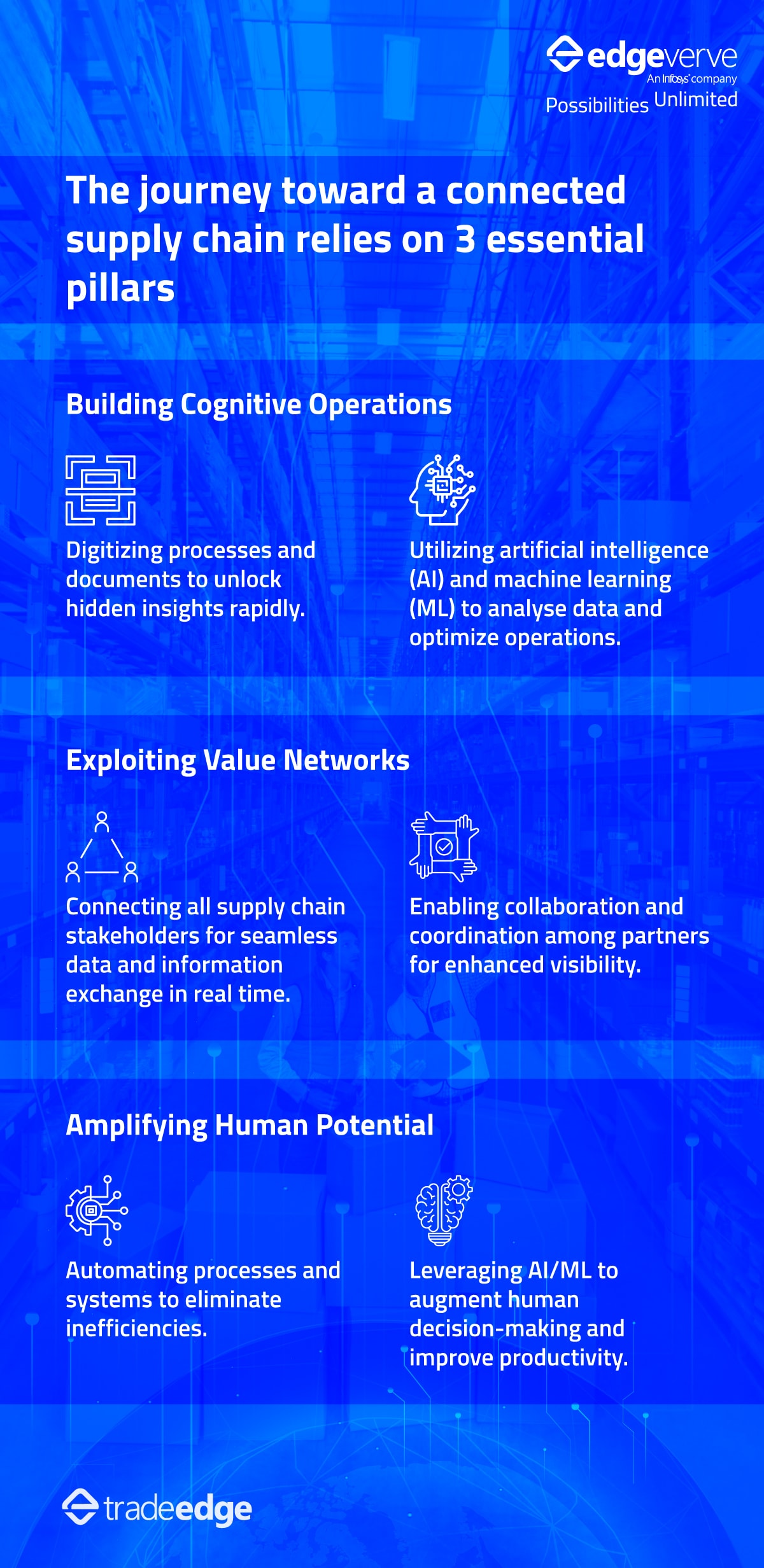 By integrating advanced technologies like AI, automation, and ML, organizations can build intelligent supply chain systems that are scalable and adaptable.
For example, a global sports merchandise giant experienced remarkable improvements by adopting an intelligent supply chain platform. The organization achieved a 60% increase in demand visibility through automation and increased data visibility.2
This resulted in more effective demand planning, faster time to market, and enhanced customer engagement.
What does the future hold?
Supply chains of today are dynamic and multifaceted ecosystems. Sustaining their vitality requires interconnected systems that operate seamlessly, with minimal manual intervention. Building a connected supply chain is akin to creating a central nervous system for the organism that is your supply chain. In this system, every component can send signals and receive appropriate responses, enabling hyper-personalization and true reconciliation of human-machine capabilities.
To thrive in the face of evolving market demands and disruptions, organizations must embrace the concept of resilience and adopt innovative solutions that drive supply chain transformation. EdgeVerve stands as a reliable partner on this journey, empowering organizations to unlock the next stage of supply chain evolution through its advanced platforms and expertise.
By embracing resilience and leveraging the power of intelligent supply chains, organizations can position themselves for long-term success in an ever-changing business landscape.
References: