Bloggers Profiles
---
Abdul Razack

I head the Platform Divison at Infosys primarily focused on the Data, Advanced Analytics, Visualization and Automation solutions.
Before joining Infosys from SAP, l was most recently Senior Vice President for Custom Development & Co-Innovation. For almost three years in that role, I was missioned with delivering unique and differentiating customer-specific solutions. In this capacity I delivered over 40 new innovations based on SAP HANA and Cloud to customers worldwide across 12 different industry verticals.
My career spans more than 20 years, includes several engineering and consulting roles at Commerce One, Sybase, and KPMG Peat Marwick and SAP.
I hold a Masters in Electrical Engineering from Southern Illinois University and a Bachelors in Electronics & Communication Engineering from the University of Mysore, India.
Ganapathy Subramanian
Vice President – Solutions Head Platforms, Infosys

An IT industry veteran of 18+ years, in his current role Ganapathy Subramanian is responsible for the solutions and customer implementations built on top of the Infosys Nia platform. Prior to this Ganapathy was responsible for the Go to Market and Product Strategy of Infosys Information Platform. Well versed in working with open source cloud based technologies, Ganapathy has helped customers obtain not only real time insights, but also real time foresights and predictive capabilities within their transactional data.
Prior to joining Infosys Ganapathy was the Global Vice President of the Customer Engagement & Strategic Projects (CE & SP) team in SAP Labs India Bangalore. He was a member of SAP's extended Global Leadership Team and part of the Global team of Executives at SAP responsible for the development of applications for mobile and cloud on SAP HANA. Ganapathy was recognized as "Leader of the Year" as a part of SAP Labs India Annual awards 2013. Prior to SAP, Ganapathy worked as a software Developer at IMR Global.
Nakul Arora
AVP, Product Management & Strategy, Infosys Ltd.

Nakul heads Product Management & Strategy for Infosys Nia and Assist Edge product lines. Nakul brings 20+ years practical experience across all phases of SW/HW platform and product design lifecycles. Nakul holds a Bachelor's in Biomedical Engineering and a and Master's in Electrical Engineering from Wright State University and an MBA from Babson College.
Navin Budhiraja
SVP, Head – Architecture and Technology

In his current role, Navin leads the AI and Automation platforms for Infosys, while overall being responsible for key technology capabilities across the company. Navin is also head of all education at Infosys where his focus is on providing technology training at scale – both online and offline – for Infosys employees across the world using proprietary content and blended learning platforms. With a Ph.D. in Computer Science from Cornell University and a B.Tech in Computer Science from the Indian Institute of Technology Kanpur, Navin started his career at the IBM Watson Research Center. His background includes being the Chief Architect at SuccessFactors (acquired by SAP), CTO at CubeTree (acquired by SucessFactors), Co-founder and CTO at CoralTree, Vice President of Engineering at Center'd (acquired by Google), Chief Architect of Amazon AWS Flexible Payments Services, and Chief Architect at Vitria Technology.
Nicholas Martin Ball
Principal Data Scientist

Nick has been a data scientist for 17 years. After obtaining an undergraduate degree in geology at Cambridge University in England (2000), he completed Masters (2001) and PhD (2004) courses in Astronomy at the University of Sussex, then moved to North America, completing postdoctoral positions in Astronomy at the University of Illinois at Urbana-Champaign (2004-9, joint with the National Center for Supercomputing Applications), and the Herzberg Institute of Astrophysics in Victoria, BC, Canada (2009-2013). He joined Skytree in 2012, and Infosys in 2017 following its acquisition of Skytree. He has been using machine learning since 2000, applying it to large astronomical datasets, beginning with the Sloan Digital Sky Survey, and now to a wide range of problems at Infosys. In his spare time, he likes to play Scrabble, travel (road trips, hiking), and spend time with his wife.
Nitin Mahajan
Director – Product Strategy with EdgeVerve

Nitin has 29+ years of experience in the IT Industry in Process Automation, Delivery Management, Product and Platform development and implementations. He has led large Process Automation and Optimization Transformation/Cost Improvement Programs across multiple geographies – Japan, US, Europe and New Zealand. He has written white papers and POVs in the automation space along with analyst interactions for disseminating the advantages of process automation.
Puneet Suppal
AVP Product Strategy, Infosys Ltd.
Puneet is a seasoned IT strategist and thought leader specializing in digital solutions. Experienced at leading global initiatives across multiple IT platforms, serving numerous verticals, Puneet specializes in driving business value by aligning people, technology, and business processes. He is currently focused on an integrated Artificial Intelligence platform with machine learning, natural language processing, knowledge modeling and automation capabilities to drive innovation. During his career he has focused on technology-driven innovation with customers and partners that drives business and social advancement. In particular, he has been passionate about crafting solutions that leverage the Internet of Things, often to deliver actionable analytics to address data problems. Recognized as an authority within the SAP ecosystem and beyond, he frequently writes and speaks on the importance of focusing on business processes, as well as digital solutions.
He can be followed on Twitter at: @puneetsuppal
Sid Bhattacharya
Associate Vice President – Platforms, Infosys

In his current role, Sid is responsible for customer implementations on the Infosys Nia Platform. Prior to this role, Sid was responsible for product management, pre-sales and services for IIP (Infosys Information Platform) globally. Sid's career spans over 17 years including founder, management and consulting roles at various organizations and startups. He holds a bachelor's degree in computer science from BITS Pilani. He is passionate about open source software, new product ideas and is a tinkerer with technology.
https://www.linkedin.com/in/sidbhat
Sudipto Shankar Dasgupta
Vice President and Head of Engineering for Platforms at Infosys

Sudipto is responsible for product development of the Infosys Nia Platform. Prior to the current role, Sudipto was heading the development of Infosys Information Platform and Infosys Knowledge Platform. Prior to joining Infosys in 2014, he was working at SAP for 10 years, with the last role there being that of the Chief Architect in Strategic Projects Group.
Sudhir Jha
SVP & Global Head of Product Management & Strategy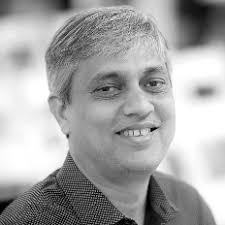 Prior to joining Infosys in June of 2016 as SVP & Global Head of Product Management & Strategy, Sudhir spent more than 9 years at Google where his last role was as the product head of policy enforcement for Google's multi-billion dollar Personalized Ads products. In a previous position, he led financial fraud management across all Google products, establishing company's leadership in the industry. Before that he helped Google develop its first proprietary CRM system, now used by its worldwide sales team. Previously, Sudhir held leadership roles with three startups, two of which were successfully acquired. Sudhir started his career at Intel, where he held various roles in product marketing and software engineering during his eight-year tenure. Sudhir holds a bachelor's degree in computer science from IIT Kanpur, a master's degree in computer science from the University of Rochester and an MBA from Santa Clara University.
Vishwa Ranjan
Head – Augmented Reality / Virtual Reality, Infosys

Vishwa Ranjan sees things others don't, thanks to his 20-someodd years working in the computer graphics field. At Infosys, Vishwa helps to paint a better picture of augmented and virtual reality capabilities by showing how the technologies will impact consumers and professionals, how they'll buttress new and old industries, and what paths are necessary to get there. When he's not showcasing VR demos at the World Economic Forum in Davos, Switzerland, Vishwa can be found in the classroom using his doctorate in computer graphics to teach. Prior to joining Infosys, Vishwa pushed the limits of animation and visual effects for Industrial Light & Magic, Electronic Arts, and DreamWorks Animation, including work on films and video games in the Star Wars and Lord of the Rings franchises.