Bangalore, India – September 18, 2015: Infosys Finacle, part of EdgeVerve Systems, a product subsidiary of Infosys (NYSE: INFY), today announced that it has been named a leader by Forrester Research, Inc. in 'The Forrester Wave™: Omnichannel Banking Solutions, Q3 2015' report. The solution was recognized as a leader from amongst six top omnichannel banking platforms, which were evaluated on a comprehensive set of 41 criteria focusing on strategy, current offering, and market presence.
According to the research report, 'To assess the state of the omnichannel banking market and how the vendors and their solutions stack up against each other, Forrester evaluated the strengths and weaknesses of the top omnichannel banking solution vendors.'Based on this assessment, Infosys Finacle was named a leader in omnichannel banking. Infosys Finacle also achieved the highest score amongst all six vendors on the strategy and market presence criteria.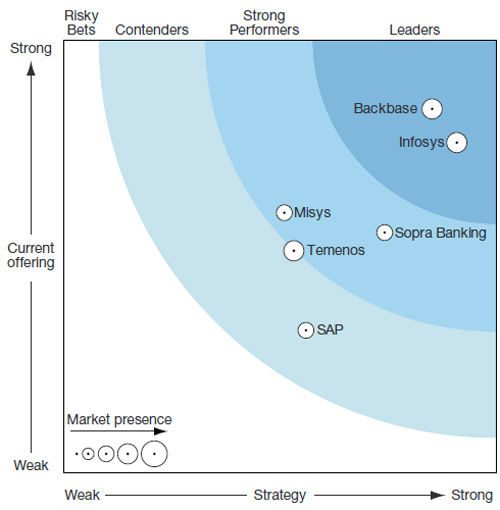 Highlights:
Quotes:
Michael Reh, Executive Vice President and CEO (designate), EdgeVerve
'Rapid digitization and escalating customer expectations have made omnichannel banking a strategic focus area for banks globally. Over the years, we have consistently invested in building a robust omnichannel banking solution that helps banks serve customers seamlessly across channels. Our solution helps banks deliver an engaging banking experience to its retail, corporate and SME customers, across devices of their choice. We feel this recognition further reinforces Finacle's leading position among the banking platforms globally.'
Referring to Infosys, Jost Hoppermann, Vice President and Principal Analyst, Forrester writes in the report,
'Infosys combines various elements of its portfolio into a leading solution. The solution offers comprehensive business capabilities without gaps. It supports a high number of channels, different types of mobile channels, gamification, and mobile wallets. Social channels see particularly sophisticated support. The omnichannel banking solution leverages solid product architecture to provide a basis for flexible CX. Product strategy is well defined without any true gaps.'
About EdgeVerve Systems
EdgeVerve Systems, a product subsidiary of Infosys (NYSE: INFY), develops innovative software products and offers them on-premise or as cloud-hosted business platforms. Our products help businesses develop deeper connections with stakeholders, power continuous innovation and accelerate growth in the digital world. We power our clients' growth in rapidly evolving areas like banking, digital marketing, interactive commerce, distributive trade, credit servicing, customer service and enterprise buying.
Today, EdgeVerve products are used by global corporations across financial services, insurance, retail and CPG, life sciences, manufacturing, and telecom. Infosys Finacle, our universal banking solution, is the choice of financial institutions across 84 countries and serves over 547 million customers – nearly 16.5 percent of the world's adult banked population.
About Infosys Finacle
Finacle is the industry-leading universal banking solution from EdgeVerve Systems, a wholly owned subsidiary of Infosys. The solution helps financial institutions develop deeper connections with stakeholders, power continuous innovation and accelerate growth in the digital world. Today, Finacle is the choice of banks across 84 countries and serves over 547 million customers – nearly 16.5 percent of the world's adult banked population.
Finacle solutions address the core banking, e-banking, mobile banking, CRM, payments, treasury, origination, liquidity management, Islamic banking, wealth management, and analytics needs of financial institutions worldwide. Assessment of the top 1000 world banks reveals that banks powered by Finacle enjoy 50 percent higher returns on assets, 30 percent higher returns on capital, and 8.1 percent points lesser costs to income than others.
Safe Harbor
Certain statements in this press release concerning our future growth prospects are forward-looking statements regarding our future business expectations intended to qualify for the 'safe harbor' under the Private Securities Litigation Reform Act of 1995, which involve a number of risks and uncertainties that could cause actual results to differ materially from those in such forward-looking statements. The risks and uncertainties relating to these statements include, but are not limited to, risks and uncertainties regarding fluctuations in earnings, fluctuations in foreign exchange rates, our ability to manage growth, intense competition in IT services including those factors which may affect our cost advantage, wage increases in India, our ability to attract and retain highly skilled professionals, time and cost overruns on fixed-price, fixed-time frame contracts, client concentration, restrictions on immigration, industry segment concentration, our ability to manage our international operations, reduced demand for technology in our key focus areas, disruptions in telecommunication networks or system failures, our ability to successfully complete and integrate potential acquisitions, liability for damages on our service contracts, the success of the companies in which Infosys has made strategic investments, withdrawal or expiration of governmental fiscal incentives, political instability and regional conflicts, legal restrictions on raising capital or acquiring companies outside India, and unauthorized use of our intellectual property and general economic conditions affecting our industry. Additional risks that could affect our future operating results are more fully described in the United States Securities and Exchange Commission filings including our Annual Report on Form 20-F for the fiscal year ended March 31, 2015. These filings are available at www.sec.gov. Infosys may, from time to time, make additional written and oral forward-looking statements, including statements contained in the company's filings with the Securities and Exchange Commission and our reports to shareholders. Any forward-looking statements contained herein are based on assumptions that we believe to be reasonable as of this date. The company does not undertake to update any forward-looking statements that may be made from time to time by or on behalf of the company unless it is required by law.
For further information, please contact: