The bottom line is that technology providers should help Financial Institutions in making AI consumption easy by leveraging plug and play AI applications, which is not a heavy investment. Let us go through one such example of how the Collections ecosystem in Financial Institutions can be a perfect candidate where AI consumption is made easier.
Efficiency & Effectiveness with integrated core collections platform
In APAC markets, we see a lot of instances where various Financial Institutions have multiple collections platform for different assets and portfolios, and different geographies and markets. This makes the collections process cumbersome leading to high operating costs across the collection's lifecycle.
What if these financial institutions have one integrated core collections platform that supports end-to-end collections processes, powered by Artificial Intelligence and Machine Learning capabilities across multiple asset classes and loan types. This will enable them with a single view of the customer leading to:
AI amplifying the experience
Integrated core collections platform enables a single view of the customer to the lending enterprises, providing easy access to data. However, they need insights into this data to make intelligent business decisions related to their collection strategies, from the best time to connect with defaulter to the best channel to utilize. There is a far greater need to move from siloed data sets and point analytics to generating insights across a customer's journey. As we know, a customer's journey in a bank is across different value chains – lending value chain, card value chain, deposits value chain, and an enterprise's procurement value chain. Using advanced AI/ML analytics in different parts of the customer's journey generates near-real-time data that can help drive insights and translate some of those insights into action. This is what truly encompasses a Cognitive Connected Value Chain.
A combination of AI-powered Core Collections platform can deliver below values for Financial Services enterprises: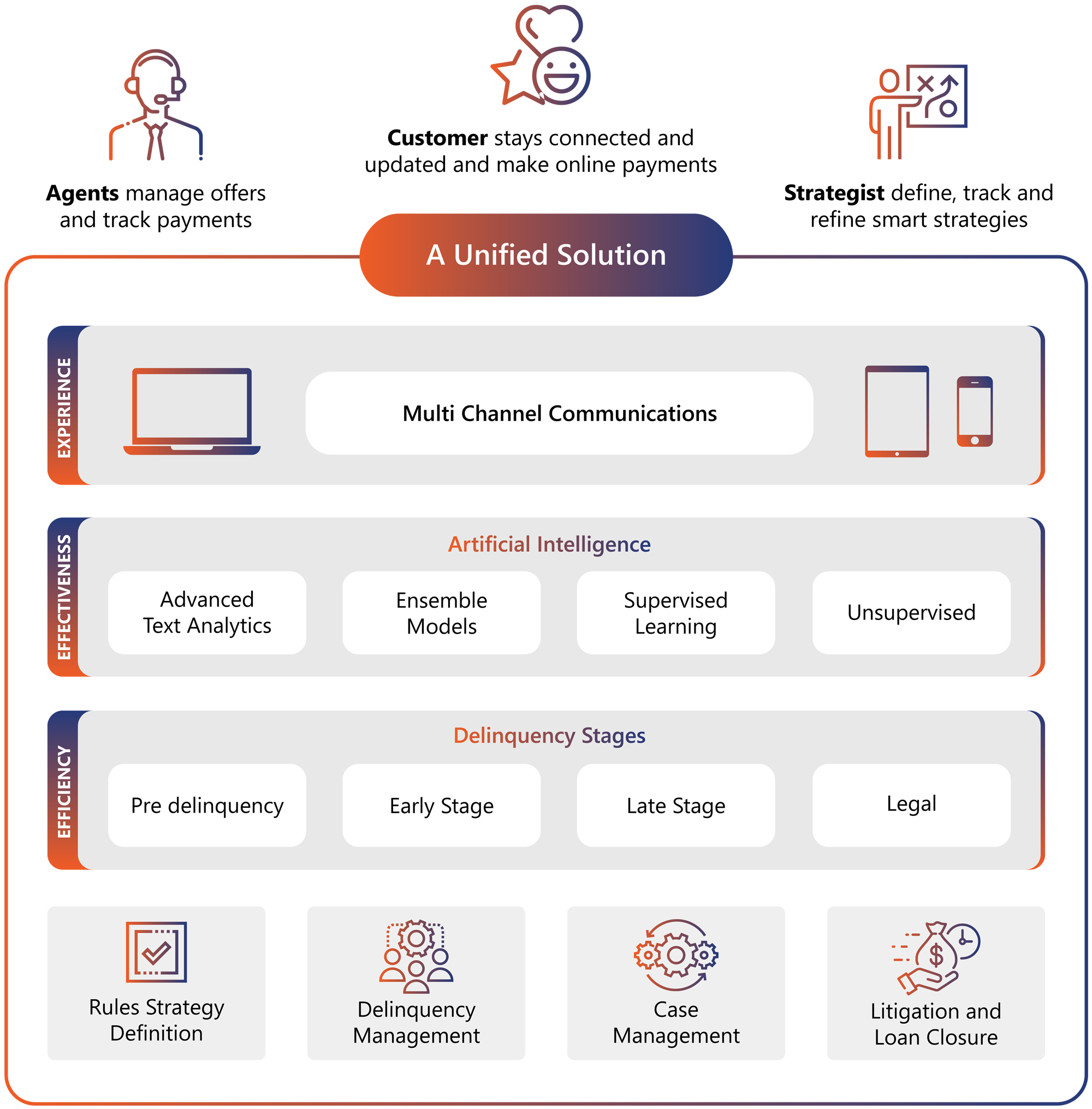 How can an Integrated Core Collections platform with AI on top of it help build business resilience?
Post COVID-19 impact, lending organizations are offering loan extensions/moratorium and deferred payment options, resulting in significant increase in collection volumes and pressure to maintain customer experience, all the while being efficient in providing assistance programs.
It's certainly a time to adopt more intelligent platforms to sail through the rough times; typically, a significant headwind is expected post-closure of the moratorium in various countries. Below is a quick snapshot of the expected challenges and how AI & ML platforms will be effective.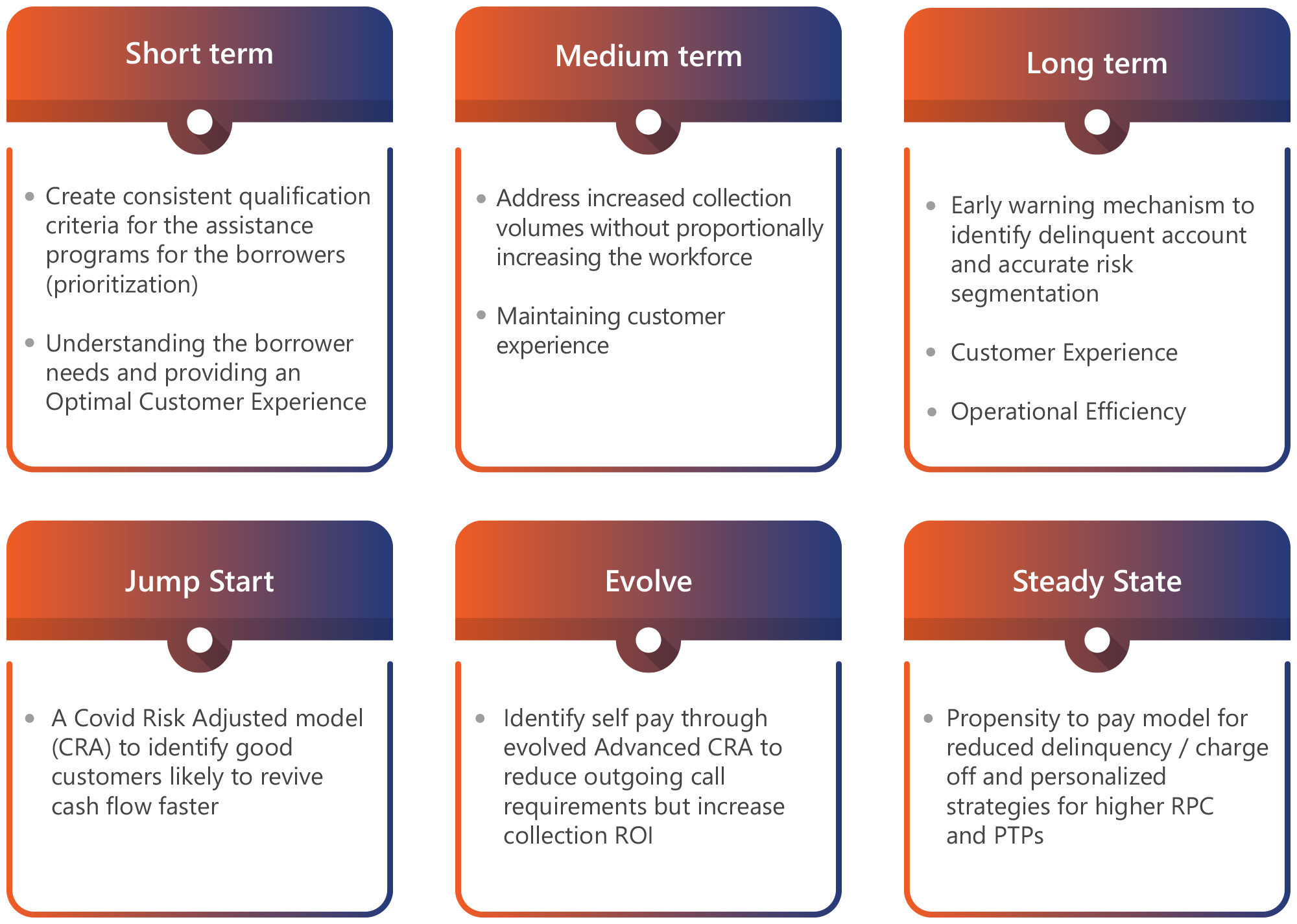 This is where FinXEdge suite powers both Core Collections and Artificial Intelligence & Machine learning capabilities to make debt collections intelligent and effective. While the core collection gives organizations a power of transaction system to be used across the internal and external users in the collections ecosystem, FinXEdge Collect acts as a brain and optimizes the efforts and spend in the collections process.
In short, both integrated core platform embedded with AI helps ensure business continuity and resilience in the face of the current crisis, preparing the financial services industry to gear up to a new reality. It breaks down siloes and empowers businesses to use data to identify new opportunities. Such integrated solutions help financial institutions manage debt collections by leveraging massive volumes of data, improving efficiencies, and enhancing customer experience.