Facebook's "Like API" is a free API that lets developers add a "Like" button on their web or mobile properties. Being a company that derives value from user generated content Facebook thus gets a wider net of users to feed information into its network.
Amazon Associates program lets mobile developers use its Mobile Associates API to sell products through in-app purchases, and offers developers 4 per cent to 6 per cent on qualifying purchases.
eBay uses a similar revenue sharing model by incentivizing developers to build quality apps, and incentivizing platforms to provide quality APIs.
APIs sure are a great way to generate value and revenue. But there is no single playbook for pricing when it comes to APIs. It is abundantly clear that any API strategy must support the overall business strategy. Thus API monetization models also must take into account who consumes the API, what they gain from using the API, and what they should pay for while consuming the API.
Infosys Finacle's Point-of-View on 'Platform Business Model for Banking', broadly classifies API monetization models in four buckets: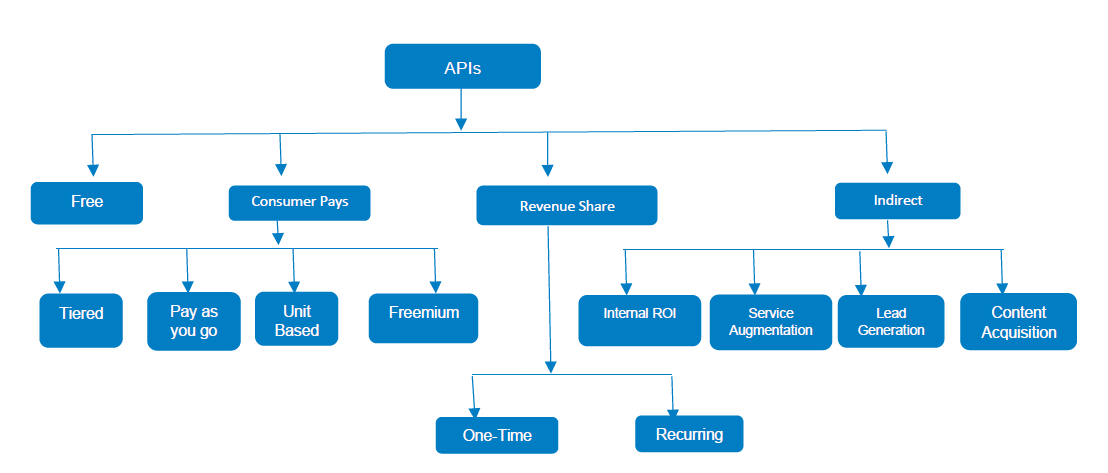 APIs that lower operational support cost can be positioned as free APIs, while APIs that share functionality, data or information are typically charged. Partners and fintechs may be charged for different levels of usage (Tiered), to pay a fee based on usage (Pay as you go), to pay according to the consumption of specific units of computing or service (Unit such as cpu cycles), or to use the API for free but pay for additional services (Freemium). The revenue sharing model is adopted for partners who bring in new clients. There are also indirect monetization models that help improve customer service or generate leads.
According to the survey by Efma and Capgemini for 'World Retail Banking' report, the most preferred revenue model is where the consumer of an API pays a fee per API transaction. Another popular model is revenue-sharing where third parties consume the API and drive new sales. Among the less popular models are the annual or monthly licensing fee model, fee-based models for data or insights, and the API call fee model – in which third parties pay each time they call a service offered through an API.
Fidor bank is an early mover in the API and platform space. In a combination of transaction based and revenue-sharing models, the bank offers its proprietary operating system fOS, which uses APIs to help businesses develop their own banks. German telecom operator Telefonica O2's mobile only bank is built on top of fOS. Fidor offers the technology support to run the online bank, access to a German bank license, customer support, card services, compliance and marketing support. Fidor earns revenue through tech-related commission income from fOS and commission income from transaction fees.
At Infosys Finacle we propose 6 key strategies for API-led platform business. The first is embedding banking in customer chosen applications. With APIs, banks can expose every little service for their big corporate customers to pick, choose and structure as needed. Besides corporates, digital businesses like FinTechs and e-commerce players are a good target here. As they do this, they look to make money from a pay-per-use or a revenue sharing monetization model. BBVA is a case in point. The bank's APIs are available in 8 categories. In a pay-per-use or revenue-sharing arrangement consumers of the API can integrate the bank's products and services in their own interfaces. While this was mostly in the sandbox environment, the APIs are now available in the production environment.
The second API strategy is where banks participate in a giant ecosystem such as Apple Pay, Google Pay or Amazon. Banks choosing to join such ecosystems hope to monetize them directly through revenue sharing, or indirectly through higher customer acquisition rates and lower cost of operations.
The third API-led platform strategy is that of curating an ecosystem, to build a well-matched community of buyers and sellers, and increase customer loyalty by providing greater value. The popular monetization models for this strategy include freemium models such as subscription based pricing, revenue sharing with producers, or advertising-based models as in the case of Alibaba. Banks also monetize this ecosystem indirectly by enhanced customer retention as demonstrated by HSBC Connections Hub.
Another popular API strategy for banks is Banking-as-a-Service, where a non-bank relies on a licensed bank for basic banking elements, such as technology stack, operations, network connections and compliance. The non-bank builds new experiences and value propositions on top to offer to its end customers. Examples of this include Fidor Bank, and India-based startup Moneytap built on RBL bank's APIs. The preferred revenue model here is revenue sharing with ecosystem players for the capability offered as-a-service. Banks sometimes also resort to transaction-based pricing in such a model.
Another Banking-as-a-Service API strategy is where banks offer their APIs not only to non-banks or neo-banks, but also to traditional banks. An example is China's WeBank that offers payment services to small banks. Pay-per-use, revenue-sharing or subscription based model are the preferred monetization models for this API strategy.
Instead of growing an ecosystem, some banks buy or invest in an existing ecosystem player to gain access to their network. In such a case, the bank typically adopts the monetization model of the acquired platform player.
Different banks may adopt different API strategies based on the kind of ecosystems they curate, create, cultivate or gain access to, and the value they aim to generate. As more and more banks take their APIs live with production data they must align their monetization models with the overall business strategy and must evaluate each API based on who consumes it, the value it creates for the consumer, and the potential value they can create together.
You might find our paper on 'Platform Business Model for Banking ' interesting, you can access it here.
References: