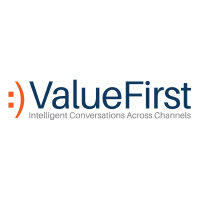 Verisure: Instant assured delivery
Ensure delivery of time-critical instant messages such as OTP and mobile verification with Verisure, the instant assured delivery platform by ValueFirst. With Verisure, you can rest assured that your customers never complain about snags like these hampering their experience of your product or service.
Features
Parallel submission across channels
Send critical alerts over multiple channels (SMS, Email or Voice) simultaneously to make sure OTP (One time Password) or intended communication is received.
Choice of Order of communication medium
Configure the order of channels (SMS, Email, Voice) for delivery as per your customers' preferences
Differentiated Delivery
Ensure differentiated QoS for critical use cases with dedicated infrastructure
Benefits
Advantages for new customers
Ensure close to 100% delivery rate with automated routing and flexible configuration options
Hassle-free delivery with single API integration
Manage better with a comprehensive real time MIS
Provide user-friendly service to your customers with automated voice call or IVR for OTP
Go live with the solution in less than 5 hours
Assurance with 24x7 monitoring