Don't over spend time, effort and resources on collating and validating data or computing metrics to gather insights. Action ready-made insights instead. Spanning the disciplines of performance management, business intelligence and collaboration management, Ramco's Analytics Suite Ramco DecisionWorks™ is a comprehensive, smart and user-friendly tool for corporate performance management.
App screens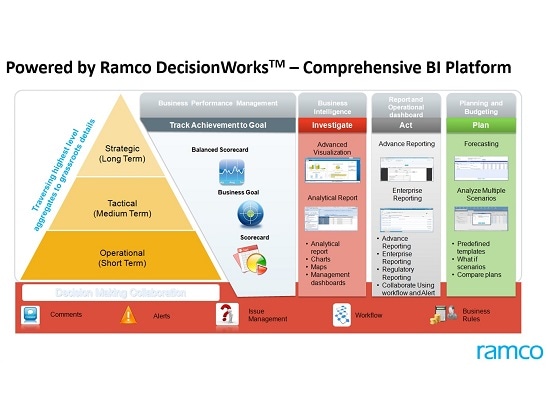 Comprehensive BI platform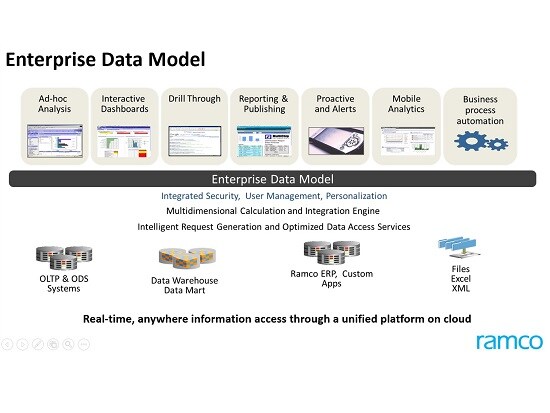 Enterprise Data Model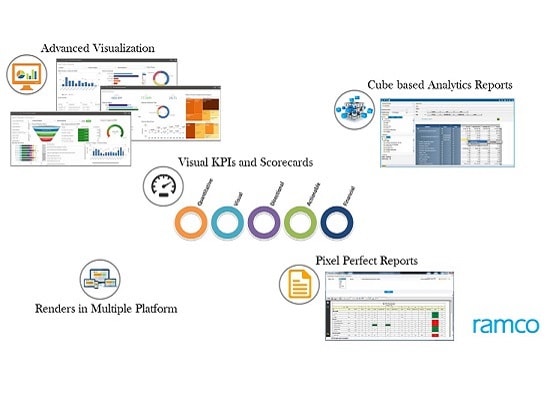 Analytics Features
Features
Ramco Advanced Visualization
Empower businesses with insights into their organizations to help employees work faster and smarter, with Ramco's next generation visual analytics platform.
Well defined KPIs, Scorecards and Analytics Reports
Be on top of your metrics with this multi-dimensional reporting solution based on Analysis Cubes, an intuitive scorecard with KPIs to monitor the health of the organization, and a report writer tool for those simple pixel perfect reports.
Planning and Budgeting
Plan meticulously with this feature-rich solution whose planning and budgeting layer consists of a comprehensive template for all of an organization's planning needs.
Benefits
A comprehensive BI Solution
Stay informed with a user-friendly self-service advanced visualization tool
Capture the parameters you wish with unique slice and dice features in your analytical reports
Drill through reports for granular data
Monitor the health of your business effectively with end user analytics and KPIs
Extract pixel perfect enterprise reports
Plan and budget effectively with well-defined template