Niki – AI Platform for Commerce
Techbins solutions Pvt. Ltd
|
Artificial Intelligence
Digital Engagement
Payments
Placing orders has never been easier. Food orders, phone bill payments, cab booking, we've got it all in one place. With 60+ brands and counting, Niki.ai's AI powered chatbot simplifies the ordering experience for your customers by getting more than 20 services on a single simple chat interface. What's more, it's omnichannel, so works seamlessly across Web, android, iOS, Facebook messenger, to name a few. Explore this unique platform to engage your users digitally and also monetize this engagement.
Watch & Learn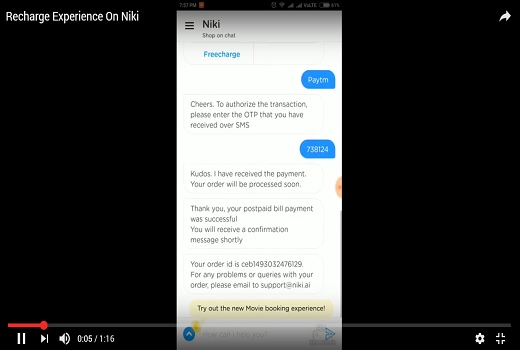 Prepaid Recharge Experience with Niki
With Niki users can interact in free text. Our advanced NPL engine capabilities help bots understand spelling mistakes, grammatically incorrect sentences, and regional references. This reduces friction and helps a whole new set of users to transact online thus increasing the penetration of your service.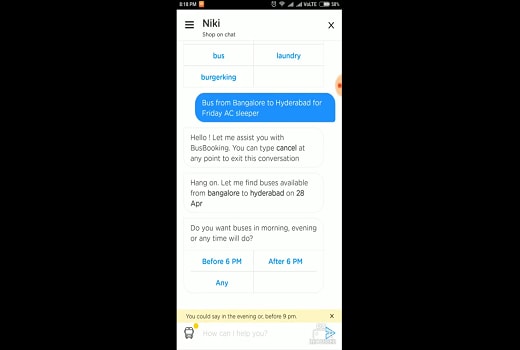 Bus Booking Experience on Niki
The video demonstrates how a user can use Niki to book a bus.The flexibility to toggle any parameter at any point of a conversation makes the entire flow seamless, which is enabled by a Stateful Dialog manager being the core technology element as it understands the intent of the user & carries forward the conversation in a natural manner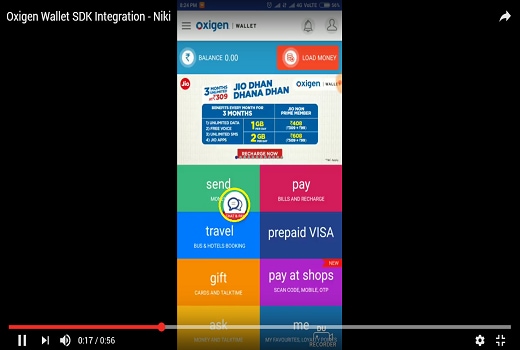 SDK Integration in Oxigen Wallet
We have released Chat SDKs for brands to integrate and power these services, through a single chat interface. For a brand, it presents a unique opportunity for better engagement, monetization and having all merchants/services into their App for users to transact.
App Screens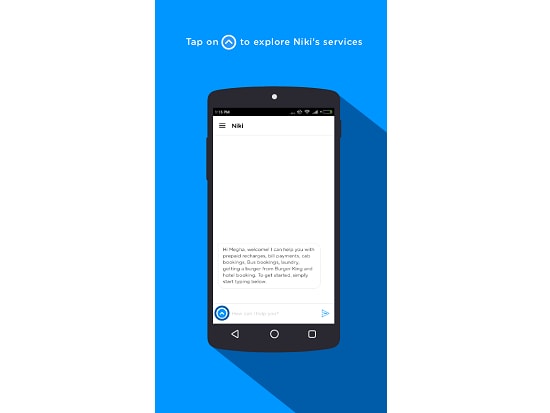 Tap to explore various services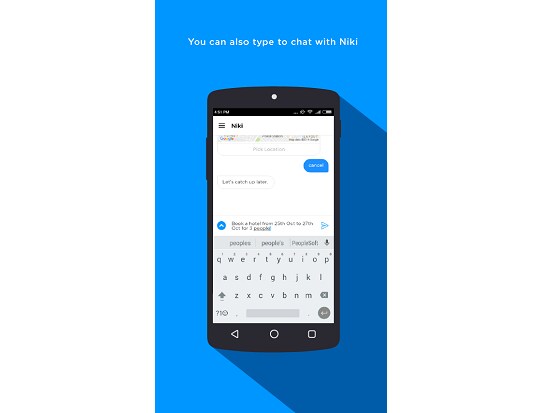 Start typing to chat with Niki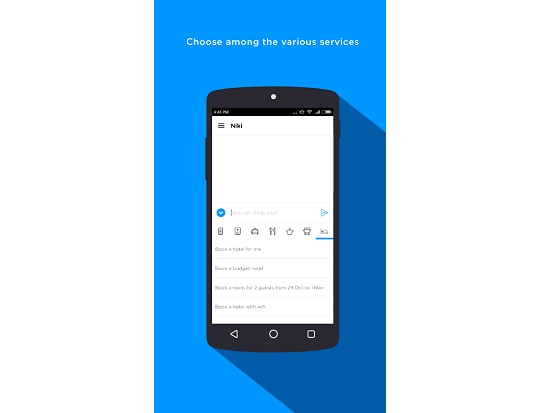 Choose among the various services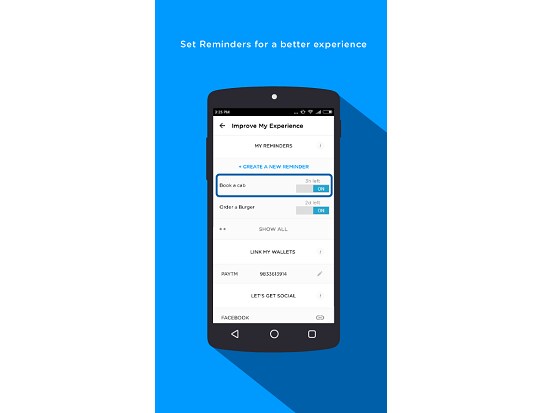 Set Reminders for Better Experience
Features
Advanced NLP Capabilities
Our advanced NLP capabilities helps the bot in understanding and responding to free text, spelling mistakes, ungrammatical responses and even hinglish inferences.
Stateful Dialogue Manager
The bot understands the intent of the user and provides a seamless conversational experience which is more natural and intuitive, thereby acting as a strong differentiator from the query based engines like Siri.
Customized User Experience
Recommendation engine being smart technology piece understands the transactional behavior of the user to provide him with a customized experience basis his preferences.
Benefits
Easy to integrate plug and play sdk of size 0.9 mb
With size lesser than 1 MB, this doesn't require a daylong effort to code and integrate.
Increased platform utility by increased user engagement
Engaging the user isn't a hassle anymore, resulting in developing a loyal user base.
Single access to 20+ services and 40+ merchants
Single access to multiple merchants makes it hassle free and fast.
Instant messaging app, backed with advanced ai capabilities
Semi-Automated Engine driven by Machine Learning helps us improve the technical capabilities real time.
Platform independent backend architecture
Platform independent backend architecture makes the integration seamless.
Monetisation of user base
Niki has monetised relationship with partner merchants. Revenue will be shared for all orders processed on your platform