Why You Should Attend
Hear from Industry experts
Hear from over 30 industry experts on the latest trends in the industry and developments in the Finacle suite. Join the discussion to understand what the future could look like and how to get ready to succeed in it.
Learn from global peers
With the speed at which the industry is moving, there is always something new to learn from global peers. Engage to learn about trends, strategies and innovations from banks across the world, to help you stay up-to-date and ahead of the curve.
Meet our ecosystem of partners
Meet and know the various LargeTech and Fintech partner representatives from across the Finacle ecosystem, who will be present and showcasing their solutions.
Engage with our executives
Meet and engage with executives from across the organization, including senior management and experts from our different businesses and product areas, all in one place.
Solution showcase
Learn about our latest products and developments in the products suite through live demos and breakout sessions. Speak with our product team and business consultants for an overview of the product roadmap and how you can better leverage your implemented Finacle solution.
Network and have some fun
Finacle Forum has planned plenty of opportunities for you to network and get to know your peers in an informal atmosphere. Exchange ideas, inspire and be inspired, validate and challenge perspectives, and network!
Agenda
Day 1 – 9th April
Experience Mysore – Networking Experience For Delegates | 08:30 – 14:00
Welcome Reception | 16:00 – 17:00
Opening Address | 17:00 – 17:15
Conference Keynote Address | 17:15 – 18:15
Leadership Panel Discussion – Accelerate Digital | 18:15 – 19:00
Finacle Client Innovation Awards Dinner | 19:00 onwards
Day 2 – 10th April
Fitness & Fun – Curated Fitness Experiences | 06:00 – 07:15
Breakfast | 07:15 – 08:15
Keynote Address – Accelerate Digital | 08:30 – 09:30
Innovation Awards – The Winning Innovations | 09:35 – 10:20
Refreshments Break and Solution Showcase | 10:25 – 11:15
Industry Partner Presentation | 11:20 – 11:45
Delivering Engaging Customer Experiences | 11:50 – 12:50
Lunch | 12:50 – 13:50
Accelerating Corporate Business Digitization | 13:50 – 14:50
Breakout sessions | 14:55 – 15:40
Track 1 – Enhancing Customer Experiences With Finacle Digital Engagement Suite
Track 2 – Accelerating Treasury transformation
Track 3 – Reimagining Payments With a Unified Hub
Breakout sessions | 15:45 – 16:30
Track 4 – Wealth Management – Tapping the Mass Affluent Opportunity
Track 5 – Digitizing Corporate Cash Management
Track 6 – Digital Services Offerings from Infosys
Closed-Door User Group Sessions | 16:35 – 18:05
Core Banking
Digital Engagement Suite
Gala Dinner | 19:00 Onwards
Day 3 – 11th April
Fitness & Fun – Curated Fitness Experiences | 06:00- 07:15
Breakfast | 07:15 – 08:15
Closed-door Sessions – Playback Of Findings | 08:30 – 09:10
Accelerating to the Cloud | 09:15 – 10:15
Refreshments Break and Solution Showcase | 10:15 – 10:45
FinTech Speak – Meet Four Startups from Finacle App Center | 10:45 – 11:45
Guest Keynote Address | 11:50 – 12:50
Closing Address | 12:50 – 13:05
Lunch and departures | 13:05 – 14:05
Last Year's Speakers
NANDAN NILEKANI
Co-founder and Non-Executive Chairman of the Board, Infosys
SANAT RAO
Chief Business Officer and Global Head, Infosys Finacle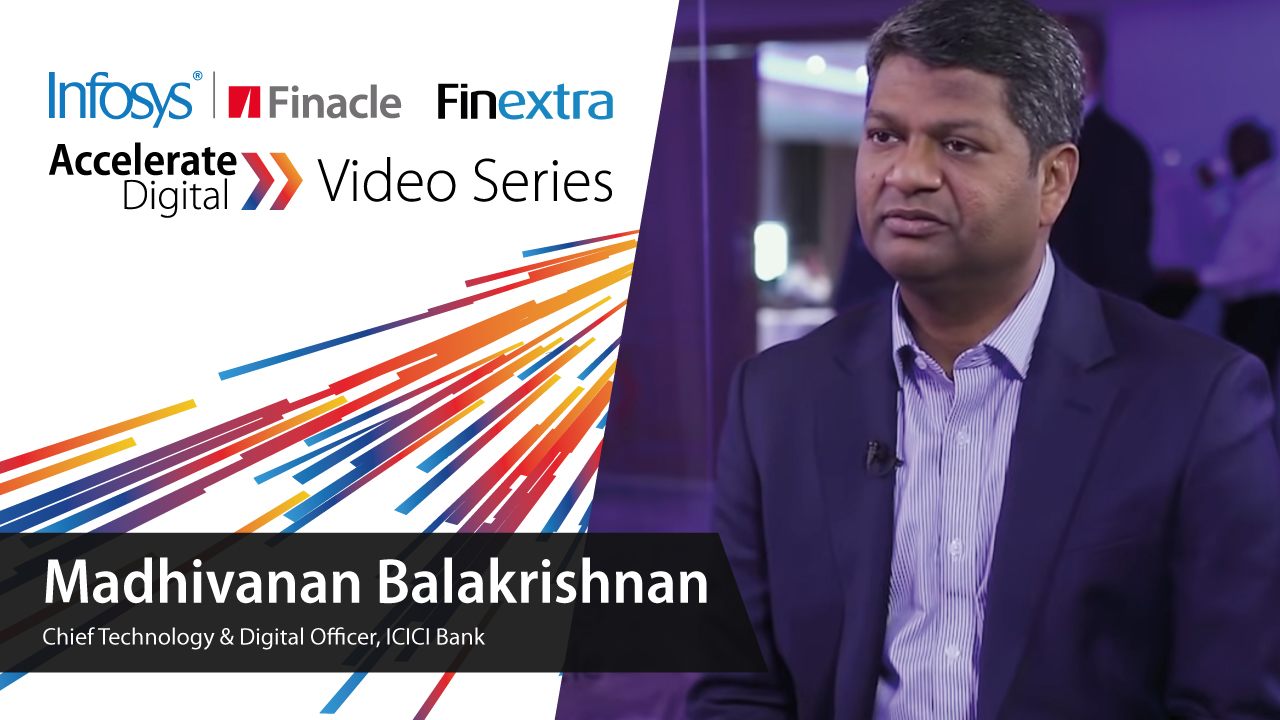 MADHIVANAN BALAKRISHNAN
Chief Technology & Digital Officer, ICICI Bank
KLAAS KRUGER
CIO, Africa Regions,Standard Bank
ABHIJIT SINGH
Head, Business Technology Group, ICICI Bank
ADRIAN VERMOOTEN
Head of Digital, Standard Bank Africa Regions
ARTURO RIVERA FERMOSO
Chief Information Officer, Banca Mifel
BHARTESH SHAH
Chief Operating Officer,Equity Bank, Kenya
SAMIR KHARE
Group Chief Information Officer and BFSI Business Leader, State Bank of Mauritius
SANJAY KHANNA
Chief Information Officer, Rakbank, UAE
SHAIDA LYNCH
Vice President of Business Technology, Discover Financial Services
Infosys Finacle Client Innovation Awards
Finacle Forum features the annual Finacle Client Innovation Awards for 2019. The awards recognize and celebrate banks that deliver disruptive innovations across banking products, customer service, process design and distribution channels. This presents a rare opportunity to learn directly from banks, on what they think were disruptive innovations.
This year's awards program promises to be even bigger!
We have received over 250 nominations and the winners will be felicitated in a gala ceremony at Finacle Forum!
FAQs
How do I register for Forum 2019?
Please register using the registration tab on this page.
Will I receive a confirmation email once I register?
Yes, you will receive a confirmation email once you successfully complete your registration. In case of any queries, please feel free to get in touch with us at finacle.forum@infosys.com.
Which airport should I fly into?
Please fly into Bangalore International Airport. Our team will meet you at the airport and arrange for transfers to the conference venue.
What is the travel time from Bangalore International Airport to Infosys Mysore?
The approximate travel time is 3 hours by road, depending on traffic conditions at the time. We have arranged air-conditioned coaches to transfer you from the airport to Infosys Mysore.
What time do I need to arrive?
If you wish to join us on the pre-conference experience, please arrive by Monday, 8th April. Alternatively, you can arrive into Bangalore airport latest by 11am on 9th April.
Does Infosys Finacle cover accommodation and meals for attendees during the conference?
Attendees will be accommodated at the iconic Infosys Mysore campus. We will be providing you with breakfast, lunch, evening meals, and tea / coffee during breaks on all conference days. All personal incidentals such as laundry and phone calls from the room, will be charged to the attendee directly during check-out.
What is the dress code for business events and the dinners?
The dress code for the conference and dinners is smart casual.
Is there a conference fee for attending?
Finacle Forum is an exclusive invitation-only event. There is no attendance fee for the delegates.
What language will the conference be conducted in?
All sessions and communications for the conference will be in English.