Transitions are not always easy and this one certainly comes with a rather complex set of challenges. This impact can be analyzed in the light of the new features being introduced in the IFRS regime. This paper looks at 3 key areas, the required transition process and the associated challenges, starting from simple changes to the more complicated and intricate ones: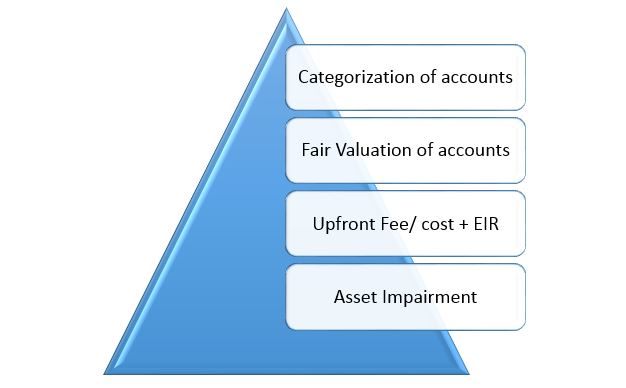 Transition Process

Challenges
Banks would face the challenge of drawing rule-engine for account categorization, basis the business model and SPPI test. Once that is done, listing and updating should be manageable.
Local financial / banking regulators across the globe have already promulgated localized versions of IFRS applicable to respective countries. IFRS has already arrived in many countries, and will soon be adopted in the remaining ones. The industry needs to keep itself and its systems prepared to handle this regulatory 'tsunami'. With a well-thought out policy and strategy to handle the required changes, banks can meet the challenges head-on and sail through.
Glossary:
IFRS: International Financial Reporting Standards

GAAP: Generally Accepted Accounting Principles

CBS: Core Banking System(s)

AC: Amortized Cost

FVOCI: Fair Value Through Other Comprehensive Income

FVTPL: Fair Value Through Profit & Loss

IAS: International Accounting Standards

MIS: Management Information System

EIR: Effective Interest Rate

SLM: Straight Line Method

TF: Trade Finance

CASA: Current Account Savings Account

CC/ OD: Cash Credit/ Overdraft

P&L: Profit & Loss

ECL: Expected Credit Loss

NPA: Non-performing Asset