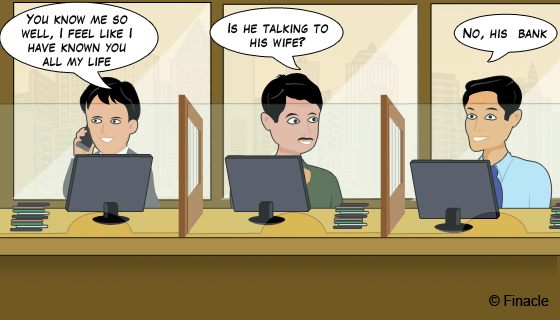 IT vendors assisting banks in front- and back end processes and accounting either through a branch- or centralized core database developed several software solutions. They also built compliant solutions enabling banks to follow regulations and processes, reduce manual labor, errors and omissions and increase automation. These solutions were mostly utilized for streamlining operations and improving customer service. This set of solutions may be treated as first generation IT in the banking and financial sector.
A second generation of IT solutions was developed in order to meet more comprehensive business requirements and take functionality to the end customer. This included internet banking, mobile banking, mobile applications etc. These solutions enabled the customer to log in and enjoy predefined services, which were configured within. A few of the services, such as payment transaction, could be effected online whereas requests for check book or fixed deposit had to be taken offline and routed to a relationship- or account manager for further processing. A few corporate banking solution providers developed solutions for trade finance and cash management, enabling requests to be processed through a web-enabled front end.
The next generation of IT solutions development revolved around applications either available to the customer online or loaded in handheld devices, enabling transactions on the go. This allowed the customer to access banking transactions and services without internet banking, and independent of a specific workstation or location. These solutions were completely customer driven and designed based on market requirements. While there were a few interactions with a back end solution for accounting and transaction, the solutions were designed to complete the entire processing in a streamlined manner.
Today, many of the large corporations are using ERP systems with end-to-end management of purchasing, sales, inventory, production, financials and reporting. These solutions are tailored to serve customer needs and are integrated with corporate e-banking and a core banking back end to enable straight through processing. Further, IT vendors are developing lighter ERP systems to focus on small and medium enterprises, partnership- and proprietorship firms.
Then there are several popular payment and e-commerce sites whose transaction processes are enabled by connecting to multiple back end systems and payment gateways.
Technology advancement is paving the way for further revolution, where customers need not depend on a single bank, channel, website or application for processing transactions. Their mobile or handheld device provides an option to download an application of choice and transact at their convenience. The data storage capacity, processing speed and usability of downloaded mobile applications will determine growth in mobile usage. Most of these software and mobile applications are targeted at Generation Y who are habitual mobile users for a variety of purposes – chat, voice communication, text, payment, transaction etc. They also use social media to understand and decide about banking transactions.
To conclude, it is difficult to predict the nature of IT solutions, which will be in demand in the banking market. However, what is certain is that the solutions will be driven by customer needs surrounding usage, convenience and functionality. They could be employed on mobile, internet, social media or any other unforeseen channel. Security, data communication and integration are among the key factors, which should be taken into account when designing such solutions. The solutions could fall within the realm of data analytics or predictive analytics, or offer advice on a range of issues at different life-stages; they would also need to have transaction processing capability. The solutions could cater to customers of all ages. Their data on customer traits and behavior could be analyzed to understand:
Financial
Spending pattern and retirement plan
Preferred bank for account opening
Investment appropriate to life stage – for example, real estate versus equity versus bank deposit etc.
Non- Financial
Shopping pattern
Preferred holiday destination
Vehicle preference
(This is just an indicative list)
IT solution providers need to think carefully while designing a solution for the future, which can cater to the end customer, offer suggestions based on personal traits, behavior and other factors, and also enable transactions. When customized products and services are available for high net worth customers based on their personal preferences, it shouldn't be hard to use analytics to offer contextually relevant products to all other classes of customers. This will bind their loyalty to the bank as a source of transaction as well as financial guidance.