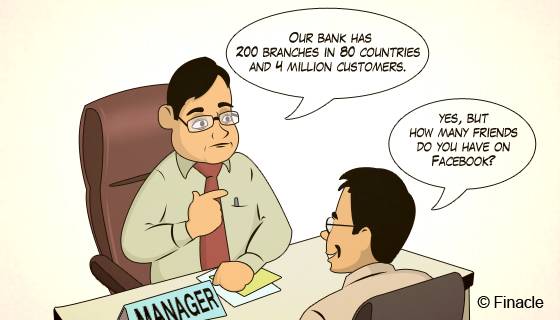 We have amongst us a whole generation that learned to type long before it could talk. Tabs and Smartphones figure at the top of a 10-year-old's wish-list. People experience extreme anxiety until they announce their "bad hair day" to the world; symptoms worsen if at least 2,000 people do not "like" it within 15 minutes. Proof enough of the extent to which social media has pervaded our personal lives, and also of the intermingling of our physical and virtual worlds. Businesses are now beginning to see an opportunity to cash in on this mass phenomenon. And when business and cash are involved, can banks be far behind?
The increased prevalence of social media can be attributed to rising tech-savvy, ubiquitous Smartphones, sophisticated mobile technology and high-speed Internet connections. If the number of Facebook and Twitter users is any indication, this trend is only poised to grow exponentially. Thus banks only stand to gain by harnessing the power of social media. And this they can do, not just externally – to engage existing or prospective clients but also internally – to connect with employees and vendors.
In addition to its "social networking" function, Facebook today also has a strong commercial aspect. Banks and other business establishments are recognizing the merits of marketing their offerings on Facebook. However, it would also bode well for them to utilize this channel "internally." For instance, messages circulated amongst employees could be made readily available as searchable content, facilitating faster and more efficient collaboration.
With some out-of-the-box thinking banks can devise interesting ways to reach out to customers through these sites to gather opinions, develop and market new products and services, and improve customer service while raking in profits.