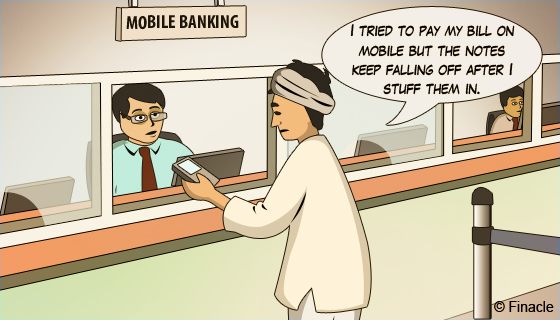 I became the proud owner of the coveted iPhone and straightaway got down to business, enabling M-banking on my bank account. After installation I was mighty pleased at the prospect of being able to transact from the comfort of my home or office. The actual experience, however, was a different story altogether.  The extremely classy and stylized WP7 app doled out information on branch locations and foreign exchange rates with élan, but when it came to basic account balance information, it was back to the drab old browser screen.
I decided to check out the prowess of my M-banking by paying my electricity bill; it was the last day for payment. If I was dismayed by the overall "look and feel," the functionality left me thoroughly disappointed.  Inadequate "help" options made navigation cumbersome and I never did manage to figure out the "Utility Bill Payee" names.
Attributing this to issues with the handset, I then switched to the tablet.  The complex security features made the use of the phone and the tablet mutually exclusive, i.e., the pass code did not work in parallel on the phone and tablet both. I fiddled around for an hour with no luck, when a power cut- a direct consequence of the unpaid electricity bill – added to my woes. It was at this point that I discovered the most useful iPhone feature – its flashlight! By the time I could focus on my unfinished business, the session had logged out. Re-login required a separate "SecureKey" card to generate a PIN for use with existing login credentials – with security interests in mind, no doubt. However, the idea of fishing for it in the dark was not very appealing.  I therefore channelized my energies into convincing the electrician to arrange for temporary power to see me through the night.
The evening's events set me thinking about whether enough was being done to equip customers to optimally use this niche channel, which could empower branch-less banking. Undoubtedly, marketing is the key to popularizing M-banking but banks should not undermine the need for customer education. In the absence of end-user (customer) training, banks may end up addressing all queries, mobile banking or otherwise, in the branches, which defeats the whole purpose of M-banking.
A bank's mobile banking application should mirror its net banking portal in terms of utility and ease of use. Step-by-step instructions, from the time of app download until the end of the desired transaction, can prove useful.
It's time banks woke up to reality and addressed these vital issues hindering the optimal use of M-banking.