Digital technologies have rapidly evolved over the past few years but their adoption in procurement has been very slow. One of the key reasons is data quality and its (lack of) availability in real-time. As per a 2018 Deloitte CPO Survey, more than 45% of procurement leaders believe lack of integration and poor quality data are key barriers to the effective application of digital technology in procurement. This is because most organizations today are still using legacy spend analytics tools that have the following shortcomings:
Procurement leaders have very high expectations from spend analytics as they understand that it is key to transforming their function digitally. These expectations can be classified into four types:
Spend Reports – Most procurement teams want the spend analytics tool to help them respond to queries from business in a timely manner. They want to address problems as they happen and take corrective immediate actions. Besides control, they demand the best possible user experience and visualization tools that they can use on their own without any training.
Spend Insights – Procurement professionals want to manage and track their KPIs and also benchmark them against best in class organizations. They want to correlate spend data with market intelligence to find improvement opportunities. They also want to review both strategic and operational KPIs at one place to be able to see a complete picture and take comprehensive corrective actions resulting in savings and better compliance.
Spend Predictions – They would also like to leverage Artificial Intelligence to proactively monitor problematic trends and take preventive action to improve compliance and meet their savings target. A typical example of this is Price Forecasting. By leveraging procurement teams understanding of price influence drivers, we can build a category forecasting model that can predict price changes based on various drivers like currency, inflation, weather, raw material, demand index and more. This model can then be extended to suppliers to predict their item pricing specifically for tier 2 and tier 3 suppliers (assuming they are technologically challenged).
Spend Actions – Procurement teams also want to use spend analytics to generate actions that can drive automation and improve decision-making. This is a core requirement for achieving digital procurement transformation because first it reduces the need for cumbersome processes by bringing it required automation and second it truly transforms the user experience and business operations. For instance, if we can automatically create purchase requests for even Indirect goods/services based on historical trends and future business requirements, it will automatically ensure that the purchase is from right suppliers at the right contracted price and the transaction is pre-classified to right spend category.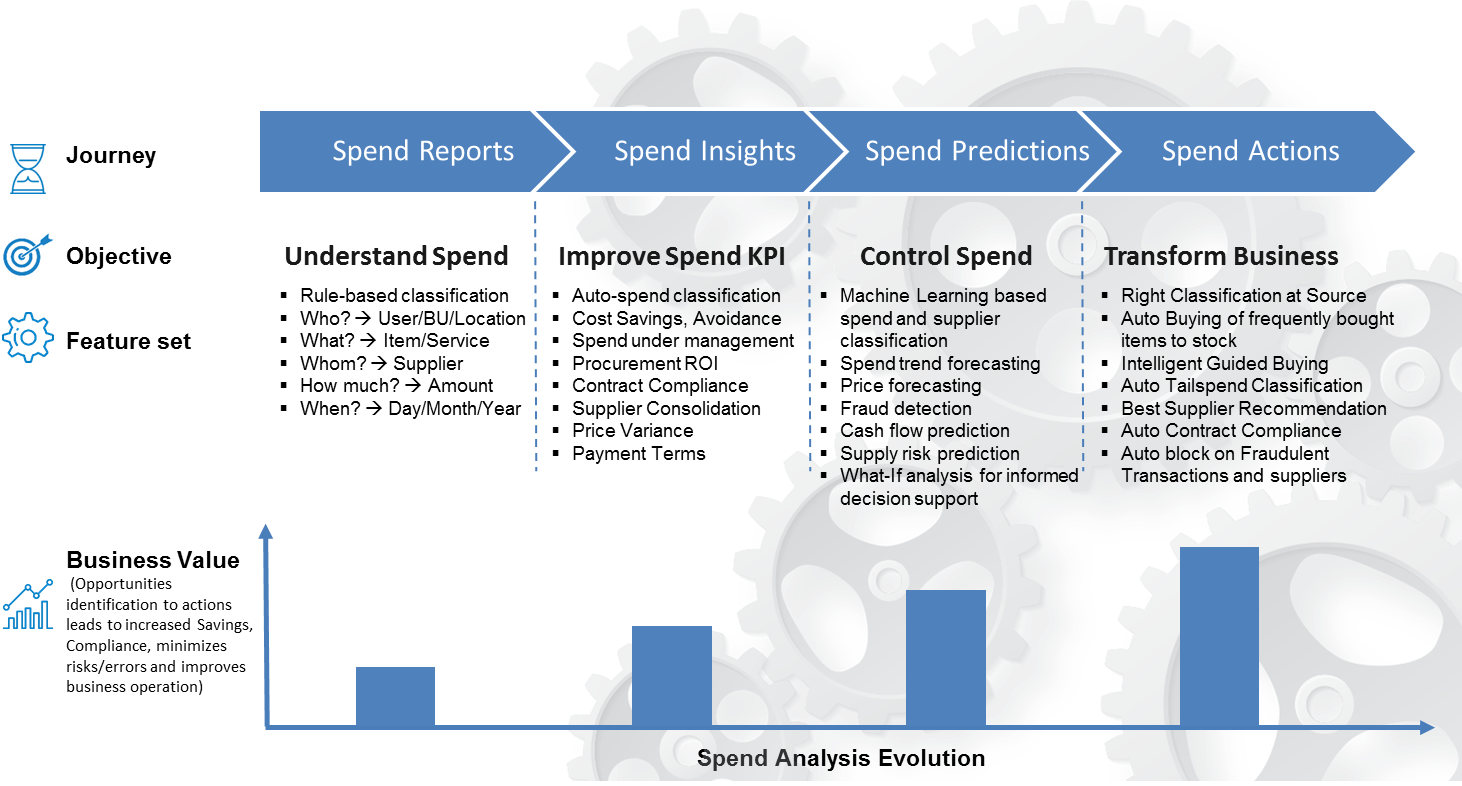 Fig. Spend Analytics Evolution Roadmap
For successful Digital Procurement Transformation and to meet the above expectations, the organization should first ensure that its current spend analytics tools are aligned with advancements in data processing, visualization, AI and big data analytics. If not, it's time for a change.