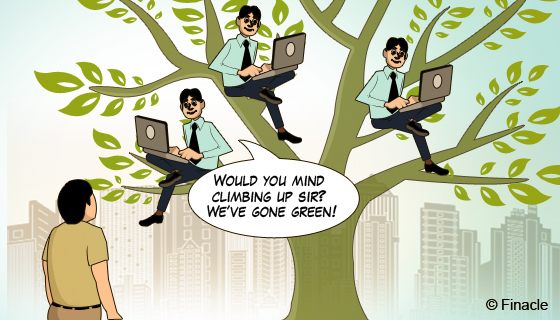 Since it burst into our collective conscience in the sixties, modern environmentalism has become an increasingly dominant motif in policy parlance. For businesses this translates into the need to make green integral to business strategy rather than managing it as an incidental or tactical activity.
Thankfully, green has the potential to be the new black in the balance sheet. In the context of the financial services sector, it can increase efficiencies of existing processes to deliver differentiation, competitiveness and growth in the top and bottom line. Additionally, it opens up a whole new opportunity in the form of the emerging market for green products and services.
Let's start with the concept of the 'paperless' bank, a concept with such obviously green connotations that the attendant productivity benefits are only implicit. In banks, human interactions tend to generate paper even for the most routinely availed services. Digitizing or automating these services is as much about sustainability as it is about freeing up expensive human resources to focus on more critical functions like relationship building, up-selling and cross-selling. And digitization in any form, be it multi-functional kiosks, biometric safe deposit lockers or digital money, delivers sustainability and cost efficiency.
But all these digital solutions running on multiple channels do consume energy. World over, banks are investing in technologies that help them align their performance and their energy consumption requirements. Standard Bank's London office, for example, managed to cut energy consumption by a third after switching to thin computing and using Virtual Desktop Infrastructure (VDI). National Australia Bank has set a goal to realize 90% virtualization of servers and turn the bank, including its data center, carbon neutral. Cloud computing offers another way to conserve energy and IT budgets. And green computing, an entirely new industry in the making, holds the promise of products built for environmentally sustainable computing.
Technology-led initiatives, however, are only one stroke in the broad canvas of green banking. There are a whole host of opportunities in the form of financial products or investment programs that incentivize sustainable development.
Green banking, therefore, is not about a solar powered ATM, a green financing option or even a LEED certifed bank branch. It is about laying the foundation for a movement whose implications extend way beyond banking.