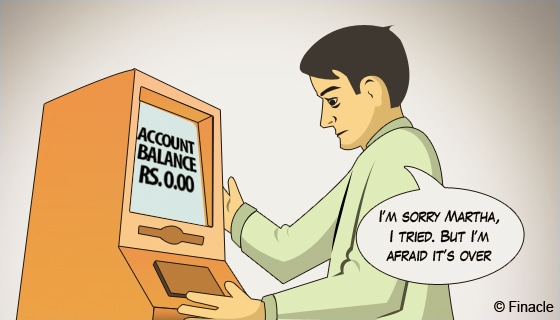 Like most of my peers, I follow the "self-service way" to complete most routine transactions. Whether it's a holiday or a night out at the movies, I do the booking online. No standing in line, no waiting. The same phenomenon is now taking over banking, with an increasing number of customers branching away from branches. While they would like face to face or assisted service to be at hand when needed, the option of self-service is one of their most important demands.
As per a recent survey, about 35% of customers of US banks don't visit branches for their day-to-day needs. With banks investing in innovative technologies and channels like image-enabled ATMs and RDC on smartphones, branch transactions have declined at the rate of 4 to 5% over the last 3 years.
Another survey showed that 48% of customers preferred ATM banking to teller services, the reasons being 24*7 availability, speed, convenience, anonymity and security.
ATMs were introduced more than 40 years ago and since then, their features have been regularly enhanced. Today's ATMs provide a wide range of banking services, yet customers want something more. Banks have responded by introducing self-service banking kiosks that give users greater choice, flexibility and convenience of transaction.
SBI was the first bank in India to open kiosk branches by hooking up Internet-enabled retail stores to their core banking software to convert the stores into touch-points for basic banking services like cash deposit, withdrawal, and fund transfer within a daily limit of Rs. 10,000, and other financial products like micro-credit and insurance.
The Citibank Touch Screen Kiosk, a self-service banking terminal, is capable of fulfilling non-cash banking service requests for account/ card statements, demand drafts and check books, mobile recharge, credit card/bill payment, fund transfer, ATM PIN change and stoppage of cheques .
With a third of its customers using online banking, ICICI Bank launched 24×7 electronic branches in August this year – one-stop shops for all banking transactions, and 100 % self-service driven. Customers can transact at any time using various automated devices and kiosks. The electronic branch boasts of a cheque deposit machine, a cash deposit machine which offers instant credit (you can deposit upto Rs. 100,000 in 200 currency notes at a time), an interactive kiosk for facilitating Internet banking services and 24-hour video chat with customer care personnel. Customers can even print out their bank statements on A4 sheets.
It is only a matter of time before banks enable not only basic banking transactions but also complex ones through self-service kiosks. This would not only benefit customers; features like stored value card top-up and bill pay from such kiosks would also generate additional revenue for the banks themselves.
What's more, by migrating routine branch banking transactions to "do it yourself" channels, branches can focus on providing excellent customer service and pushing high value sales.