Truly digital is all about transformation spanning experience, engagement and business engine layers. Focusing only on enabling new channels or touch points is not enough. There are a set of basic characteristics that a Core banking solution must demonstrate to enable banks to achieve the intended results:
This article describes some of the most critical basic characteristics across three dimensions for core transformation.
Before getting into the details, let us look at the change of context w.r.t
In short, it can be referred to as "A.I.M". (Access, Infrastructure and Mass customization)
Accessing banking services
In the first phase of automation banking services were accessed
In the next phase, which can be referred to as the "Access" phase, banking services were made available as
| | | | |
| --- | --- | --- | --- |
| Phase | Where | When | Who |
| Automation | Designated Places | Designated Time | Designated People |
| Access | Any where | Any time | Any one |
Hence there is a fundamental shift of context from "Designated*" to "Any*". This clearly carves out the path for the digital engagement layer to take care of personalized data, control and engagement and at the same time clearly emphasizes the significance of core banking.
Infrastructure
There is a considerable change in infrastructural aspects for computing power, storage, network, monitoring, IaaS, PaaS etc. Considering that transaction volumes are growing exponentially (both read and write), solutions like Core banking should leverage such infrastructures.
Mass customization
Due to various factors and predominantly change in customer expectation, there is a shift from mass production to mass customization. From the bank's perspective, this can also be referred to as "What I have" to "What you need". It is a well-known fact that personalization is the key to achieving mass customization. Let's have a look at how it plays out:
While personalization for interaction, convenience, control can be dealt with at the digital engagement layer, product, services and functionality-level personalization should be dealt with at the business engine level as well.
Based on these changing paradigms, business engines like core banking should have some critical attributes that are mapped below to the three dimensions of (A.I.M):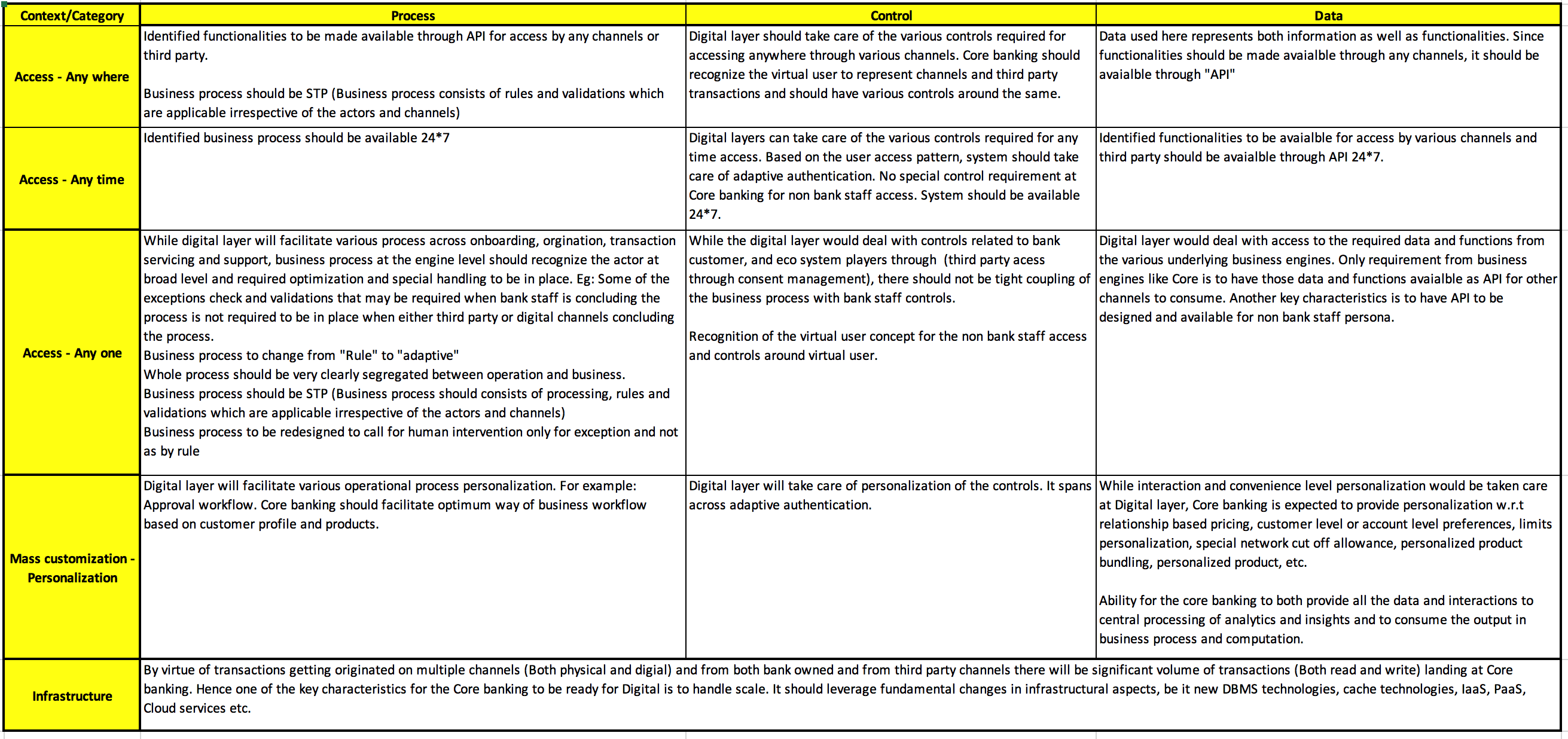 Conclusion
To realize the benefits of digital transformation, digitization is required across experience, engagement and business engine layers. For supporting digitization of core, it should exhibit a set of characteristics across three dimensions (A.I.M). To mention a few:
Is your core banking ready for Digital age? Does it exhibit these characteristics? Do share your views in the comments section below.