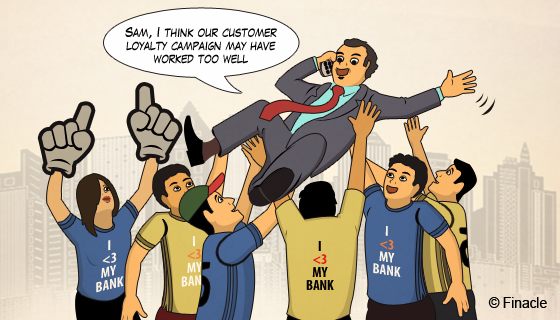 The Indian banking sector grew significantly in size, spread and scope of activity over the last three decades. Its story mirrors that of India's growth, which is natural, considering that the influences on GDP also favor banking in all its forms – retail, corporate and rural.
This growth has forced banks to become increasingly customer-centric. The demand for one-stop shop integrated financial services has been on the rise for a while. The ability of banks to offer clients access to several markets and different classes of financial instruments, has become a valuable competitive edge. However, doubts still linger over the efficacy of peripheral aspects, such as branch ambience and reward programs, in building customer loyalty. The working of the customer's mind is a hard to solve mystery and understanding the nuances of customer loyalty, a puzzling task.
A business can be successful only if it has a steady customer base. After all, successful businesses usually realize 80 percent of their revenues come from 20 percent of their customers. Loyal customers are vital to performance and profit. In many countries, business organizations have elevated the role of the customer as a crucial stakeholder, in the past few years. Customers are viewed as a group whose satisfaction with the enterprise must be incorporated into strategic planning efforts. Progressive companies are finding value in directly measuring and tracking customer loyalty as an important strategic success pointer. Evidence is mounting that placing a high priority on customer loyalty is critical to improved organizational performance in a global marketplace.
On the other hand, many businesses neglect their loyal customer base in pursuit of new customers, constantly imposing brands on prospects to gain their attention through various mediums. With the extensive options available, consumers usually find it difficult to stick to one brand and are always moving on to new ones. The brand world is thus on a constant customer loyalty war. In such situations, where every brand is trying to stay on in people's memory, evaluating customer loyalty and developing a retention strategy are critical to an organization's success.
Customer loyalty being a multifaceted issue, there is much debate and confusion about how to approach it. Mostly, loyalty is assessed through surveys that invariably capture the apparent and in-the-moment mindset of the customer without trying to uncover the nuances of promised experience or insight into expectation. These are not only important but rather imperative, given the current dynamic market conditions in understanding the 'experience' of the customers in comparison with their 'expectations' for a service / product.
One must always remember that loyal customers don't leave even when there's an attractive offer elsewhere. At the very least, they will give the brand they patronize the opportunity to meet or beat the other offer. Beyond doubt, a loyal customer is an integral part of the sustained growth of any business.