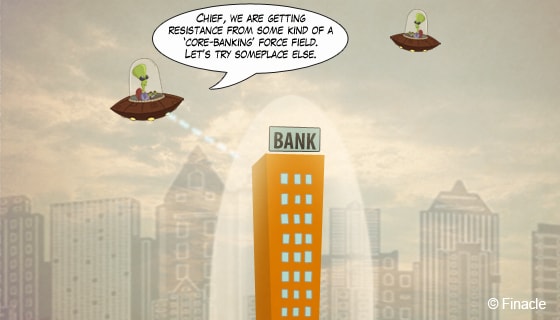 "Where there is a will, I want to be in it." This popular Paraprosdokian is a lighthearted take on the irresistible lure to make a fast buck. Fraud, on the other hand, is a serious matter.In 2011-12 alone, Indian banks reported 5,569 cases of fraud, involving a staggering Rs. 4,448 crores.
The RBI maintains that improper pre-sanction inspection and lack of due diligence; submission of fake title deeds, KYC documents and/or fabricated financial statements by borrowers; use of loans for purposes other than those originally sanctioned; and sale of assets created out of loans without banks' knowledgeare some of the reasons for occurrence of fraud.
A Core Banking Solution can mitigate fraud by putting processes in place to check malpractice or dereliction of due diligence by bank employees and to validate documentation.
For instance, it can prevent the deliberate circumvention of rules by staff by tracking from its database any abuse of internal control in favor of certain customers. The Core Banking Solution's approval hierarchy allows banks to take the appropriate path to sanction, marked by steps like Maker-Checker, Exception Approval, Appropriate Authority for Specific Loan Limits, and so on. It can also maintain a list of fraudulent professionals, akin to a customer blacklist, in line with RBI recommendations. Banks can crosscheck and ensure authenticity of the support documents issued/validated by these individuals.
With respect to documentation, core banking solutions can support the infrastructure to interface with external systems and databases. Additional checks in approval procedures can validate Know Your Customer and other documentation (AADHAR Database, SSN Database). Similar interfaces can be built with the MCA (Ministry of Company Affairs), NSDL and the Income Tax Department. Any loan application approved against the configured checks can be routed through the Privileged Approval Mechanism, to be approved by a higher authority.
Although Core Banking Solutions cannot replace banking security applications, they can certainly support them in useful ways.