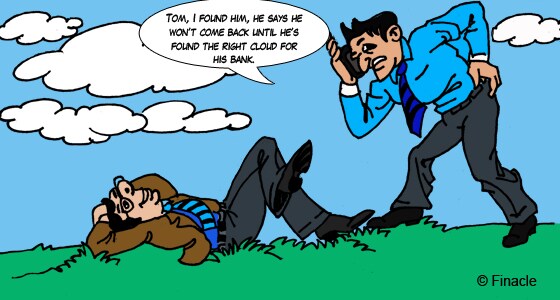 The transformational possibilities of the cloud model have started to outweigh security and governance concerns in the banking sector. These concerns are increasingly being considered as challenges to be overcome, rather than impediments to cloud adoption.
Cloud empowered banks are integrating multiple technologies, from mobility to social to analytics, into banking strategy to redefine customer experience, engagement and choice. They are also changing traditional IT structures by delivering various functionalities as services to business users.
Large banks, with the wherewithal for private clouds, have been able to simplify their infrastructure acquisition cycles by shifting to the IaaS model. The logical progression is towards PaaS, where business partners migrate their applications to the same platform that internal users access as a service. Banks will increasingly move towards a standardized multi-tiered solution, comprising a front end, middleware and database, as well as a platform integrating with their administrative and development solutions.
IaaS and PaaS are also streamlining the procurement and delivery of infrastructure, applications and services. Infrastructure provisioning is much simpler and the resultant efficiency and transparency is changing organizational processes and structure. With the advantage of full visibility into self-service IT consumption, resource usage can now be instantly charged back to the appropriate functions, a process that earlier used to take weeks.
Software upgrades in the cloud are seamless, automatic and frequent, which is in stark contrast to the long upgrade cycles in an on-premise environment. Imagine the implications for something as vital and large as core banking. That being said, banks and their technology partners are yet to resolve the challenge of delivering customized components of each bank's core banking software on top of the basic cloud solution.
If there's a downside to the cloud, it is that the transition from on-premise to private to public IT infrastructure is also characterized by the loss of control over service providers. Smaller banks, without the encumbrances of legacy hierarchies and processes, are able to deal with this more easily. The larger banks just need to adapt their internal structures to the reality of multi-vendor IT environments. That's a small adjustment to make en route to huge opportunities in the cloud.