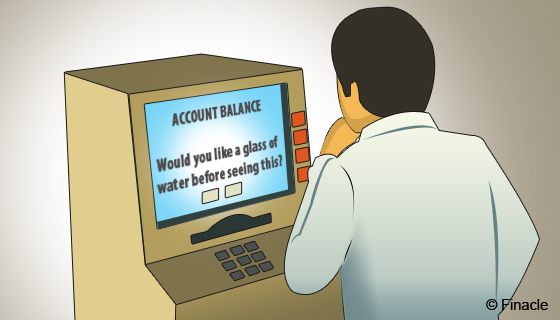 At 11 a.m. there was maddening rush in my branch. It was peak summer, temperatures were soaring and customers were frustrated with how long the cashier was taking to single-handedly attend to them. Ironically, there was also a kiosk available for depositing cash, but it was completely ignored by the throng of people who preferred to wait in line so they could hand it over to an official. Unable to take it any longer, I started urging customers to give the machine a try; with a little help and within ten minutes, the lobby was empty of all but three. The lesson? Merely installing an alternative channel won't do the trick.
Until a few years ago, the branch was the most convenient banking channel; a single roof below which customers could get all their work done.  Gradually, alternative modes of banking came along in the form of call centers, ATMs and Internet banking. However, these sprung up in islands, with no linkages between them. But now, with the advent of multi-channel banking, customers can bank across a selection of channels and enjoy a consistent experience across each, which is so seamless that a transaction initiated and abandoned midway in one channel can be resumed from where it was left off, and fulfilled in another. At any time, or place.
Multi-channel banking brings several advantages besides reach and branchless banking convenience. Banks can use channels to showcase their offerings; they can leverage low cost platforms such as mobile banking to penetrate hitherto unbanked areas; they can also venture into social media to engage deeper with customers.
A common platform for channels opens up opportunities for customers and bank staff to connect to them through a range of devices. While this is an exciting prospect, it also carries significant security risk, which must be addressed beforehand.
That being said, banks need to bear in mind that multi-channel banking is not for everyone. For example, older or technophobic customers are likely to want to continue using the branch. During my days as a banker, I happened to interact with three very distinct groups of customers. One, those who came to the branch for just about everything and would not use other channels. Two, those who did just the opposite. And three – the biggest group – customers who were moderately comfortable with channel banking but wanted personal assistance to be readily available whenever required. If they faced trouble progressing with any transaction, they would either chat or video conference with a relationship manager or call their branch.
Banks need to create awareness of the benefits of multi-channel banking among their customers. Since this is where the future lies, neither has a choice.