The contemporary and emerging models of digital banking pose an important question to bankers: "Will the brick-and-mortar model of branches become history in a few years from now? Most of the banking transactions ranging from funds-transfers to product purchase have been digitzed and are now available at the click of a mouse or at the tap of a button on a smart phone. The waiting time for banking transactions has reduced exponentially and customers now demand to be served immediately and effectively. Traditional branches seem to be losing their sheen and the future generation seems to be more inclined to use the digital medium rather than branches.
However, a closer look at the customer and geographic segmentation tells a different story. Despite the tectonic digital shift at a rapid pace, branches still serve as one of the leading sales channels for banks. Reports also suggest that 30 to 60 percent of customers prefer doing at least some kind of banking transactions through branches. Further, services like cash deposit/withdrawal, issuance of demand drafts and deposition of cheques actually call for a physical branch or an ATM visit.
Banks therefore need to come up with a hybrid model of branches which would be a combination of digital banking technologies and analytical capabilities at a physical location. This model of branch would have fewer staff, will occupy lesser real estate and would be equipped with the latest gadgets to provide both sales and service capabilities.
Bank branches primarily serve two fold functions: sourcing and servicing. Future smart branches will provide servicing through automation and sourcing through analytics. The right mix of automation and analytics will define a smart branch of the future.
Automation will take over servicing
Approximately 60 to 80 percent of a branch's transactions fall under servicing functions: cash deposits/withdrawal, funds transfer, DD printing, cheque clearance being the majority of repeat servicing functions. Banks today are focusing on automating these repeat servicing functions with hardware technologies like cash recyclers (cash deposit and withdrawal), kiosks (statement print, funds transfer), tab banking (service requests) and IVRS (grievances). It can be envisaged that in the coming time, almost all the servicing functions will be taken over by machines through automation technologies. This will lead to are fewer queries and a quicker resolution without any human intervention, an eventuality often termed as "quicker and fewer" in banking.
Analytics will take over sourcing
Sourcing however, will be more mobile than static. Branch staff will be able to navigate through the river of opportunities to scout for meat rather than being a static tree waiting for food to be fed. This means moving away from the traditional way of customers approaching the banks to buy products to proactively identifying the target customers through market segmentation and then pursue these opportunities by approaching these clients. This is where technologies like AI, ML and embedded analytics will be extensively used by the branch staff to identify the target market, perform customer profiling and decide the most appropriate and suitable product suggestion each customers. Not only this, analytics will also help branch staff define the probability of a customer buying a particular product at a particular time. Hence, an effective salesman will be defined not by being an aggressive pursuer or excellent communicator but by having the adeptness and sharpness of utilizing technology to the fullest. Banks will be able to perform the three critical tasks effectively: identify prospects and pitch the right product to the right customer at the right time.
Smart branches hence will be defined by the extent of automation gadgets like recyclers, tabs, kiosks and IVRS to service the customers and the by the use of smart applications for branch staff making use of technologies like AI, ML and embedded analytics. The greater the use of smart technologies and gadgets, the smarter the branch.
Size and geography – The Hub and Spoke Model
Physical presence of a branch provides an opportunity for a bank to acquire customers around an area and to boost brand presence of the bank. However, high capex and the opex costs of a traditional branch model make it increasingly difficult for banks to open several branches at a short distance from each other across the city. Smart branches of the future can potentially solve this problem by providing an opportunity to open smaller branches with lower costs at smaller distances, thereby covering a larger population and increasing the brand presence. This model will have a central hub branch which will cater to the smaller smart branches serving as 'spokes'. Customers will have to travel less in order to reach a branch. Hub branch will provide all operational support of sales, service, documentation, staffing to the spoke branches.
Consider a hypothetical city of area 10 sq. km. A bank can open around 10 traditional branches of area approximately 1000 sq. feet. Thus, each branch would service an area of approx. 1 sq. km. An approximate calculation shows that as compared to a traditional branch, a smart branch can make opex drop by about 50 percent and the capex by around 30 to 40 percent. This means more branches per sq. km (0.5 sq km against 1 sq. km in the above example) and 2 smart branches can be opened in place of one traditional branch. Hence customers will have to travel less to visit a branch and yet get a quicker response due to shorter wait time.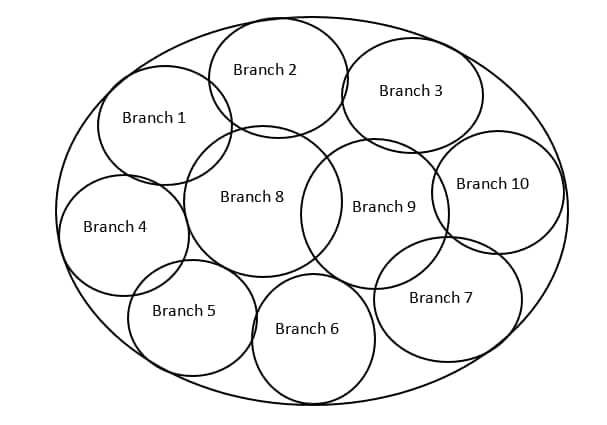 Traditional model of branches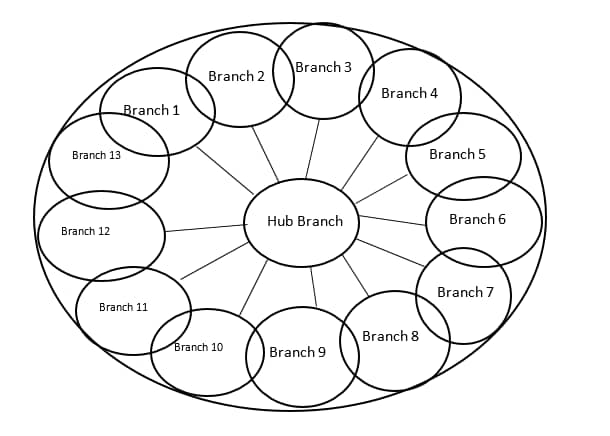 Hub and Spoke model- more branches at same cost
Staff and timings
Smart branches would have around 6 employees per branch as against 15-20 in traditional branches. Average working hours for smart branches would be 15-18 hours per day as against 6 to 8 hours per day for traditional branches. This means double the working hours at half the cost!! As stated earlier branch staff has to be adept at using technologies to their advantage to generate the best possible outcome. Whoever masters the technology will be a winner. However, it will have an increased cost on mobility of the bankers who may have to travel more to meet customers in the market rather than sit in branches to wait for deal.
Conclusion
Future smart branches will be enriched with a lot of automated machines like recyclers, kiosks and tab banking and their backend support will be provided by sophisticated algorithms providing real time analytics which will be powered by artificial intelligence and machine learning. They will be leaner, smarter and meaner and will target just the right functions and customers.