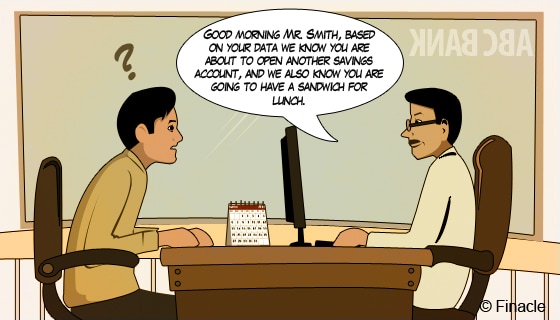 In today's competitive landscape, banks strive to increase their market share by coming up with creative and innovative ways to acquire and engage their customers. Unlike banking of yore, present day banks are nimble and look for different ways to understand customer needs based on their actual behaviour and then offer relevant products and services.
The question that comes next is, "How can banks understand 'actual' customer behaviour?" All banks hold a large chunk of transactional data, which can be organized into meaningful information and provide insights into customer behaviour. For example, banks can align their credit card offerings based on customers' debit transactions at different shopping outlets.
Everyday, billions of banking transactions generate colossal amounts of data globally. This data is being used mainly for generating regulatory, internal or customer query transaction reports or for audit purposes.
Is it prudent to think that data of this magnitude, occupying humongous amounts of memory space in databases worldwide, has no uses other than the above? The answer to this question is "NO." This transactional data is a volcano of information which is yet to erupt and its potential is as yet untapped.
This information can be organised to provide valuable insights into customers' banking or rather, spending behaviour. With these insights, which are based on realistic or actual transactions captured over a period of time, banks can tweak or come up with new product and service offerings which appeal to the customers and are relevant to them. Also, banks' marketing communication can be made more pertinent to the target segment. This would result in a tectonic shift in banking offerings across the globe and banks can fine-tune their products and services to target specific geographies.
I feel the future of banks depends on how relevant they stay to the target market, based on how they analyse the Big Data in their databases. Analytics is the way forward!