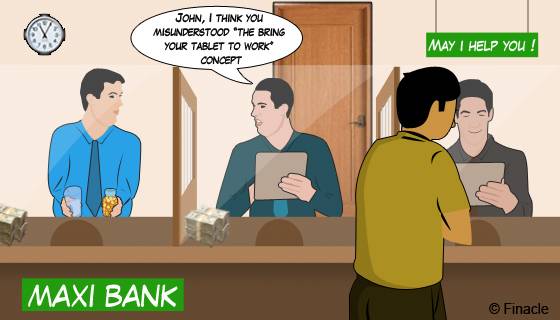 Riding the crest of the technology wave, banks today are making a beeline for tablets for the use of their customer-facing workforce. While most banks have acquired tablets by the thousands, quite a few have gone the BYOD (Bring Your Own Device) way. This eagerness on the part of banks to portray a tech-savvy image has in turn fueled the need for ready-to-deploy solutions compatible with tablets. This has thrown up a slew of products, developed by both in-house developers and IT vendors; however, most of them come across as mobile solutions rehashed to suit the tablet.
Tablets offer some compelling advantages. They are light and portable and the long battery life allows for a full day's uninterrupted work. Their built-in cameras make it easy to click photographs. Some tablets like the Samsung Galaxy Note and the Windows 8 come with a Stylus, which can capture customers' signatures, eliminating the need for an additional peripheral device. Most high-end tablets have fairly good cameras capable of Remote Deposit Capture and come with scanning and OCR software, which allows the capture of documents with ease. Ruggedized tablets, which can withstand inclement weather or the rigors of travel, are already available. Biometric support can be incorporated if banks deem it necessary.
All things considered, the tablet holds out immense promise for being the one "do-it-all" device. A financial advisor can demonstrate to clients all the "what-if" scenarios pertaining to a particular financial product or plan. What's more, clients can play around and conjure up a few scenarios on their own! Tablets bearing banks' logos make for really impressive welcome gifts for high net worth customers who have had their fill of the more plebian enticements such as watches, ties, bags, movie tickets and so on.
For the executive on the go, a tablet is a better option than a mobile phone for reviewing exceptions and issuing approvals.
It's more convenient too. Tablets can be fixed to any surface and turned into touch-enabled banking kiosks to ease up long queues in branches by offering a self-service option to customers.
Thus, tablets offer a great deal of scope to ideate and take banking to a different level. The challenge lies in designing the right solutions to work on this new medium. The existing ones show significant promise but none evoke the "WOW" factor. Also, while there are many applications enabling customer activities, there isn't enough catering to staff needs. Ideas are hard to come by and transforming them into workable applications is harder still. However, there is no denying the potential for such solutions, and it is only a matter of time before somebody gets it right.