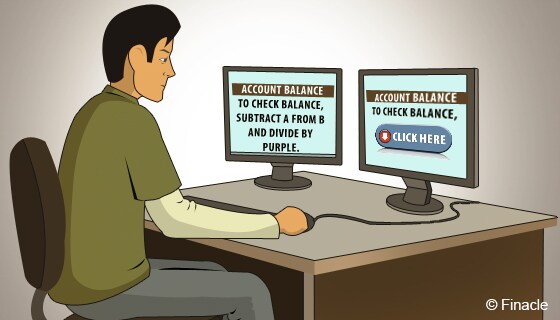 Banksimple, a website whose name says it all.  Now renamed Simple.com. All part of the value proposition of making banking simple, I guess.
For the benefit of those who are not yet familiar with Simple.com, it's a cool front-end service that simplifies banking for customers. It connects with them through social media and eases money management. Which is something that banks have not yet been able to achieve. Will these types of services spell the end of traditional banking? Certainly (Bank) Simple thinks so, judging by its aggressive tag line – "get ready to leave your bank." What can banks do to counter such threats?
Firstly, accept that customers do want banking to become simpler, righfrom depositing money, to cashing a check, to paying a bill. They want less procedure when opening an account or availing of a loan. They want to know the real cost of banking minus the suspense of hidden charges and fees. They want payment to be quick and efficient, whether through card, check, mobile phone or any other new means. Customers want easy, instant access to their bank at all times and places.  And they want all this simplicity free of cost, or at a nominal price, like any other
essential service.
Are customers asking for too much? Not from their point of view. But putting up the infrastructure to support this demand isn't that simple. Just think, seamless access across channels with 30-year-old legacy applications at the back end? Mobile phone operating systems, which change every year? And what about compliance with hundreds of regulations and privacy and security norms? Each year, the cost of running a bank goes up but margins don't change much. Hence, banks are looking at new sources of revenue, one of which happens to be additional fees on consumer banking. When customers finally get wise to this and protest, regulators step in with protective laws, which again increases the legislative burden on banks. This is not the only problem. Security breaches are leading to risk mitigation mandates, like multi-factor authentication. Rising card and payment fraud is forcing banks to bolster fraud prevention systems to detect and stop the incidents in real time. Competition is forcing banks to acquire new analytical real time systems to lure customers away from rivals. Big Data is the new Big Brother.
If you visit Simple.com, read the FAQ section. It quickly clarifies that Simple is not a bank in itself, but only the storefront of an FDIC insured bank which sits at the back end. You can access the site today from a web browser or an iPhone app (iOSv.5 and above); an Android one is in the offing, but mind you, for the ICS version and above only!. Simple doesn't offer joint accounts yet. It claims that it's only a little bit like Mint.com, because while it offers similar money management services, it stops short of aggregating bank accounts. By the way, you can see your Simple account on Mint.
Customers can access 40,000 ATMs for free, but are charged for using an outside network. Domestic transactions are free; international ones are not. Most things are free including a Visa debit card and bill payment, but not everything, and I like the fact that the site is upfront about it. So how does it make money? Firstly, by limiting investment and cost. This means no high interest deposits and no rewards. Simple also shares the margin and fees with the banks and makes its money.
Simple is currently available only in the US. You can see that it hasn't got everything that is needed to make a customer's life simple, but it's getting there. Certainly, it has enough to open shop.  So how does one get on board? Currently "by invitation only", but here's the thing – you can ask them for one! Simple?
I am quite confident that Simple – or similar offerings – don't pose a threat to banks just yet. But if they are able to keep their simplicity promise, they might acquire a following large enough to make them consider building their own bank. That could shake things up a fair bit! Having said that, I don't believe it will actually happen. Simple isn't as path breaking as say, the iPhone; it's just a nifty banking innovation. If it does succeed, it would be on the back of a change in banking services delivery, wherein banks choose to stay at the back end and let the front end be worked by the likes of Simple. Did I hear you ask what would happen should Simple succeed and then be acquired by a bank? That would be a happy ending, for the bank mainly!